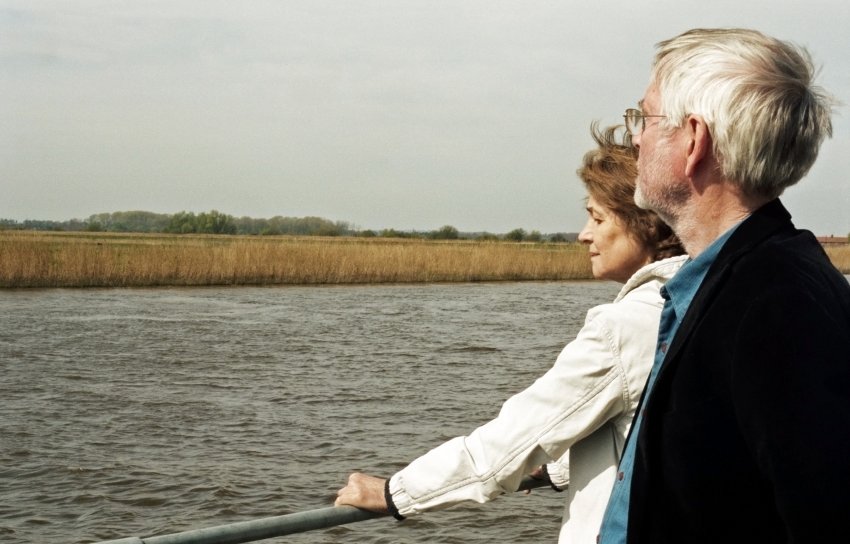 The best British films… where to start? Of course this list is far but exhaustive, but these are some recent films you definitely shouldn't miss!

The Vore's Film staff selects the top best British movies of 2017 in cinema, DVD and Netflix. Are Andrew Haigh, Gavin Hood & Bill Condon United Kingdom's biggest directors?


| British movies | 2017 |
| --- | --- |
| Popular actors | Charlotte Rampling, Tom Courtenay & Dolly Wells |
| Trending movies | 45 Years, The Goob & Eye in the Sky |
Anticipated 2017 British movies to watch
Director

Guy Ritchie

Cast

Charlie Hunnam
Hermione Corfield
Katie McGrath

---

Brilliant British filmmaker Guy Ritchie (Snatch, Lock Stock) took on the job of directing an adaptation of Shakespeare legendary epic. Sounds interesting, even more so because with this project, Ritchie seems to move away from his comfort zone. ...Read more

---

Director

Hope Dickson Leach

Cast

Ellie Kendrick
David Troughton
Jack Holden

---

This debut feature film about a young woman (Ellie Kendrick, Game of Thrones) returning to the village of her childhood after the tragic death of her brother stirred critics and audiences alike at several festivals. It's unknown when this film will get a wide release, but we're very much looking forward to seeing this one!...Read more

---
Best British movies on Netflix or DVD in 2017 & 2016
2010's best rated British movies out on DVD, Bluray or streaming on VOD (Netflix, Amazon).

Weekend (Friday November 4, 2011)

Director

Andrew Haigh

Cast

Tom Cullen
Chris New
Jonathan Race

---

We already discussed this one earlier, but Weekend is simply too good to leave it out here. The set up is simple and brilliantly effective. Two gay guys meet each other and fall in love over the course of a weekend. Russell is an introvert guy, who still hasn't completely come to terms with his sexuality while Glen is outgoing and slightly rebellious, but somehow the chemistry is enormous. The sad thing is however, Glen leaves for the United States after the weekend. Weekend is achingly beautiful and provokes a feeling so strong you can almost taste it....Read more

---

Philomena (Wednesday November 27, 2013)

Director

Stephen Frears

Cast

Judi Dench
Steve Coogan
Sophie Kennedy Clark

---

Philomena stole the hearts of many last year. At one point, it even seemed to have a serious chance at winning the Best Foreign Film oscar. It didn't, which is a good thing, considering the films it was competing with. Still, Philomena is a really enjoyable and moving film. Steve Coogan, who seems to become a better actor every year, is brilliant as a cocky politician turned journalist who's determined to unravel a simple Irishwoman's (even more brilliantly and atypically portrayed by Judi Dench) past....Read more

---

Tyrannosaur (Friday October 7, 2011)

Director

Paddy Considine

Cast

Peter Mullan
Archie Lal
Jag Sanghera

---

Another promising debut film marking a bright future for British cinema. Tyrannosaur can be placed in a long English tradition of social-realist drama, the films Ken Loach and his followers have patented. It tells the unlikely story of Joseph, a lower class widower with some serious anger issues and Hannah, a devote Christian who has her domestic problems of her own. Both wounded souls in their own respect, Joseph and Hannah find comfort in each others' company. Considine shows that these typical raw British lower class stories never wear out, providing that you tell them craftfully....Read more

---

Broken (Wednesday August 22, 2012)

Director

Rufus Norris

Cast

Charlie Booty
Lily James
Tim Roth

---

And yet another debut. And again a book adaptation; family drama film Broken is loosely based on Harper Lee's masterpiece To Kill a Mockingbird. Broken's tone is a lot darker, but it shares the book's core. Skunk is an eleven year old girl who, like in so many coming of age stories, loses her innocence during a summer, after she's confronted with a fair amount of injustice. Director Norris succeeds wonderfully in translating a classic Southern Gothic tale to a modern day story in England, but the films' greatest asset is young Eloise Laurence, who portrays Skunk in such a nuanced way....Read more

---

Submarine (Friday March 18, 2011)

Director

Richard Ayoade

Cast

Craig Roberts
Sally Hawkins
Paddy Considine

---

Before directing his debut film Submarine, Richard Ayoade was a recognisable face in Britain already, albeit as an actor. He was part of the cast of popular cult comedy series The Mighty Boosh and The IT crowd, which made his directorial debut all the more anticipated. Submarine, an adaptation of the novel with the same name is an excellent, off beat coming of age dramedy about a young Welsh boy who's destined to lose his virginity and to save his parents' marriage. Arctic Monkey's frontman Alex Turner was asked to write an original score for the film, which lifts the film to an even higher level....Read more

---

Another Year (Friday February 4, 2011)

Director

Mike Leigh

Cast

Jim Broadbent
Ruth Sheen
Lesley Manville

---

Mike Leigh is certainly no stranger to directing honest films, inhabited by utterly real people. At the centre of Another Year is an elderly couple blessed with a large circle of friends. Friends with all sort of problems, who all, to a greater or lesser extent depend on them. You don't need to expect big plot twists here. Another Year follows a group of friends in the autumn of their lives during four seasons. Nice things happen, awful things happen. There aren't that much directors, however, who are able to make that worth your while. Another impressive achievement by one of England's most beloved directors....Read more

---

Director

Mark Romanek

Cast

Keira Knightley
Carey Mulligan
Andrew Garfield

---

'Read the book first', is what people always say when you're about to watch an adaptation of a novel. I'm not quite sure if that goes for British-Japanese novelist Kazuo Ishiguro's works too, as Remains of the Day is a much better film than a book. Never Let Me Go, based on a Ishiguro novel too, is quite impressive, which makes me wonder how much I'll like the book. It's a dystopian romance story, set in a boarding school in an alternate time. It would be a waste to spoil the unexpected twist in the plot, but lets say it gives you a clear idea of the horrific 'side effects' of cloning....Read more

---

Locke (Friday April 11, 2014)

Director

Steven Knight

Cast

Tom Hardy
Olivia Colman
Ruth Wilson

---

Locke isn't the first film that takes entirely place in a single space. Recently we've seen Buried (a coffin) and All is Lost (a yacht). In Locke, we follow Tom Hardy in a power house role as Ivan Locke, a construction foreman determined to come to terms with something he did in the recent past. The entire film takes place in a car and the only thing we see and hear is Locke making phone calls via his speakers which unravels his recent past and his current plan bit by bit to the viewer. A single location film is always tricky, as it either becomes a gimmick or just plain boring. Stephen Knights' clever and economically written script however, makes this British film a standout in the subgenre....Read more

---

Director

Sharon Maguire

Cast

Renée Zellweger
Gemma Jones
Jim Broadbent

---

Expectations were low, but 'Bridget Jones's baby' is truly a triumphant return. Older, but definitely not wiser, in this part our heroine gets knocked up. But by whom? ...Read more

---

Sightseers (Friday May 10, 2013)

Director

Ben Wheatley

Cast

Alice Lowe
Kenneth Hadley
Steve Oram

---

Even though Wheatly is still a new kid on the block in English cinema, it feels he's already an established name. Given the years he has been active as a film maker, his output has been quite high. Which is a good thing, because his dark yet fresh films are quite something. We could easily have chosen any of his other features from the 2010's, but picked Sightseers, as it embodies what Wheatley stands for the best. A darkly humourous, twisted film about a seemingly ordinary couple in a camper on a rampage through England. Please make sure to check his other films too!...Read more

---

The Double (Friday April 4, 2014)

Director

Richard Ayoade

Cast

Jesse Eisenberg
Mia Wasikowska
Wallace Shawn

---

Again Richard Ayoade. Well, you could easily say he's our favorite new British director. With The Double, which is loosely based on Dostoyevski's famous novella,he's in for something entirely different than Submarine. The result is daring and fascinating and ultimately better. Jesse Eisenberg, who is going through somewhat of a renaissance after a few disappointing roles, is Simon James, a colorless employee of a nondescript Soviet-like workstation. The events take a surprising turn when all of a sudden his doppelgänger, James Simon (played by Eisenberg as well) shows up. James is his, however, his opposite in literally everything, which makes Simons' life even harder than it already was. The Double is both visually stunning and dazzling story-wise. A British film for which the word 'kafka-esque' seemed to be invented....Read more

---

Shell (Friday March 15, 2013)

Director

Scott Graham

Cast

Chloe Pirrie
Michael Smiley
Joseph Mawle

---

Out of nowhere came Scott Graham, a young and very promising Scottish director. Shell is a small, intimate coming of age story about a girl who lives with her lonely, surly father in a secluded area somewhere in the Scottish Highlands. They own a gas station and the passing drivers are about the only people who connect her to the world outside theirs. Dialogues are sparse in this film, as father and daughter merely communicate without talking, fastknit but opressive as their relationship has grown....Read more

---

Director

James Watkins

Cast

Daniel Radcliffe
Janet McTeer
Ciarán Hinds

---

Nobody seemed to expect much of Daniel Radcliffe's acting skills upon finishing the Harry Potter series. In The Woman in Black, he proved he is pretty solid and he actually keeps on proving it in all the latest features he is in. The Woman in Black (produced by legendary horror company Hammer!) is a nice, old-fashioned haunted house tale about a young widowed lawyer who has to arrange the sale of an old house, located on a remote island. This film doesn't really offer anything new, but James Watkins' atmospheric gothic flick proves that a horror film full of cliches and archetypes can still be scary as hell....Read more

---

Light Years (Thursday September 22, 2016)

Director

Esther May Campbell

Cast

Sophie Burton
James Stuckey
Mike Wright

---

A charming, little coming of age film about a young girl trying to reunite her estranged family during a hot summer day. A dreamy and visually overwhelming debut. We're very much looking forward to what director Esther Campbell will do next!...Read more

---

Director

Jonathan Glazer

Cast

Scarlett Johansson
Jeremy McWilliams
Lynsey Taylor Mackay

---

In 2004, Jonathan Glazer directed Birth, a reincarnation drama with Nicole Kidman which was met with mixed results. For years it was silent around Glazer, up to a point where it wasn't clear whether he would ever shoot a movie again. Thank God he did. Under the Skin, which stars Scarlett Johansson in probably her most interesting role since Lost in Translation, is a small cinematic wonder. Johansson plays an alien seductress who preys on men in Scotland. Under the Skin is sexy, enigmatic and visually overwhelming. Please, make sure to watch this one on a big screen. Comparisons have been drawn to Stanley Kubricks' work, which for once isn't an overstatement. One of the more innovative and best British films of the last few years....Read more

---

Director

Sally Potter

Cast

Elle Fanning
Alice Englert
Annette Bening

---

There are a few pretty good films out there that show that the free (sexual) spirit of the sixties and seventies wasn't always that great, like Lukas Moodyssons' Together (2000) and Dorotheé van den Berghe's My Queen Karo (2009). Ginger & Rosa is one of those films too. Elle Fanning impressively plays a young girl whose world is turned upside down when her best friend is starting an affair with her father. The film starts out as a mediocre coming of age film, but soon evolves into a poignant portrait of a time in which intellectuals could use the free spirit for their own benefits....Read more

---

Director

Andrea Arnold

Cast

Kaya Scodelario
James Howson
Solomon Glave

---

Andrea Arnold left her mark with her previous efforts Red Road (2007) and Fish Tank (2009). Wurthering Heights, a remarkable take on the well known and often adapted book is something different, while at the same time Arnold maintains her distinctive raw and poetic style, reminiscent of Terence Malick's best work. It's daring how she made a so often told story her own. A refreshing little gem amongst that endless list of well crafted but often boring Brontë and Austen adaptations....Read more

---

- Best British TV Series out in 2017 on Netflix & on TV