This article is about the (mainly British and American) best mafia and gangster tv shows of the 10's including the new gangster series of 2015/2016. They are far from perfect, and definitely cannot compete with was on the telly before 2010, but they will do.
Before I get there, I will expound on the gangster genre, but first allow me to apologize for using the word 'cool' in relation to mobster/gangster tv shows, or in relation to anything else for that matter. Only 24 years old, but I am already hopelessly out of touch with the proper slang, and that makes me, quite frankly, rather happy. But still, I feel the word 'cool' really does justice to the qualities a gangster series must possess. Just as with gangster films, even in 2015 with for instance Martin Scorsese's American white collar crime version of the Italian mafia tale Goodfellas, The Wolf of Wall Street, it is clear that when it comes to the gangster or mafia genre simply making good film or series will not suffice. In the same vein as that horrors need to send shivers down your spine or disturb you immensely, good gangster tv shows ought to ooze coolness.
The best series might be incredible, let's say, in terms of screenplay, mise-en-scene and acting, but if it ain't cool it won't fly – then it's just a crime drama. Robert de Niro feeling gangster in the seventies 'Taxi Driver' In this sense, even with the best gangster series or films, achieving actual enjoyment requires a bit of a suspension of good taste on the part of the viewer. Because of the very subject matter, the filmmakers play into a rather childish sentiment – remember your own childhood Robert de Niro Taxi Driver (1976) moment? For me, I experienced the admiration for the silent coolness of gangsters and mafiosi when I was 12 and watched this bar fight scene with Chazz Palmenteri in A Bronx Tale (1993). I must confess I am almost embarrassed to share this scene, but I feel the moment Palmentiri says 'Now yous can't leave' is quite exemplary of what I am trying to say about cool gangsters. But still, some filmmakers know just how to evoke this feeling again, even in you are in your fifties. Tarantino, Scorsese and Coppola know just how this works.
But here is where gangster tv shows can really make the difference, and have been making the difference. I'm not claiming that there are no films that have not turned the gangster genre upside down, but the amount of time television series have available for character development and in-depth psychological investigations into the man behind the gangster, give it the tools to take it to the next level. Here I have listed the best new Gangster tv shows of 2013 and for 2015 and of the rest of 10's. And I will solely focus on tv shows also from the point of view of gangsters, not only of the policemen or detectives.
Unfortunately, my in-depth investigation into the modern gangsters seems to find that unlike last decade's shows like The Sopranos (HBO 1999-2007), The Wire (HBO 2002-2008), The Shield (FX 2002-2008), the French Braquo (2009 – showing the gangster-like quality of corrupt cops), Sons of Anarchy (FX 2008 -) and of course the ground-breaking AMC's Breaking Bad (2009-2013), the new shows in 2010's up to 2014 are rather conservative or exaggerate the required coolness, making it very uncool. These new gangster tv shows make the mistake of being out to immediately impress with tough or suave gangsters without supplying the essential dramatic quality. These tv makers forget that a character is doubly frightening if you can see him as a troubled, scared young boy, but also as a terrifying ruthless mafioso willing to murder his best friends if need be, like Tony Soprano. I was hoping for a show like HBO's 2014 True Detective. What this show is doing to stretch the detective genre, should also be done for gangster television.What also could be interesting would be a Tarantino Reservoir Dogs (1992) style tv series, or a show in the style and content of a Mean Streets (1973).
Ok, I admit that so far I have been rather negative of tone. I am sorry about that, but it's difficult to hide my disappointment. There are a few pretty good foreign gangster series, like in Europe, the Dutch show Penoza (2010-) or the Norwegian gangster show Lilyhammer (2012- an unofficial Soprano spin-off). I have not heard of anything about Asian gangster tv shows, anything further than the American noir detective Serangoon Road (2013) set in Singapore (so please let me know if I am missing something, same goes for shows from Latin-America). There have been quite a few decent American gangster tv shows, like Magic City (2012) about Miami mobsters in the 1950's, but it just doesn't cut it.
2017 releases - most anticipated titles to watch
The Deuce (8-1-2017 | HBO)
In the 1970's Time Square had a thriving porn industry. And make no mistake about it, the mob was banking it. There are some big names attached to the project, like James Franco, who will play a front for the mob. It's created by David Simon, the man behind 'The Wire'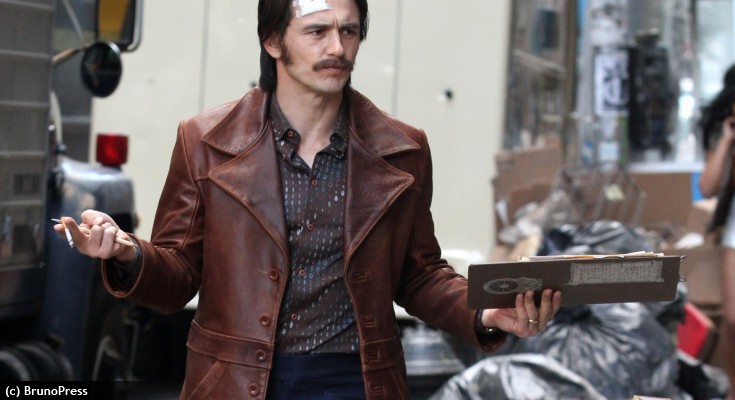 | | |
| --- | --- |
| Creator | David Simon & George Pelecanos |
| Starring | James Franco & Maggie Gyllenhaal |
| Themes | drugs, industry, drama, |
Snowfall (8-1-2017 | FX)
Perhaps this is FX's respons to the huge success of Netflix's Narcos. Snowfall follows a young dealer struggling for power in a crime cartel, amidst the 1980's crack cocaine epidemic.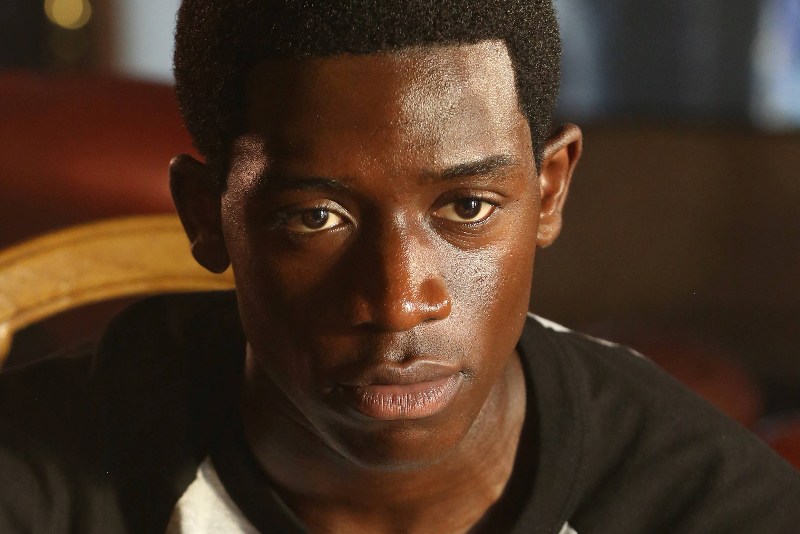 | | |
| --- | --- |
| Creator | John Singleton |
| Similar tv shows | Narcos |
| Themes | drugs, crime, |
Best gangster TV series on Netflix or DVD in 2017 & 2016
Best gangster TV series out on DVD, Bluray or VOD (Netflix, Amazon).
The Wire (Since 2-6-2002 , Season: 5 - HBO)
Pitching The Wire to non-believers is a tough job. 'An anti-cop show disguised as a cop show' doesn't tingle anyone. "Truthful, complex stories about the American people left behind in a postmodern urban society" may cover the series' content, but will not invite a lot of people to start viewing the best tv show ever made. The cult status The Wire (slowly) received probably has a lot to do with word-of-mouth, and for good reason. The show is simply ingenious and will leave a lasting impression, leaving the restraint one might have before watching the show far behind. Despite it's ambition to make a harsh point, it's complexity and the vast amount of characters, The Wire tells unheard stories in an original and thought provoking way. We are confident we'll see lots of great and innovative drama shows in the years to come, but none of them is probably going to beat The Wire in all its strength.


| | |
| --- | --- |
| Starring | Dominic West, Lance Reddick & Sonja Sohn |
| Themes | drugs, justice, law, police, crime, drama, |
| Country | United States |
| Buy/stream it | Amazon / Netflix |

Breaking Bad (Since 20-1-2008 , Season: 5 - AMC)
A chemistry teacher has had enough of his boring, frustrating and unreasonable life. After being diagnosed with cancer, he starts cooking crystal meth. Brilliant.


| | |
| --- | --- |
| Starring | Bryan Cranston, Aaron Paul & Anna Gunn |
| Themes | drugs, families, mafia, money, crime, drama, |
| Country | United States |
| Buy/stream it | Amazon / Netflix |

Boardwalk Empire (Since 19-9-2010 , Season: 5 - HBO)
Boardwalk Empire is based on the true life of criminal kingpin Enoch Johnson, a man who is described as equal parts politician and gangster. He is played by Steve Buscemi, famous from Reservoir Dogs and Fargo, who gives a very memorable performance, and will be among the coolest gangster characters from television, just behind James Gandolfini's Italian gangster Tony Soprano. Watch this show!


| | |
| --- | --- |
| Starring | Steve Buscemi, Stephen Graham & Vincent Piazza |
| Themes | law, mafia, politics, crime, drama, |
| Country | United States |
| Buy/stream it | Amazon / Netflix |

Peaky Blinders (Since 30-9-2014 , Season: 3 - BBC Two)
BBC made something special, but despite that it looks terrific, and really takes you back to the Birmingham just after World War 1, it is also a bit clumsy and messy at times. Simply put, it does not quite live up to its promise of becoming the 'Brummy' version of the American Boardwalk Empire. That being said, I did really enjoy this classic more slow-paced British gangster series, and seeing that it only has six episodes in the first season of the mini-series, you can understand that it did not hit as hard as a Boardwalk Empire. Season 2 is up for release in 2014, and it would not surprise me if the show will really pick up from there. The story and the setting are incredible, so there is a lot there to be developed. Peaky Blinders is about a local Birmingham Irish gang run by the Shelby family (one of the brothers is played by the terrific Cillian Murphy) who were controlling the city with relative ease until a new Chief of police is installed, who is not afraid to fight back. The main attraction luring me in to watch this show was its creator Steven Knight, the writer of Cronenberg's Eastern Promises (2007) about Russian gangsters.


| | |
| --- | --- |
| Starring | Cillian Murphy, Sam Neill & Paul Anderson |
| Themes | ambitions, mafia, drama, |
| Country | United Kingdom |
| Buy/stream it | Amazon / Netflix |

Lilyhammer (Since 25-1-2012 , Season: 3 - Netflix)
This show truly was innovative, even besides style and content. It was the very first Original series produced by Netflix, and consequently changed the television landscape. Now in 2015 Netflix is coming with 9 new original tv shows, and other channels and online streaming websites are following suit, like Amazon. There is now a place for smaller drama's because millions of people are reached, the people yearning for quality series. Lilyhammer bring the American/Italian mafia flavor to Norway. In this American/Norwegian co-production its all about New Yorker mafioso Frank Tagliano (Steve van Zandt, known as Silvio from the Soprano's) who is forced to take refuge in a small village in Norway, due to trouble at the homefront. He almost instantly faces the strict Norwegian bureaucracy and the authorities. It is a crime comedy drama, with terrific black humor and an outstanding performance by van Zandt. Interesting fact is that the first season was watched by one-fifth of the Norwegians.


| | |
| --- | --- |
| Starring | Steven Van Zandt, Trond Fausa & Steinar Sagen |
| Themes | betrayal, mafia, comedy, crime, |
| Country | Norway United States |
| Buy/stream it | Amazon / Netflix |

Narcos (Since 28-8-2015 , Season: 2 - Netflix)
The thrilling, unbelieveable story about Pablo Escobar and the hunt for his blood.


| | |
| --- | --- |
| Starring | Wagner Moura, Boyd Holbrook & Pedro Pascal |
| Similar tv shows | Breaking Bad, Fargo |
| Themes | drugs, economics, good versus evil, greed, action, gangster, |
| Keywords | accurate, action-packed, dramatic, fascinating, |
| Country | Algeria United States |
| Rating | |
| Buy/stream it | Amazon / Netflix |
---
Gangster genre statistics
| Gangster | 2017 |
| --- | --- |
| Genre popularity | |
| Genre ranking | #16 |
| Familiar faces | Wagner Moura, Boyd Holbrook & Pedro Pascal |
| Trending shows | Better Call Saul, Narcos & Peaky Blinders |
Amount of genre shows per year from 2010 to 2017
2 gangster TV series scheduled for release this year.
As it is a rather specific niche genre, there are very few Gangster genre series related each year. Sure, there are plenty of crime drama's that involve mobsters, but there are very few real gangster shows, like Boardwalk Empire or The Sopranos.
---