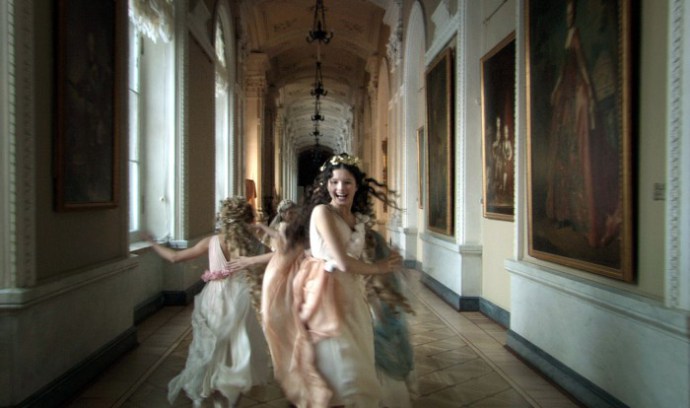 Like Russian literature, Russian cinema is enormously rich. What are the Eisensteins and Tarkovsky's of our time? Check out below!

The Vore's Film staff selects the top best Russian movies of 2017 in cinema or on DVD or Netfix. Are Ilya Naishuller, Andrey Zvyagintsev & Aleksey Popogrebskiy Russian Federation's biggest directors?
According to some Russia is returning to its Soviet ways. Putin's foreign policy shocks and paralyzes Western politicians.Recently adopted laws silence dissenting voices within Russian borders ('no more swearing everyone, and don't dare being gay!'). Fortunately, it's cultural productions are nothing like it. Andrey Zvyagintsev breaks away from Russian films performing badly, and reminds us of Russia' incredibly rich film history. Zvyagintsev is by no means a new face circulating the international film festival circuit, and seems to be the sole successor of Russian genius filmmakers like Tarkovsky and Eisenstein. Similarly innovative and eccentric, his films make up the majority of this list laying down the recent best Russian films up to 2016 & 2017. Because that is what this article is about, examining the very best Russian films of the last few years. It is about time to understand the country we seem unable to wrap our heads around. About time to understand a country that will be dictating much of what will be happening in the upcoming years.

---
Russian Federation country statistics
| Russian Federation | 2017 |
| --- | --- |
| Popularity | |
| Rank | #7 (List of most popular countries) |
| Actors | Sharlto Copley, Haley Bennett & Danila Kozlovsky |
| Trending | Leviathan, Hardcore & Da i Da |
Amount of country films per year from 2010 to 2017
61 Russian movies scheduled for release this year.

---
List of highest grossers of the decade & budget
Russian productions never do really well at the US Box Office. Even their big budget war movies like Stalingrad have to make their money elsewhere in the world. A big surprise was 2015's Hardcore Henry, the low budget internet hype that managed to get $9M from US viewers.
| Title | Box office | Budget |
| --- | --- | --- |
| Hardcore Henry (2015) | $9M | $2M |
| Stalingrad (2013) | $1M | $30M |
| Faust (2011) | $58K | $8M |
(Read: Who needs big budgets? 25 low budget success stories!)
2017 anticipated releases to watch
Guardians (Thursday February 23, 2017)

Director

Sarik Andreasyan

Cast

Valeriya Shkirando
Alina Lanina
Anton Pampushnyy
During the Cold War, an organization called "Patriot" created a super-hero squad, which includes members of multiple soviet republics. For years, the heroes had to hide their identities, but in hard times they must show themselves again.... Read more


---

Matilda (Thursday March 30, 2017)

Director

Aleksey Uchitel

Cast

Michalina Olszanska
Lars Eidinger
Luise Wolfram
In the twilight of Imperial Russia, prima ballerina Matilda Kshesinskaya becomes the mistress of three Grand Dukes.... Read more


---

Loveless (Thursday May 18, 2017)

Director

Andrey Zvyagintsev

Cast


A couple going through a divorce must team up to find their son who has disappeared during one of their bitter arguments.... Read more


---
Best Russian movies on Netflix or DVD in 2017
2010's best rated Russian movies out on DVD, Bluray or streaming on VOD (Netflix, Amazon).

The Student ((M)uchenik) (13-05-2016, 118 minutes)
Veniamin is a Russian high school student obsessed by Christianity. In his attempt to persuade everyone around him of the omnipresent immorality, he becomes more and more alienated. Beautifully shot and wonderfully deap-pan acted by Pyotr Skvortsov.


| | |
| --- | --- |
| Starring | Yuliya Aug, Viktoriya Isakova & Aleksandr Gorchilin |
| Director | Kirill Serebrennikov (Izmena (Betrayal)) |
| Similar movies | Kreuzweg |
| Themes | religion, youth, coming-of-age, drama, |
| Country | Russian Federation |
| Keywords | remarkable, thought provoking, |
| Rating | |
| Buy/stream it | Amazon / Netflix |

Leviathan (29-08-2014, 140 minutes)
Cannes is said to have been solid but somewhat dull this year. The same cannot be said of Leviathan that, although losing to Ceylan's 'Winter's Sleep', was one of the buzziest films of 2014. This exceptional film did walk away with the best screenplay award. Leviathan, Andrey Zvyagintsev, tells the gripping and sometimes even funny story of a man who is trying to fight the corrupt major of a small coastal town.


| | |
| --- | --- |
| Starring | Aleksey Serebryakov, Elena Lyadova & Roman Madyanov |
| Director | Andrey Zvyagintsev (The Return, Elena & The Banishment) |
| Similar movies | How I Ended This Summer & Wintersleep |
| Themes | justice, law, drama, |
| Country | Russian Federation |
| Keywords | astonishing, magnificent, |
| Rating | |
| Buy/stream it | Amazon / Netflix |

Hard to be a God (16-05-2014, 177 minutes)
It is Hard to be a God' is the last film by the late Aleksey German. Talented in achieving splendid surrealism but being anything but prolific, he spent the last 12 years of his life making this film. His 3-hour film based on the book by the Strugatsky brothers first opened at the Rome Film Festival in 2013, and it caused quite some waves. Stylistically it takes us back to the crispy black and white films with which Russia conquered the world, but it is not a historic tale. Some are even describing it as the most important science fiction film of this decade. Check out the estranging trailer of Hard to be a God with English subtitles online here.


| | |
| --- | --- |
| Starring | Gali Abaydulov, Yuriy Ashikhmin & Remigijus Bilinskas |
| Director | Aleksey German (Trial on the Road, My Friend Ivan Lapshin & Khrustalyov, My Car! ) |
| Similar movies | Planet of the Apes & Contact |
| Themes | extraterrestial life, science, drama, science fiction, |
| Country | Russian Federation |
| Keywords | entertaining, nonsensical, |
| Rating | |
| Buy/stream it | Amazon / Netflix |

Elena (21-01-2012, 109 minutes)
Elena, after the slightly disappointing The Banishment, reminded me that Zvyagintsev is my favorite contemporary Russian filmmaker. He again, impressively zooms in on individuality within family contexts, and how individual decisions affect all. His pure and simple filmmaking instantly feels majestic, and his films stay with you forever.


| | |
| --- | --- |
| Starring | Nadezhda Markina, Andrey Smirnov & Aleksey Rozin |
| Director | Andrey Zvyagintsev (Leviathan, The Return & The Banishment) |
| Similar movies | Ida & The Return |
| Themes | families, old age, drama, |
| Country | Russian Federation |
| Keywords | gripping, phenomenal, |
| Rating | |
| Buy/stream it | Amazon / Netflix |

How I Ended This Summer (28-01-2011, 130 minutes)
Like Zvyagintsev, Popogrepsky's dramas do not require obscure symbolism, unlike most Russian art house films, to get its message across. Its simplicity and straightforwardness captures your attention in a most subtle way. Often described as somewhat of a thriller, this is more of a solid interpersonal drama that plays out suspense very well, and although it moves rather slowly, is never dull. It takes place in the middle of the Arctic and the two protagonists only have each other to turn too when realizing the fragility of humans when compared to nature. Great performance by the two actors who contribute immensely to making it a an emotionally gripping drama.


| | |
| --- | --- |
| Starring | Grigoriy Dobrygin, Sergey Puskepalis & Igor Chernevich |
| Director | Aleksey Popogrebskiy (Roads to Koktobel, Simple Things & Bloodrop 3D) |
| Similar movies | Leviathan & Sibir. Monamur |
| Themes | nature, trust, action, drama, |
| Country | Russian Federation |
| Keywords | spectacular, thrilling, |
| Rating | |
| Buy/stream it | Amazon / Netflix |

Everyone Dies But Me (23-10-2008, 80 minutes)
Everybody dies but me is one of those realist coming-of-agers that without ever becoming to forced, is successful in its emotionally charged narrative. It demonstrates the naive beauty of ever-lasting teenage friendships that once adolescence kicks in turn out to be anything but infinite. Valeriya Gay Germanika shows she has a background in documentary filmmaking, because her gritty naturalist films have a great observational quality about them. If you are into Lukas Moodysson films (like Fucking Amal or We are the best!), this might be your Russian alternative. It is not as good as a Moodysson, but it is worth your while. (like We are the best! it is about three girls in the suburbs – but now in Moscow)


| | |
| --- | --- |
| Starring | Polina Filonenko, Agniya Kuznetsova & Olga Shuvalova |
| Director | Valeriya Gay Germanika (Da i Da) |
| Similar movies | We Are the Best & Bande de Filles |
| Themes | friendship, growing up, drama, |
| Country | Russian Federation |
| Keywords | authentic, realistic, |
| Rating | |
| Buy/stream it | Amazon / Netflix |
New Russian movies out now
Best recent & upcoming Russian movies with release dates.
Viking by Andrey Kravchuk
| | |
| --- | --- |
| Release date | 22-12-2016 |
| Country | Russian Federation |
| Starring | Anton Adasinsky, Aleksandr Armer & Vilen Babichev |
| Previous releases | Italyanets (The Italians) |
| Associated with | action, adventure, historical, |
Hardcore (12-09-2015, 90 minutes))
A new English-language Russian action film of which it is said that it could potentially change the future of action films. Described as an 'adrenaline shot', Hardcore is filmed as if it is a first-person shooter game. Ily Naishuller is making his feature film debut with this movie, after being compared to Quentin Tarantino for his Biting Elbows's 'Bad Motherfucker' video (which is generated 39 million views in no time). I do not yet quite see the comparison, but with more money this could be an interesting project for gamers. It was first set for release in 2014, but has now been scheduled for 2015.
| | |
| --- | --- |
| Director | Ilya Naishuller |
| Starring | Sharlto Copley, Haley Bennett & Danila Kozlovsky |
| Similar movies | Kill Bill & Crank |
| Themes | revenge, terrorism, action, adventure, science fiction, |
| Country | Russian Federation |
| Keywords | action-packed, dazzling, |
| Buy/stream it | Amazon / Netflix |
-
Best Russian TV Series out in 2017 on Netflix & on TV