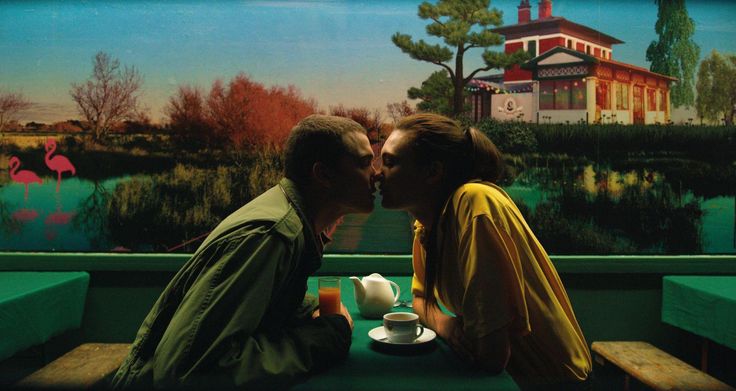 In the 1980's and 90's, the erotic thriller was quite a popular subgenre. The recent success of 'Fifty Shades' put the erotic film back on the map, so it seems.

The Vore's Film staff selects the top best erotic movies of 2017 in cinema, DVD and Netflix. Are Josh Lawson, Lars von Trier & François Ozon our new erotic genre directors? The main focus is on international art house & American and British indie cinema.


| erotic movies | 2017 |
| --- | --- |
| Popular actors | Dakota Johnson, Jamie Dornan & Jennifer Ehle |
| Trending movies | Fifty Shades of Grey, Knock Knock & Love |
Anticipated 2017 erotic movies to watch
Director

James Foley

Cast

Dakota Johnson
Jamie Dornan
Bella Heathcote

---

The BDSM saga continues with 'Fifty Shades Darker'. In this part, Ana tries to build up a new life, after breaking up with Christian. She now works for a publisher, but is still mainly occupied with her lost love. ...Read more

---
Best erotic movies on Netflix or DVD in 2017 & 2016
2010's best rated erotic movies out on DVD, Bluray or streaming on VOD (Netflix, Amazon).

Director

Lars von Trier

Cast

Charlotte Gainsbourg
Stellan Skarsgård
Stacy Martin

---

Lars von Trier outdoes himself with the first part of the Nymphomaniac series, about a s self-diagnosed nymphomaniac recounts her...Read more

---

Director

Lars von Trier

Cast

Charlotte Gainsbourg
Stellan Skarsgård
Willem Dafoe

---

The second installment in Lars Triers nympho series. Read more

---

Director

Chan-wook Park

Cast

Min-hee Kim,
Jung-woo Ha
Jin-woong Jo

---

Korean director Chan-wook Park (Oldboy) returns with this stylish, erotic thriller about a young girl who is hired to seduce and rob a rich Japanese heiress. ...Read more

---

Director

François Ozon

Cast

Marine Vacth
Géraldine Pailhas
Frédéric Pierrot

---

A young and beautiful young Parisien girl hides from her emotional issues by exploring the life of a high-end call girl. Read more

---

Director

Peter Strickland

Cast

Sidse Babett Knudsen
Monica Swinn
Chiara D'Anna

---

For fans of artsy, 1970's erotic cinema. 'The Duke of Burgundy' clearly pays hommage to a forlorn era. The mesmerizing story of two women and their eccentric masochist relation....Read more

---

Director

Mathieu Amalric

Cast

Mathieu Amalric
Léa Drucker
Stéphanie Cléau

---

A police investigation into the happenings of a woman and a man who were stuck in one room. What is he accused of?Read more

---

Director

Chan-wook Park

Cast

Min-hee Kim
Jung-woo Ha
Jin-woong Jo

---

Korean director Chan-wook Park (Oldboy) returns with this stylish, erotic thriller about a young girl who is hired to seduce and rob a rich Japanese heiress. ....Read more

---

Director

Josh Lawson

Cast

Bojana Novakovic
Damon Herriman
Josh Lawson

---

A man is convinced he should become an actor after being inspired by playing sensual role-playing games. Read more

---

Director

Josh Lawson

Cast

Bojana Novakovic
Josh Lawson
Damon Herriman

---

A man is convinced he should become an actor after being inspired by playing sensual role-playing games...Read more

---

Director

Lars von Trier

Cast

Charlotte Gainsbourg
Stellan Skarsgård
Stacy Martin

---

Lars von Trier outdoes himself with the first part of the Nymphomaniac series, about a s self-diagnosed nymphomaniac recounts her...
...Read more

---

Director

François Ozon

Cast

Marine Vacth
Géraldine Pailhas
Frédéric Pierrot

---

A young and beautiful young Parisien girl hides from her emotional issues by exploring the life of a high-end call girl.
...Read more

---

Director

Lars von Trier

Cast

Charlotte Gainsbourg
Stellan Skarsgård
Willem Dafoe

---

The second installment in Lars Triers nympho series...Read more

---

Director

Peter Strickland

Cast

Sidse Babett Knudsen
Monica Swinn
Chiara D'Anna

---

For fans of artsy, 1970's erotic cinema. 'The Duke of Burgundy' clearly pays hommage to a forlorn era. The mesmerizing story of two women and their eccentric masochist relation......Read more

---

Director

Mathieu Amalric

Cast

Mathieu Amalric
Léa Drucker
Stéphanie Cléau

---

A police investigation into the happenings of a woman and a man who were stuck in one room. What is he accused of?...Read more

---