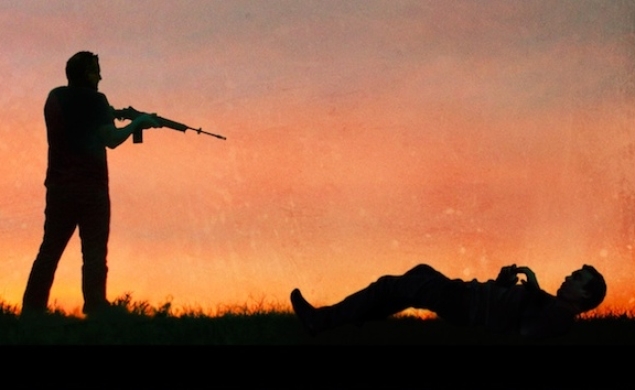 Unfortunately, too often, thrillers aren't really that 'thrilling'. Like horror, it is hard to avoid cliches when it comes to writing and directing thriller movies. We managed to put together a list of thrillers that will get you at the edge of your seat.

The Vore's Film staff selects the top best thriller movies of 2017 in cinema or on DVD or Netfix. Are Ben Affleck, Martin Scorsese & Ron Howard our new thriller genre directors?
Filmmakers in the field of suspense never had to worry as much about their reputation as their action flick counterparts. Especially with psychological thriller films. A solid conventional thriller, however cliché or unsurprising, never has to face as much contempt from critics as a run of the mill action film. Apparently, aspiring to become a Hitchockian master of suspense is a goal worth striving for. And I am glad this is the case, because this has pushed many talented art house directors into the thriller genre. Whether it is a home invasion film, an erotic thriller, a psychological thriller or a conventional detective story, it can be done tastefully and without losing its main appeal – to thrill. Read here about this decade's (2010 -) best psychological thriller films up to 2017.

---
thriller genre statistics
| thriller | 2017 |
| --- | --- |
| Popularity | |
| Rank | #8 (List of most popular genres) |
| Actors | Leonardo DiCaprio,Tom Hanks & Ben Affleck |
| Trending | Sicario, Manson Family Vacation & Gone Girl |
Amount of genre films per year from 2010 to 2017
1628 thriller movies scheduled for release this year.

---
List of highest grossers of the decade & budget
| Title | Box office | Budget |
| --- | --- | --- |
| Skyfall (2012) | $304.36M | $200M |
| Gone Girl (2014) | $167.74M | $61M |
| Fifty Shades of Grey (2015) | $166.15M | $40M |
| Jason Bourne (2016) | $162.16M | $120M |
| Argo (2012) | $136.02M | $44.5M |
(Read: Who needs big budgets? 25 low budget success stories!)
2017 anticipated releases to watch
The Circle (Friday April 28, 2017)

Director

James Ponsoldt

Cast

Karen Gillan
Emma Watson
Tom Hanks
The incredibly popular bestseller The Circle by Dave Eggers adapted to film. A very modern tale with the all the dark secrets we hope are not taking place at tech companies. In this technology thriller Emma Watson climbs the ranks of a social media company, and there she gets involved with a mysterious man. What first is a great experience, slowly turns grim. ... Read more


---

Wind River (Saturday January 21, 2017)

Director

Taylor Sheridan

Cast

Jeremy Renner
Elizabeth Olsen
Jon Bernthal
Taylor Sheridan, the writer of 2016's hit Hell or High Water, comes with a story about a killing that has taking place at Native American Reservation. A FBI agent teams up with a local tracker. It is set to premiere at Sundance 2017.... Read more


---

Split (Friday January 20, 2017)

Director

M. Night Shyamalan

Cast

James Mcavoy
Anya Taylor-Joy
Haley Lu Richardson
James McAvoy goes truly insane in Split, a movie about three girls who get kidnapped by a mad man with 23 different personalities. Naturally, they are trying to escape, and it's quite thrilling. ... Read more


---
Best thriller movies on Netflix or DVD in 2017
2010's best rated thriller movies out on DVD, Bluray or streaming on VOD (Netflix, Amazon).

Prisoners (20-09-2013, 153 minutes)
Prisoners is topping this round-up because it stays within genre conventions (over-all at least) without ever becoming cliche or predictable. More than that, Denis Villeneuve shows how making a thriller should be done. Next to having a great plot with clever unexpected twists and turns, Prisoners gets you emotionally invested in the characters – the ones you are expected to be rooting for, but also the ones you might not expect yourself to care for. In other words, Villeneuve has managed to create real flesh and blood characters who, when inserted into extreme situations, act ambiguously, and consequently make you as a viewer question and investigate everything. His next feature, Enemy, a doppelgänger film also starring Jake Gyllenhaal, is way less straightforward, and almost feels like Villeneuve proving he is not just doing genre films now. Enemy is also great, but I wouldn't mind Villeneuve sticking to excellent genre films like Prisoners.


| | |
| --- | --- |
| Starring | Hugh Jackman, Jake Gyllenhaal & Viola Davis |
| Director | Denis Villeneuve (Sicario, Enemy & Incendies) |
| Themes | fear, parenting, police, violence, crime, drama, mystery, |
| Country | United States |
| Keywords | astonishing, riveting, smart, |
| Rating | |
| Buy/stream it | Amazon / Netflix |

Blue Ruin (09-07-2014, 90 minutes)
Without a doubt my favorite American indie thriller of 2014. The main character is clearly a bit of a nutter, and as a viewer you slowly and surely get more information, but the modus operandi of the suspense mainly is founded on the what the hell is next? principle. It is a bloody yet arty revenge film that ranks among 2014's most noteworthy indies. Director Jeremy Saulnier basically bet his house on this project, and I am glad he was willing to take such risks. Not just financially, but also with regard to artistic and narrative decisions made for the film – truly original.


| | |
| --- | --- |
| Starring | Macon Blair, Devin Ratray & Amy Hargreaves |
| Director | Jeremy Saulnier (Murder Party, Green Room & Crabwalk) |
| Themes | families, punishment, revenge, crime, drama, thriller, |
| Country | France |
| Keywords | intense, remarkable, |
| Rating | |
| Buy/stream it | Amazon / Netflix |

Nocturnal Animals (01-12-2016, 116 minutes)
When it comes to revenge stories, this one is not satisfying in term of bloody payback, but is much more sophisticated. Tom Ford, the mind behind the iconically stylish 'A Single' returns with a much darker movie. A gripping revenge thriller with Amy Adams and Jake Gyllenhaal in the leads. Tom Ford, the famous fashion designer-turned director, combines the luxurious high-end art scene of New York with the gritty The Killer Inside me type atmosphere of desolate Texas. The pitch-black story is about a successful gallery owner, played by Amy Adams, who during marriage troubles of her own, receives a manuscript of her ex-husband's new novel. The highly disturbing and violent thriller book quickly becomes intensely personal.


| | |
| --- | --- |
| Starring | Amy Adams, Jake Gyllenhaal & Michael Shannon |
| Director | Tom Ford (A Single Man) |
| Similar movies | The Killer Inside me |
| Themes | abandonment, ambitions, families, revenge, psychological, western, |
| Country | United States |
| Keywords | arty, brilliant, captivating, |
| Rating | |
| Buy/stream it | Amazon / Netflix |

Kill List (02-09-2011, 95 minutes)
When people in 2017 talk about British horror, absurdist horror, there is only one real name in the game. Ben Wheatley. With Kill List he properly introduced himself, and his dark and absurdist style seems here to stay. Kill List is an unsettling thriller that already shows Wheatley's love for horror elements. Shot intimately and slightly experimentally, the film is deeply invading and is more an investigation into the human psychology than a narratively nicely tidied up film. His recent High-Rise and the 2017 Free Fire also come recommended. He has currently three other movies listed on our Best new British movies of 2017


| | |
| --- | --- |
| Starring | Neil Maskell, MyAnna Buring & Harry Simpson |
| Director | Ben Wheatley (Sightseers, Down Terrace & A Field in England) |
| Themes | crime, darkness, death, money, crime, horror, thriller, |
| Country | United Kingdom |
| Keywords | dark, hard-hitting, noteworthy, |
| Rating | |
| Buy/stream it | Amazon / Netflix |

Gone Girl (03-10-2014, 149 minutes)
The film is centered around a mediahype, but Gone Girl received more than enough attention itself. Marketeers must have known that with David Fincher as the intelligent director and Ben Affleck in a potentially dark role as the suspected husband, they had gold in their hands. And it actually really did deliver. Sure the story takes on high unlikely turns of events, but boy is it juicy stuff. Fincher is a talented writer/director, but he sometimes has the tendency to go so far in terms of making a plot waterproof, that it actually becomes dry and rather boring (A good example is the way too long and tedious Zodiac). Gone Girl is the opposite – it is constantly tickling the viewer's curiosity and hunger for sensation, and gives the thriller enthusiast more than he/she could wish for. One of the few big budget productions that actually took me by surprise story-wise. Gone girl was based on the book by Gillian Flynn.


| | |
| --- | --- |
| Starring | Ben Affleck, Rosamund Pike, Neil Patrick Harris |
| Director | David Fincher (Fight Club, Se7en & The Social Network) |
| Similar movies | Dark Places & The Visit |
| Themes | infedility, marriage, media, police, drama, mystery, thriller, |
| Country | United States |
| Keywords | based on a novel, entertaining, shocking, |
| Rating | |
| Buy/stream it | Amazon / Netflix |

Green Room (13-5-2016, 96 minutes)
After 2014's above mentioned Blue Ruin, we did not expect to Saulnier to pull it off again and earn himself his second place on the list. Green Room is perhaps slightly less arty, and in that sense less visually spectacular, but in terms of suspense it's stronger. In Blue Ruin the thrill mainly came from having no clue what the protagonist was going to do next. Green Room is more claustrophobic, and plays with anxiety over not knowing what happens to the protagonists. Anton Yelchin (who recently died in a tragic car accident) and his band get locked up in a room after they have witnessed a murder. Not just any murder, a murder committed by a crazy neo-nazi at a nazi hangout. The charismatic leader, played by a terrifying Patrick Stewart, is ice-cold and relentless, and immediately starts scheming to get rid of the band.


| | |
| --- | --- |
| Starring | Anton Yelchin, Imogen Poots & Alia Shawkat |
| Director | Jeremy Saulnier (Blue Ruin) |
| Similar movies | Imperium |
| Themes | nationalism, survival, |
| Country | United States |
| Keywords | horrifying, invigorating, |
| Rating | |
| Buy/stream it | Amazon / Netflix |

Captain Philips (11-10-2013, 134 minutes)
I was in doubt about whether I should instead of Captain Phillips suggest the Danish film Kapringen which deals with the exact same topic. The Danish film was also released in 2013, and is also about Somalian pirates hijacking a cargo ship, but it is a much more genuine, understated and realistic film than Captain Films. However, it is more a drama than a thriller. And Captain Phillips really thrills – it is a jittery, breathtaking film that reaches extreme levels of intensity. In other words, it is an incredibly tense thriller. Tom Hanks does a great job at making you care for his poor soul. Should really be seen in a cinema-worthy setting.


| | |
| --- | --- |
| Starring | Tom Hanks, Barkhad Abdi & Barkhad Abdirahman |
| Director | Paul Greengrass (The Bourne Ultimatum, The Bourne Supremacy & United 93) |
| Similar movies | Kapringen & The Last Hijack |
| Themes | fear, poverty, third world, violence, biographical, drama, thriller, |
| Country | United States |
| Keywords | adventurous, biographical, horrifying, |
| Rating | |
| Buy/stream it | Amazon / Netflix |

Tom at the Farm (14-08-2015, 102 minutes)
Critics can't stop talking about Xavier Dolan's Mommy (2014). That Nolan knows what he is doing in terms of producing excellent and moving drama is nothing new to us. That he also knows his stuff when it comes to thrillers was a pleasant (but not too big) surprise. He proved this with Tom at the Farm (Tom a la ferme), a 'gay yet Hitchcockian suspense film'


| | |
| --- | --- |
| Starring | Xavier Dolan, Pierre-Yves Cardinal & Lise Roy |
| Director | Xavier Dolan (I Killed My Mother, Heartbeats & Mommy) |
| Themes | gay, grieving, manipulation, drama, thriller, |
| Country | United States |
| Keywords | brilliant, dazzling, |
| Rating | |
| Buy/stream it | Amazon / Netflix |

Les Salauds (07-08-2013, 100 minutes)
Claire Denis is not for everyone. She has proven that over and over again, and with Salauds it's no different. However, if you want dark, twisted, and disorienting poetry, than Les Salauds is for you. It is a noir-ish revenge film without you first realizing it. There is a narrative (don't worry), but it's being approached in such a complex and poetic manner that you might as well be without. You see images, you see people, but you feel the emotions and atmosphere. The suspense does not work in a logical way, but creeps up on you and gets under your skin. It disturbs you and stays with you, and for that reason is one of the new best psychological thrillers of the 2010's. It also has a prominent spot on our Best new French movies list


| | |
| --- | --- |
| Starring | Vincent Lindon, Chiara Mastroianni & Julie Bataille |
| Director | Claire Denis (White Material, 35 Shots of Rum & Trouble Everyday) |
| Themes | justice, murder, revenge, sex, drama, |
| Country | France |
| Keywords | confusing, hard-hitting, mysterious, |
| Rating | |
| Buy/stream it | Amazon / Netflix |

Borgman (29-08-2013, 113 minutes)
This was the film that broke the Dutch 38-years silence at Cannes. Cult director Alex van Warmerdam brings the home invasion thriller genre to the next level. Comparisons may be made to Haneke's Funny Games, but this European thriller is much weirder, creepier and more disturbing. That is because it is less ironic than a Haneke film, but waymore twisted. Some may find it tedious after a while because, like Les Salauds and Killer Joe, the suspense is mainly developed by setting up a disquieting atmosphere. Van Warmerdam certainly succeeds there


| | |
| --- | --- |
| Starring | Jan Bijvoet, Hadewych Minis & Jeroen Perceval |
| Director | Alex van Warmerdam (Ober, Voyeur & The Northeners) |
| Themes | domestic violence, forest, parenting, drama, thriller, |
| Country | Netherlands |
| Keywords | chilling, weird, |
| Rating | |
| Buy/stream it | Amazon / Netflix |

Out of the Furnace (06-12-2013, 116 minutes)
As a bit of a old fashioned masculine film, Out of the Furnace with its gritty art-house look, was actually more enjoyable than I initially expected. I was afraid it would be some sort or forced realistic tough guy film revenge film, and it obviously was, but much better executed than I thought. Nothing groundbreaking in terms of acting as most actors were playing their typical characters, but the hill billy bad guy role by Woody Harrelson is more than noteworthy.


| | |
| --- | --- |
| Starring | Christian Bale, Casey Affleck & Zoe Saldana |
| Director | Scott Cooper (Crazy Heart, Black Mass & Austin Powers : The Spy Who Shagged Me) |
| Themes | forest, revenge, vigilante, village, crime, drama, thriller, |
| Country | United States |
| Keywords | dark, haunting, |
| Rating | |
| Buy/stream it | Amazon / Netflix |

L'inconnu du Lac (12-06-2013, 100 minutes)
Best described as a psychological erotic thriller located in an Eric Romer kind of setting, The Stranger by the Lake caused the very first conflict among our editors in 2014. Where some found it intelligent, mysterious and ultimately suspenseful, others could not help feel it was a forced arty production that ultimately committed the sin of being boring. And I guess that both parties are kind of right. It is a summery film that in the first place is simply after giving you a naturalistic yet dreamy impression of a meeting spot for gays. Not much happens and the tension build-up is dreadfully slow and rather dispersed. For some it peaks too late, but for me it was right on time, and when it peaks, it really peaks.


| | |
| --- | --- |
| Starring | Pierre Deladonchamps, Christophe Paou & Patrick d'Assumçao |
| Director | Alain Guiraudie (The King of Escape, No Rest For The Brave & That Old Dream That Moves) |
| Themes | gay, murder, sex, drama, thriller, |
| Country | France |
| Keywords | controversial, fascinating, incomparable, |
| Rating | |
| Buy/stream it | Amazon / Netflix |

Argo (12-10-2012, 120 minutes)
I happened to be working at an embassy when I was watching Argo, and I can't deny this made the film extra interesting. Perhaps in such measure that it tipped the scales in favor of it becoming more than just a solid conventional international thriller. Because that it certainly is, a well-acted period film that narrates, with poise and accuracy, a historical happening that was huge in the world of international diplomacy. The suspense was crafted quite cleverly. Argo did not need to rely on action scenes, but knew perfectly well that what it needed to rely on was the psychological feeling of being shallowed up by a foreign country in which you can trust no-one, and you just hope to make it out alive amidst the chaos. If you are an Affleck Fan, you might want to check out his Boston crime film The Town (2010)


| | |
| --- | --- |
| Starring | Ben Affleck, Bryan Cranston & John Goodman |
| Director | Ben Affleck (Gone Girl, The Town & Good Will Hunting) |
| Themes | espionage, human rights, islam, revolution, drama, historical, thriller, |
| Country | United States |
| Keywords | action-packed, entertaining, historical, thrilling, |
| Rating | |
| Buy/stream it | Amazon / Netflix |

Drive (16-09-2011, 100 minutes)
Few films have managed to become instant mainstream cult films. Drive is the sublimation of Refn's experimenting with the concept of violence. As Refn says: violence is just like sex, it's all about the build-up. And he builds it up alright. Ryan Gosling's character is quiet and mysterious, but you sense something boiling underneath. When it finally comes out the explosion is shocking, disturbing and yes, satisfying. This combined with an incredibly cool soundtrack by Kavinsky, and shots of L.A. at night, make for a cult classic. He got everything right. Refn's next feature, Only God Forgives, proves that he can also get it wrong. His wife made an interesting documentary about him failing after the huge success of Drive.


| | |
| --- | --- |
| Starring | Ryan Gosling, Carey Mulligan & Bryan Cranston |
| Director | Nicolas Winding Refn (Only God Forgives, Valhalla Rising & Bronson) |
| Themes | cars, city, crime, love, crime, drama, |
| Country | United States |
| Keywords | excellent, iconic, retro, |
| Rating | |
| Buy/stream it | Amazon / Netflix |

Killer Joe (05-07-2013, 102 minutes)
This is not for the faint of heart. And I mean that. I was surprised about how exceptionally explicit the film is when it comes to violence. It is the perfect example of what happens when you get involved with the wrong people. Some people you simply should not associate with – not even in times of distress. In this case that person was Mister rom com McConaughey on the start of his mcconaissance. It was the first film that allowed him to show more than we have seen of him before. Here you can see the darkest side of his character in True Detective.Perhaps this would have been better suited for our Best new horror movies of 2017 list


| | |
| --- | --- |
| Starring | Matthew McConaughey, Emile Hirsch & Juno Temple |
| Director | William Friedkin (The Exorcist, Rules of Engagement & The French Connection) |
| Themes | drugs, murder, sex, crime, drama, thriller, |
| Country | United States |
| Keywords | dark, engrossing, thrilling, |
| Rating | |
| Buy/stream it | Amazon / Netflix |

Shutter Island (19-02-2010, 138 minutes)
This year Scorsese and DiCaprio once again proved to be a golden duo. Wolf of Wall Street was a huge hit. And in 2016 Leonardo finally won an Oscar for The Revenant (and again featuring on our richest actors list of this year).Shutter Island is in comparison a way more modest film. In execution at least. Story-wise it definitely is a mind-fuck, but perhaps one you could see coming. Nonetheless, I do think it's a great thriller, one that has a nostalgic feel about it. Anything taking place at an isolated Island is awesome psychological thriller material, and DiCaprio and Marc Ruffalo are bringing their a-game to making it happen.


| | |
| --- | --- |
| Starring | Leonardo DiCaprio, Emily Mortimer & Mark Ruffalo |
| Director | Martin Scorsese (The Wolf of Wall Street, Goodfellas & The Departed) |
| Themes | insanity, memories, police, mystery, thriller, |
| Country | United States |
| Keywords | based on a novel, captivating, creepy, |
| Rating | |
| Buy/stream it | Amazon / Netflix |
New thriller movies out now
Best recent & upcoming thriller movies with release dates.
10 Cloverfield Lane by Dan Trachtenberg
| | |
| --- | --- |
| Release date | 10-03-2016 |
| Country | United States |
| Starring | John Goodman, Mary Elizabeth Winstead & John Gallagher Jr. |
| Previous releases | Portal: No Escape |
| Associated with | horror, post-apocalyptic, thriller, |
Don't Breathe by Fede Alvarez
| | |
| --- | --- |
| Release date | 26-08-2016 |
| Country | United States |
| Starring | Dylan Minnette, Jane Levy & Stephen Lang |
| Previous releases | Evil Dead, El Cojonudo & Panick Attack! |
| Associated with | horror, thriller, |