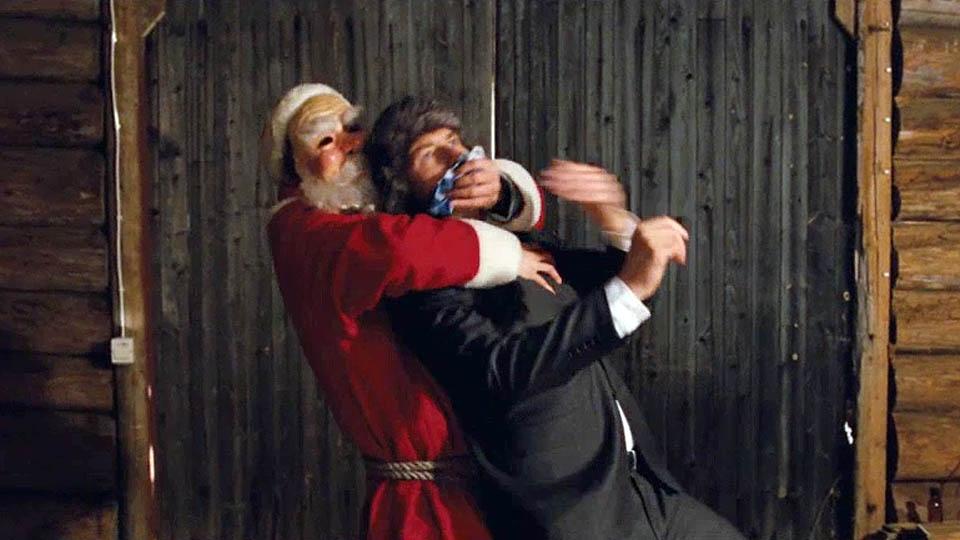 Fed up with watching the Home Alone series every damn year? These are some interesting Christmas movies that you might like.

The Vore's Film staff selects the top best christmas movies of 2017 in cinema or on DVD or Netfix. Are Michael Dougherty, Sarah Smith & Barry Cook our new christmas genre directors?
Christmas films are a breed of their own, and unfortunately it's a breed that is most commonly associated with gooey Hallmark card sentiment. At worst, they even share the aesthetic of a Hallmark Christmas card (you can send the films' posters right along to your grandma for Christmas), and shamelessly exploit the most superficial aspects of human nature. At best, they are still exploiting cheap sentiment, but manage to go slightly below the surface and actually conjure up something that feels remotely genuine. Clearly, the former make up for the majority of the modern Christmas cinema market – you may think of the 2013 British film The Christmas Candle which is so hard trying to be fuzzy and cozy, it is anything but.

I am not arguing that these films are not supposed to aim for being warm and cozy, or nostalgic and uplifting for that matter. Sure, if there ever is a time to give into those cravings, Christmas time is the perfect occasion. In that sense, Christmas films are balancing on the same slippery slop as romantic comedies – they have to give us what we want, either moving us to tears or giving us that much sought after feel-good feel, but we don't want to get conned into it. Many filmmakers know through dramaturgic tricks which buttons to press to make you shed a little tear or to feel good for a little while, but I am sure a part of you feels a bit ashamed at the same time. The rest of this article will name a number of new films that are great Christmas themed films AND manage to keep the feeling of shame to an acceptable minimum. Put in that perspective, here are the best Christmas films of the 2010's up to 2016. In the past It's A Wonderful Life, A Charlie Brown Christmas, The Apartment, Holiday Inn, National Lampoon's Christmas Vacation, A Christmas Story, The Muppet Christmas Carrol and even Home Alone did the Christmas theme justice, but which recent films are out there? From 2000 to now in 2016.

| christmas movies | 2017 |
| --- | --- |
| Popular actors | Olivia Wilde, Amanda Seyfried & Marisa Tomei |
| Trending movies | Love The Coopers, Krampus & The Night Before |
2017 anticipated releases to watch
Best christmas movies on Netflix or DVD in 2017
2010's best rated christmas movies out on DVD, Bluray or streaming on VOD (Netflix, Amazon).

Hjem til Jul (12-11-2010, 90 minutes)
Bent Hamer is a bit of a cult director, both inside as outside of Norway. To English-speaking audiences he is best known for Factotum (based on Bukowsky's popular novel), but Scandinavians will always remember him for Kitchen Stories, a dark comedy that says a lot about Scandinavian mentality. His sharp eye is also reflected in this Christmas story – Hjem Til Jul is an Ensemble film that cleverly explores the spectrum of human emotions at Christmas time, and does so honestly without ever becoming too cynical or overtly sappy. Sentiment at its finest.


| | |
| --- | --- |
| Starring | Nina Andresen Borud, Arianit Berisha & Joachim Calmeyer |
| Director | Bent Hamer (1001 Grams, Factotum & Kitchen Stories) |
| Themes | isolation, lifestyle, love, old age, comedy, drama, |
| Country | Germany Norway Sweden |
| Keywords | clever, spot-on, surprising, |
| Rating | |
| Buy/stream it | Amazon / Netflix |

Arthur Christmas (23-11-2011, 97 minutes)
A disclaimer is perhaps warranted – I am not a big fan of animation films. Sure, they can be cute and touching, but usually I prefer to be moved by people of flesh and blood on the screen. But I actually kind of enjoyed Arthur Christmas. It is intelligent, moderately sentimental and delightfully charming. It is your typical 'save Christmas film', but remarkably human in how it poses the challenges the main character is facing – Santa Claus' clumsy but kind-hearted grandson has to man up to right his own wrong. He has got 2 hours.


| | |
| --- | --- |
| Starring | James McAvoy, Jim Broadbent & Bill Nighy |
| Director | Sarah Smith & Barry Cook (Acts of God & The Pirates! Band of Misfits) |
| Themes | childhood, heroism, technology, animation, comedy, drama, family, |
| Country | United Kingdom United States |
| Keywords | family-oriented, smart, touching, |
| Rating | |
| Buy/stream it | Amazon / Netflix |

Joulutarina (16-11-2007, 83 minutes)
Lately, the origin story is somewhat a hype. The Christmas Story is a full blown origin story about Santa Clause. In this touching and funny little film (it runs only 70 minutes) Wuolijoki tells the story of a young Finnish orphan boy who, as he grows older, finds joy in giving people presents. After a while, things run out of hand. The Christmas Story avoids typical, sappy Christmassy clichés, while at the same being the summum of it. The fact that this film is from Finland, the country where Santa is from according to the myth, gives it all the more credibility.


| | |
| --- | --- |
| Starring | Hannu-Pekka Björkman, Otto Gustavsson & Jonas Rinne |
| Director | Juha Wuolijoki (Hella W, Paulie & Gourmet Club) |
| Themes | orphans, youth, drama, family, fantasy, |
| Country | Finland |
| Keywords | family-oriented, subtle, touching, |
| Rating | |
| Buy/stream it | Amazon / Netflix |

Love Actually (14-11-2003, 135 minutes)
The blueprint for the modern British feel-good/romantic comedy/Christmas film. You also cannot deny the great influence Love Actually has had worldwide. It has been copied everywhere, and almost every national cinema has crafted its own version of it. And indeed, the film is a genuine feel-good treat, and is always a joy to watch during Christmas time. Sure, it is a guilty pleasure, but that makes it no less effective.


| | |
| --- | --- |
| Starring | Hugh Grant, Martine McCutcheon & Liam Neeson |
| Director | Richard Curtis (Bean, Notting Hill & About Time) |
| Themes | death, fame, families, love, marriage, parenting, comedy, drama, romance, |
| Country | France United Kingdom United States |
| Keywords | charming, classic, outstanding, |
| Rating | |
| Buy/stream it | Amazon / Netflix |

Når Nettene Blir Lange (24-11-2000, 102 minutes)
Who would've thought Dogme 95 would ever produce a Christmas film. That radical group of Scandinavian film makers who strived to make films devoid of any form of artificiality. Well, if Cabin Fever proves anything, than it is that celebrating Christmas isn't always a cosy get-together. The story evolves around a highly dysfunctional family coming together in a cabin to celebrate Christmas. Pretty soon after the group is complete, it becomes clear that every member is haunted by one or another ghost from the past. To coin this film Festen: The Christmas Edition would be a bit lame, but I'm doing it anyway.


| | |
| --- | --- |
| Starring | Svein Scharffenberg, Gørild Mauseth & Zbigniew Zamachowski |
| Director | Mona J. Hoel (One Last Try, Noe Berolingede & Chlorox, Ammonium and Coffee) |
| Themes | families, memories, substance abuse, drama, |
| Country | Denmark Norway Sweden |
| Keywords | dark, realistic, tragic, |
| Rating | |
| Buy/stream it | Amazon / Netflix |

Un Conte de Noel (21-11-2008, 150 minutes)
It was a bit of a coin toss because France has created two famous Christmas films in the 2000's. The one that did not make the cut was Joyeux Noel (2005), a great film narrating the infamous Christmas eve during the First World War when armies laid down their arms for one night. I, however, chose to include Un conte de Noël because it hits a little closer to home – it is about family, and how difficult family relations can be. A feeling that especially during Christmas can become awfully present. It is a great drama with some funny and touching moments, but it can be a bit on the heavy side.


| | |
| --- | --- |
| Starring | Catherine Deneuve, Jean-Paul Roussillon & Mathieu Amalric |
| Director | Arnaud Desplechin (Kings and Queens, Jimmy P. & My Sex Life... or How I Got Into an Argument ) |
| Themes | character, comedy, drama, |
| Country | France |
| Keywords | intense, notable, unpredictable, |
| Rating | |
| Buy/stream it | Amazon / Netflix |

Rare Exports: A Christmas Tale (03-12-2010, 84 minutes)
Christmas cinema has an impressive history of films playing with the Christmas genre conventions. Perhaps these unconventional films have been even more popular than the sincere genre films – The Nightmare Before Christmas, Elf, Scrooged, to just name a few. But lately there have also been several Horror Christmas films. The most popular recent one by far is Rare Exports – A Christmas Tale, yet again from Finnish soil. It is hugely entertaining film about a group of explorers who set out on a wild and bizarre adventure in the hope of discovering the secret of Christmas.


| | |
| --- | --- |
| Starring | Jorma Tommila, Peeter Jakobi & Onni Tommila |
| Director | Jalmari Helander (Big Game, Rare Exports Inc. & The Official Rare Exports Inc. Safety Instructions 2005 ) |
| Themes | forest, nature, adventure, fantasy, horror, |
| Country | Finland France Norway Sweden |
| Keywords | absurd, fun, |
| Rating | |
| Buy/stream it | Amazon / Netflix |
New christmas movies out now
Best recent & upcoming christmas movies with release dates.
Almost Christmas by David E. Talbert
| | |
| --- | --- |
| Release date | 11-11-2016 |
| Country | United States |
| Starring | Kimberly Elise, Omar Epps & Danny Glover |
| Previous releases | Bagage Claim, First Sunday |
| Associated with | comedy, family, |
Love The Coopers (13-11-2015, 107 minutes))
| | |
| --- | --- |
| Director | Jessie Nelson (I Am Sam, Stepmom & The Story of Us) |
| Starring | Olivia Wilde, Amanda Seyfried & Marisa Tomei |
| Similar movies | Meet the Fockers & I Am Sam |
| Themes | families, holidays, tradition, comedy, |
| Country | United States |
| Keywords | fun, pleasant, |
| Buy/stream it | Amazon / Netflix |
The Night Before (20-11-2015, 101 minutes))
| | |
| --- | --- |
| Director | Jonathan Levine (Warm Bodies, 50/50 & the Wackness) |
| Starring | Joseph Gordon-Levitt, Lizzy Caplan & Miley Cyrus |
| Similar movies | This Is the End & 50/50 |
| Themes | friendship, jewish, comedy, |
| Country | United States |
| Keywords | hilarious, silly, |
| Buy/stream it | Amazon / Netflix |
Krampus (04-12-2015, minutes))
| | |
| --- | --- |
| Director | Michael Dougherty (Superman Returns, X-Men 2 & Trick 'r Treat) |
| Starring | Allison Tolman, Toni Collette & Adam Scott |
| Similar movies | Gremlins & Rare Export |
| Themes | childhood, darkness, good versus evil, comedy, fantasy, horror, |
| Country | United States |
| Keywords | entertaining, frightening, |
| Buy/stream it | Amazon / Netflix |