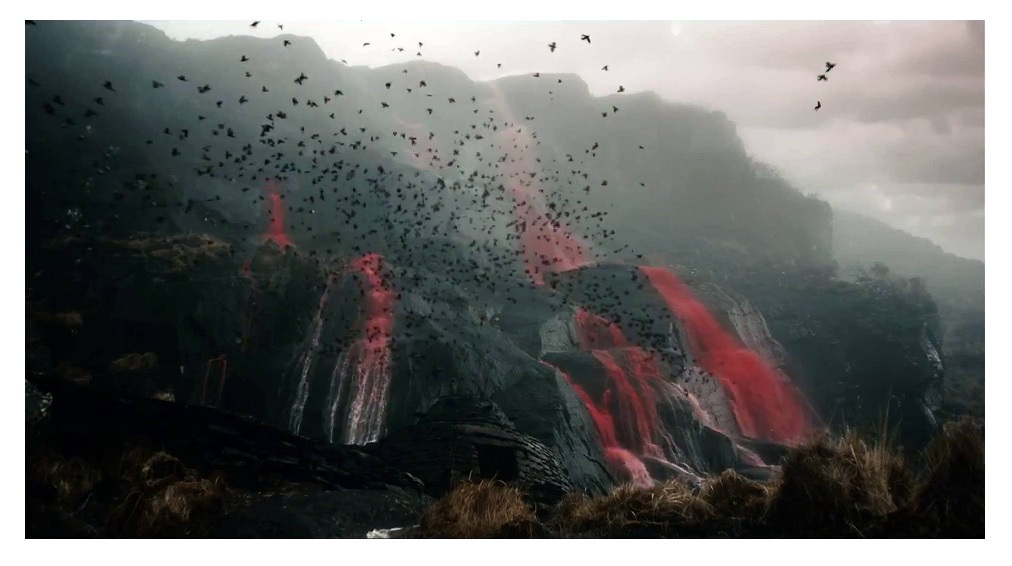 Most people nowadays would associate vampire movies with whiny teenage drama, thanks to the 'Twilight' series. However, we've recently seen quite a lot interesting and daring vampire movies.

The Vore's Film staff selects the top best vampire movies of 2017 in cinema, DVD and Netflix. Are Robbie Pickering, Jemaine Clement & Mauricio Chernovetzky our new vampire genre directors? The main focus is on international art house & American and British indie cinema.
Not all of these films were mind-blowing, especially script wise some of them had their shortcomings. But if a great vampire film needs anything, it's aesthetics. Sensuous and seductive bloodsuckers with skins pale as a full moon. Shot like they're in a fragrance commercial. Well, judge for yourself. In this article we look forward to the best new vampire films up to 2017 and, give a short overview of the 2010's vampire cinema highlights so far. From typically American horror films, to foreign vampire films, because there was more than just the Swedish Let the Right one in.

| vampire movies | 2017 |
| --- | --- |
| Popular actors | Jemaine Clement, Taika Waititi & Cori Gonzalez-Macuer |
| Trending movies | What We Do In The Shadows , A Girl Walks Home Alone at Night & Only Lovers Left Alive |
Anticipated 2017 vampire movies to watch
Director

Anna Foerster

Cast

Kate Beckinsale
Theo James
Tobias Menzies

---

Vampire death dealer, Selene (Kate Beckinsale) fights to end the eternal war between the Lycan clan and the Vampire faction that betrayed her....Read more

---
Best vampire movies on Netflix or DVD in 2017 & 2016
2010's best rated vampire movies out on DVD, Bluray or streaming on VOD (Netflix, Amazon).

Director

Jim Jarmusch

Cast

Tilda Swinton
Tom Hiddleston
Mia Wasikowska

---

Last year Jim Jarmusch' much anticipated 2014 vampire film Ony Lovers Left Alive finally saw its release. And it sure wasn't a disappointment, making it one of the few actually good vampire films within the genre. In his characteristic poetic and deadpan comical style Jarmusch explored the everlasting love of vampires Tom Hiddleston and Tilda Swinton (mesmerizing as always), ironically named Adam and Eve. The film proved beautifully why 'vampire flicks' and 'quality cinema' do not necessarily exclude one another....Read more

---

Director

Ana Lily Amirpour

Cast

Sheila Vand
Arash Marand
Marshall Manesh

---



Most people nowadays would associate vampire movies with whiny teenage drama, thanks to the 'Twilight' series. However, we've recently seen quite a lot interesting and daring vampire movies.


Contents

1. Genre statistics
2. Box office
3. Best of the decade
4. New 2017 releases
The Vore's Film staff selects the top best vampire movies of 2017 in cinema, DVD and Netflix. Are Robbie Pickering, Jemaine Clement & Mauricio Chernovetzky our new vampire genre directors? The main focus is on international art house & American and British indie cinema.

Not all of these films were mind-blowing, especially script wise some of them had their shortcomings. But if a great vampire film needs anything, it's aesthetics. Sensuous and seductive bloodsuckers with skins pale as a full moon. Shot like they're in a fragrance commercial. Well, judge for yourself. In this article we look forward to the best new vampire films up to 2017 and, give a short overview of the 2010's vampire cinema highlights so far. From typically American horror films, to foreign vampire films, because there was more than just the Swedish Let the Right one in.

Vampire Genre Statistics

Vampire 2017
Popularity
77%
Rank #19 (List of most popular genres)
Actors Jemaine Clement, Taika Waititi & Cori Gonzalez-Macuer
Trending What We Do In The Shadows , A Girl Walks Home Alone at Night & Only Lovers Left Alive
Amount of genre films per year from 2010 to 2017

8 vampire movies scheduled for release this year.

Is the vampire movie hype over? It appears to be so. After a peak in 2012 with 36 movies it went down, and in 2016 only 16 vampire themed productions were released.
List of highest grossers of the decade & budget

Title Box office Budget
The Twilight Saga: Eclipse (2010) $300M $68M
The Twilight Saga: Breaking Dawn - Part 2 (2012) $292M $120M
Hotel Transylvania 2 (2015) $169M $80M
(Read: Who needs big budgets? 25 low budget success stories!)



Anticipated 2017 movies to watch

Underworld: Blood Wars (2016) (Friday January 6, 2017)

Underworld: Blood Wars (2016) film poster Director
Anna Foerster
Cast
Kate Beckinsale
Theo James
Tobias Menzies
Underworld: Blood Wars (2016) Netflix + Amazon + Release dates

Vampire death dealer, Selene (Kate Beckinsale) fights to end the eternal war between the Lycan clan and the Vampire faction that betrayed her....Read more, play trailer

70%
Best vampire movies on Netflix or DVD in 2017 & 2016

2010's best rated vampire movies out on DVD, Bluray or streaming on VOD (Netflix, Amazon).

The Transfiguration (14-05-2016, 97 minutes)

Michael O'Shea's debut film 'The Transfiguration' is quite something. A quiet, ominous film about a teenager that gets bullied at school, but turns into a blood-thirsty creature at night. As in similar films like Let The Right One in, the vampire motif serves merely as a vehicle to tell a story about loneliness and trauma. A very promising debut and one to satisfy both art house and horror lovers!

Starring Eric Ruffin, Chloe Levine & Jelly Bean
Director Michael O'Shea (MIlo)
Similar movies Let The Right One In & Near Dark
Themes bullying, nihilism, youth, drama, horror,
Country United States
Keywords dark, engrossing,
Rating
80%
Buy/stream it Amazon / Netflix
A Girl Walks Home Alone at Night (20-04-2015, 101 minutes)

A Girl Walks Home Alone at Night was probably one of the most hyped indie films of 2014, if not the. This stylish and impressionist vampire flick, shot in black and white, takes place in a deserted and rotten Iranian town where a lonesome vampire rooms the streets, leaving a path of death and destruction. A Girl works well as hybrid between a Western and Gothic tale and reminds of Jim Jarmusch' best work (Only Lovers Left Alive...Read more

---

Styria (Thursday August 21, 2014)

Director

Mauricio Chernovetzky, Mark Devendorf

Cast

Stephen Rea,
Eleanor Tomlinson
Julia Pietrucha

---

The story of a teenager who is saved from a car accident by an unknown friend; the two grow into an inseparable bond shaping this...Read more

---

Byzantium (Friday May 31, 2013)

Director

Neil Jordan

Cast

Saoirse Ronan, Gemma Arterton, Sam Riley

---

Neil Jordan isn't exactly new to directing vampire films. Earlier he directed the classic Interview with a Vampire (1994), which revitalized the genre. With Byzantium he's going back to the well. It tells the gripping story of Eleanor and Clara, a mother and daughter struggling to live a life as ordinary as possible. When the two settle in a picturesque English coastal town, both encounter their own problems. Clara falls in love with a terminally ill boy, what makes her once again question the advantages of immortality, while Eleanor is being haunted by her tragic past. A must-see stylish British vampire film which emphasizes the sadness of immortality, rather than being a traditional horror movie....Read more

---

Director

Michael O'Shea

Cast

Eric Ruffin
Chloe Levine
Jelly Bean

---

Michael O'Shea's debut film 'The Transfiguration' is quite something. A quiet, ominous film about a teenager that gets bullied at school, but turns into a blood-thirsty creature at night. As in similar films like Let The Right One in, the vampire motif serves merely as a vehicle to tell a story about loneliness and trauma. A very promising debut and one to satisfy both art house and horror lovers...Read more

---

Midnight Son (Friday October 7, 2011)

Director

Scott Leberecht

Cast

Zak Kilberg
Maya Parish
Jo D. Jonz

---

A fresh, exceptional piece of work, Midnight Son proves a vampire film can still be original. This plot-driven film doesn't follow the typical genre characteristics. Antagonist Jakob suffers from a rare skin disorder which forces him to stay indoors during the day. Things start to change rapidly when he falls in love with Mary, a young cocaine addict. As she's struggling with her addiction, Jakob's situation worsens, and becomes obsessed by blood. Merely a film about addiction (blood/cocaine) than about vampirism in the traditional sense of the word, Midnight Son offers something new on the horizon....Read more

---

Director

Dennis Gansel

Cast

Karoline Herfurth
Nina Hoss
Jennifer Ulrich

---

German director Dennis Gansel made a daring choice by directing this teenage vampire flick after receiving much critical acclaim for Die Welle (2008), a film about a well-known psychological experiment concerning peer pressure and its relation to fascism. Wir Sind die Nacht was box-office failure in Germany, but was received pretty well by critics internationally. The story isn't too much new; a young vampire girl falls in a love with a police officer who investigates a murder case she is involved with. What will she choose, everlasting life or love? Stylistically however, there's lots to enjoy. It's beautifully shot and driven by a nice soundtrack. Not as emotionally challenging as Die Welle, but definitely worth a shot....Read more

---

Director

Xan Cassavetes

Cast

Joséphine de La Baume
Milo Ventimiglia
Roxane Mesquida

---

Breathtakingly handsome actors delivering their lines like they're reading it from an autocue; this one is all about aesthetics. The plot (screenwriter falls in love with a beautiful vamp, gets bitten, after which they seem to live happily forever after until her jealous, malicious sister turns up) is poor, but still the movie somehow works. It clearly pays homage to 1970's B horror films and the acting seems to be part of that too. There are stylish shots, sex scenes that come close to exploitation and a thrilling soundtrack. A highly entertaining piece of pastiche directed by Xan Cassavetes, daughter of America's independent film pioneer John Cassavetes....Read more

---