Best new Swedish Movies (2016) - Top Netflix & Cinema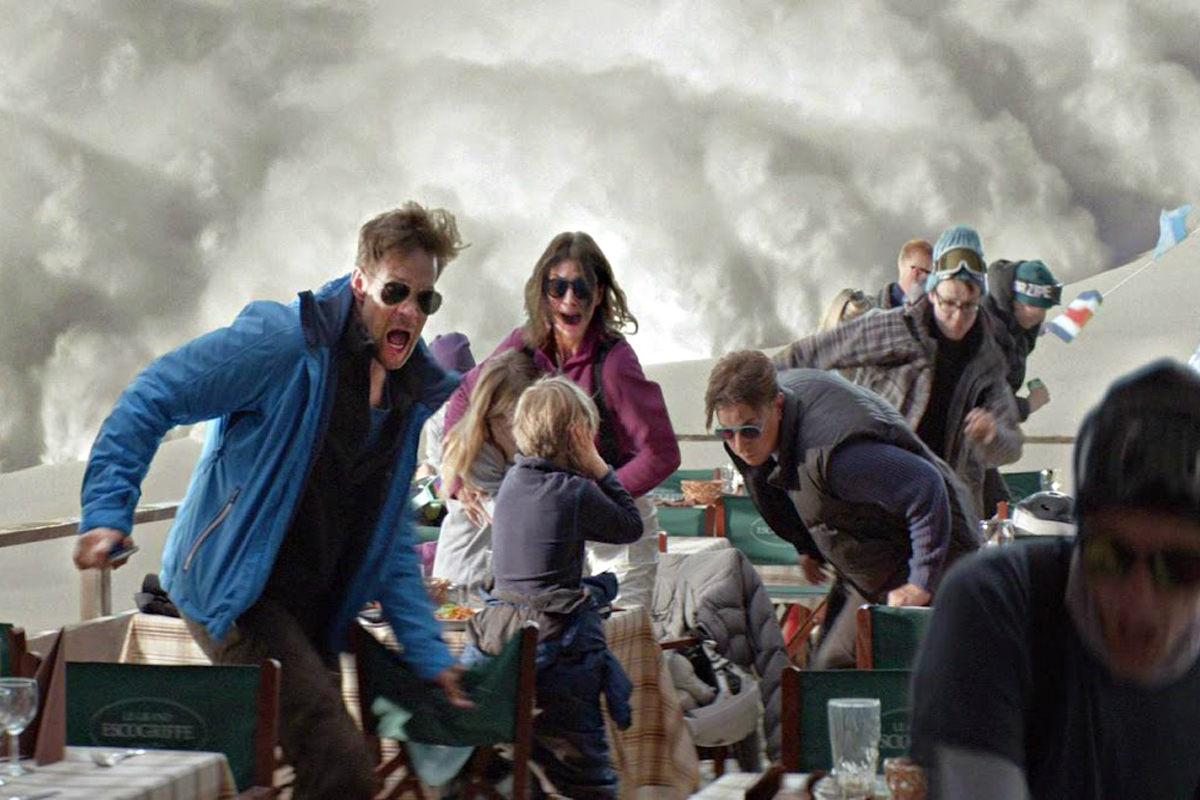 Ever since the invention of the art of film, Sweden played a leading role in European cinema. Check out our list for the latest Swedish revelations!

The Vore's Film staff selects the top best Swedish movies of 2016 in cinema or on DVD or Netfix. Are Sanna Lenken, Ruben Östlund & Roy Andersson Sweden's biggest directors?


| Swedish movies | 2016 |
| --- | --- |
| Popular actors | Rebecka Josephson, Amy Diamond & Henrik Norlén |
| Trending movies | Turist, A Pigeon Sat on a Banch Reflecting on & Min Lilla Syster |
Best Swedish movies on Netflix or DVD in 2016
Best Swedish movies out on DVD, Bluray or VOD (Netflix, Amazon).

Den allvarsamma leken (The Serious Game) (11-09-2016, 115 minutes)
Actress-turned-director Pernilla August adapted Hjalmar Söderberg's classic 1912 novel The Serious Game for the big screen. One of Sweden's most beloved tales, it tells the tragic story of a married journalist falling for a young Stockholm socialite. In somebody else's hands, this might have turned into a dull historical weepy, but August managed to stay true to the book while giving it a special touch.


| | |
| --- | --- |
| Starring | Michael Nyqvist, Sverrir Gudnason & Mikkel Boe Følsgaard |
| Director | Pernilla August (Svinalängorna ) |
| Similar movies | Miss Julie |
| Themes | infedility, journalism, love, drama, romance, |
| Country | Sweden • |
| Keywords | based on a novel • heartfelt • historical • |
| Rating | 80% |
| Buy/stream it | Amazon / Netflix |

En Man som heter Ove (30-09-2016, 116 minutes)
An adaptation of Fredrik Backman's well received 2013 novel, and a pretty good one. Ove is a 59 year old, grumpy widow. He is feared in his neighborhood, notorious for his outbreaks of anger and pedantry. But when a immigrant family moves in right next to him, an unexpected bond grows..


| | |
| --- | --- |
| Starring | Tobias Almborg, Filip Berg & Anna-Lena Bergelin |
| Director | Hannes Holm (Behind Blue Skies, The Reunion & Adam and Eva) |
| Similar movies | The 100 year-old man who climbed out the window and disappeared |
| Themes | social issue, widowhood, comedy, drama, |
| Country | Sweden • |
| Keywords | based on a novel • funny • |
| Rating | 73% |
| Buy/stream it | Amazon / Netflix |

Turist (30-12-2014, 120 minutes)
Without a doubt one of the most interesting auteurs of contemporary cinema, Ruben Östlund finally gained the international attention he deserved with his latest masterpiece. Like his other films, Force Majeure is a psychological exploration of human shortcomings. The story evolves around a well-to-do family on a ski holiday which takes an unpleasant turn as the family is (seemlingy) nearly killed by an avalanche and the father runs away to save his own ass instead of his family's. What follows is darkly comic tale about bad conscience and irretrievable trust. One of our 2014 favorites!


| | |
| --- | --- |
| Starring | Johannes Kuhnke, Lisa Loven Kongsli & Clara Wettergren |
| Director | Ruben Östlund (Involuntary, Play & The Guitar Mongoloid) |
| Similar movies | L'enfant d'en haut, The One I Love & All That Matters Is Past |
| Themes | families, marriage, drama, |
| Country | Denmark • France • Norway • Sweden • |
| Keywords | astonishing • evocative • |
| Rating | 90% |
| Buy/stream it | Amazon / Netflix |

A Pigeon Sat on a Branch Reflecting on Existence (06-03-2015, 101 minutes)
Roy Andersson isn't exactly what you would call a prolific director; in a carreer spanning over 40 years, he made only five films. Still, he's one of Sweden's most beloved and influential film makers of the last decades. A Pigeon is the last part of a trilogy, together with Songs from the Second Floor (2007) and You, the Living (2007). Like these two films, it's a meticulously crafted mosaic comedy about contemporary Sweden and its (often) unfortunate inhabitants. Andersson is the type of director you'll love or hate, but his absurd and hilarious vignettes sure won us over.


| | |
| --- | --- |
| Starring | Holger Andersson, Nils Westblom & Viktor Gyllenberg |
| Director | Roy Andersson (A Swedish Love Story, Songs from the Second Floor & You, The Living) |
| Themes | friendship, men, comedy, drama, |
| Country | France • Germany • Norway • Sweden • |
| Keywords | absurd • hilarious • |
| Rating | 82% |
| Buy/stream it | Amazon / Netflix |

Vi är bäst! (20-06-2014, 102 minutes)
Incorrectly heralded as the new Ingmar Bergman, Moodysson demonstrated that he is a whole different kind of auteur filmmaker. And one that I appreciate immensely. There is no one who can make warm naturalist films like Moodysson, making even clichés feel heartfelt and sincere. Most people will know him from the small-town coming-of-age film Fucking Amal about two young girls exploring their lesbian sexuality. In the meanwhile he made a few darker and heavier drama's which I am not too excited about, but with We Are the Best! he is back. It is a touching little film about three young girls starting a punk band in the Stockholm of the eighties.


| | |
| --- | --- |
| Starring | Mira Barkhammar, Mira Grosin & Liv LeMoyne |
| Director | Lukas Moodysson (Show Me Love, Together & Lilya 4-Ever) |
| Similar movies | SLC Punk!, Submarine & Bande de Filles |
| Themes | growing up, jealousy, drama, musical, |
| Country | Denmark • Sweden • |
| Keywords | adorable • dynamic • |
| Rating | 84% |
| Buy/stream it | Amazon / Netflix |

Aterträffen (15-11-2013, 90 minutes)
A 2013 Swedish film by one of Sweden's most famous artists Anna Odell. She made a name for herself by faking a psychosis, and since then ranks among the most controversial artists in Europe. I would not say this one is controversial, but it definitely experimentally interesting, and I did really enjoy it.


| | |
| --- | --- |
| Starring | Anna Odell, Anders Berg & David Nordström |
| Director | Anna Odell (The Reunion & Okänd, kvinna 2009-349701) |
| Similar movies | Festen, Carrie & Hotell |
| Themes | bullying, high school, drama, |
| Country | Sweden • |
| Keywords | awkward • believable • |
| Rating | 70% |
| Buy/stream it | Amazon / Netflix |

Call Girl (09-11-2012, 140 minutes)
A very solid drama film based on true events, which takes its time to enfold, but ultimately fails to convince. It does, however, deserve to be mentioned on this top list as it revives the seventies in a pretty good way (don't resist comparing it to American Hustle), and because it tells a story that needs to be told. Call Girl is inspired on the scandal which had Sweden in its grip in the seventies – high placed officials were being linked to underage prostitution. The film tells the story from multiple perspectives, but together with two young girls being seduced and forced to work as call girls, the viewer gets introduced into the dark hidden side of power. It is gritty and complex, but like American Hustle it remains too much to the surface with a story that gets boring too quickly.


| | |
| --- | --- |
| Starring | Sofia Karemyr, Simon J. Berger & Josefin Asplund |
| Director | Mikael Marcimain (Gentlemen) |
| Similar movies | Svinalängorna, Spies & Glistrup & Welcome to New York |
| Country | Finland • Ireland {Republic} • Norway • Sweden • |
| Rating | 76% |
| Buy/stream it | Amazon / Netflix |

Eat Sleep Die (05-10-2012, 104 minutes)
Another heavy themed drama, but a lot stronger than Call Girl, is Eat Sleep Die (2013). Yet again, a story that needed to be told. Not because of its historic value, but because of its contemporary relevance. It tells the tale of a young hard working low-skilled immigrant coming to Sweden in search of a better life. But like immigrants in the whole of Western Europe, she is amongst the most vulnerable in society. This becomes evident quickly when she gets fired from her factory job, and is left out on the streets. It exposes the hypocrisy of Western societies telling immigrants they are responsible for their own success, but not giving them equal opportunities. It is a raw film with a camera style reminding one of the Dardenne brothers, that although it is not the most coherent of films, is worth the watch.


| | |
| --- | --- |
| Starring | Nermina Lukac, Milan Dragisic & Jonathan Lampinen |
| Director | Gabriela Pichler (Scratches) |
| Similar movies | Lilja 4-ever & Mig äger ingen |
| Country | Sweden • |
| Rating | 69% |
| Buy/stream it | Amazon / Netflix |

Play (11-11-2011, 118 minutes)
We have reached the very best Swedish film of the 2010's, and Play deserves the number one spot. There are few observationalist films that can with distanced and static camerawork manage to pull you in. Just like in his earlier film, Involuntary (2008), Ruben Ostlund knows in Play how to expose society's awkwardness and hypocrisy while at the same time producing hugely enjoyable films. Play is based on real-life examples of bullying in the Gothenburg area. There young gangs robbed middle-class white kids, not by physical violence but by elaborate role-play and psychological games.


| | |
| --- | --- |
| Starring | Anas Abdirahman, Sebastian Blyckert & Yannick Diakité |
| Director | Ruben Östlund (Involuntary, Incident by a Bank & Force Majeure) |
| Similar movies | Farväl Falkenberg, Apflickorna & En kärlekshistoria |
| Themes | bullying, social issue, drama, |
| Country | Sweden • |
| Keywords | phenomenal • realistic • |
| Rating | 89% |
| Buy/stream it | Amazon / Netflix |

Avalon (24-02-2012, 79 minutes)
Now we are reaching the very good stuff. Avalon is one of the many films out there about decadence, but it manages to show it an interesting new light. In a sense it is an all-out attack on the older Swedish generation. According to director Axel Petersén the wealthy and decadent older Swedes have no respect for youth and have themselves never grown up, and refuse to make room for younger generations. In Avalon we follow Janne, a 60-year old party promoter, and his blasé sister who both represent this generation to the extreme. They have come over to help a friend out setting up his new nightclub, but all they do is hang around and enjoy themselves at the beach and the countryside. Then an accident happens exposing the depth of their indifference.


| | |
| --- | --- |
| Starring | Johannes Brost, Peter Carlberg & Léonore Ekstrand |
| Director | Axel Petersén (The Numerologist, A Good Friend of Mr. World & The Tracks of My Tears 2) |
| Similar movies | Dag och natt & Call Girl |
| Themes | career, old age, drama, thriller, |
| Country | Sweden • |
| Keywords | chilling • incomparable • |
| Rating | 66% |
| Buy/stream it | Amazon / Netflix |