Best new Dutch Movies (2017) - Top Netflix & Cinema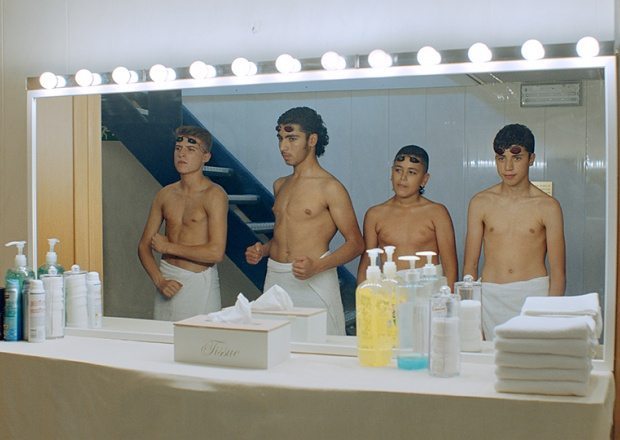 The Vore's Film staff selects the top best Dutch movies of 2017 in cinema or on DVD or Netfix. Are Paul Verhoeven, Alex van Warmerdam & Paula van der Oest Netherlands's biggest directors?
Unfortunately, The Netherlands is no exception to when it comes to favoring popular – low quality -> high feel-good/sentimental value – films over decent cinema. When putting together my best Dutch films of the 2010's list, and later topping it up with a general top 10 of essential Dutch films released in the 10's, I could not help but noticing how all the wrong films were receiving all of our national media's attention. Without a certain mediagenic feature, a new film, however artistically brilliant, has no chance of getting the coverage it deserves. This mediagenic feature I'm talking about means either one of the following three things in the Netherlands: a film either (1) deals in a superficial manner with a social issue (think of the harassment of ambulance personnel in Doodslag (2012)), generating much public debate and giving talkshow hosts like Matthijs van Nieuwkerk orgasms, or (2) stars famous Dutch celebrities, like TV hosts, comedians and as of late especially singers (think of Jan Smit's lead in role in the war drama Het Bombardement (2012)). Or (3), the film is based on popular juicy Dutch books (think of Er komt een vrouw bij de dokter (2009) or De gelukkige huisvrouw (2010)). There is nothing particularly wrong with this, if it was not so that really terrific Dutch films get initially overlooked, and consequently get less views when they play in cinema's. This year was a particularly good year for Dutch film in theaters across the Netherlands, for all films except for Dutch art house films. Fortunately, once the actual Dutch gems get picked up abroad, our media is usually quick to join in on the celebrations. Here I have made a selection of such great Dutch films, the ones that are innovative and go beyond just giving into trends and the contemporary public's desires – i.e. the essential modern Dutch classics you must see.

| Dutch movies | 2017 |
| --- | --- |
| Popular actors | Carice van Houten, Barry Atsma & Michiel Huisman |
| Trending movies | Prins, Schneider vs. Bax & Supernova |
2017 anticipated releases to watch
Best Dutch movies on Netflix or DVD in 2017
2010's best rated Dutch movies out on DVD, Bluray or streaming on VOD (Netflix, Amazon).

Supernova (17-04-2014, 90 minutes)

| | |
| --- | --- |
| Starring | Gaite Jansen, Tamar van den Dop & Bob Schwarze |
| Director | Tamar van den Dop (Dagen van Gras & Wolfsbergen) |
| Themes | families, growing up, sexuality, coming-of-age, drama, |
| Country | Netherlands |
| Keywords | evolving, outstanding, |
| Rating | |
| Buy/stream it | Amazon / Netflix |

Nena (11-09-2014, 95 minutes)

| | |
| --- | --- |
| Starring | Abbey Hoes, Uwe Ochsenknecht & Gijs Blom |
| Director | Saskia Diesing (Taxi 656 & Nieuwe Schoenen) |
| Themes | love, relationships, sadness, coming-of-age, drama, |
| Country | Netherlands |
| Keywords | intriguing, |
| Rating | |
| Buy/stream it | Amazon / Netflix |

Borgman (29-08-2013, 113 minutes)
Alex van Warmerdam has managed to accomplish what no Dutch director was even close to achieving – after 38 years it is the first Dutch film to have been selected to compete at the Cannes Film Festival in 2013. Quite surprising, as this film was a rather daring selection by Cannes. It is an insidious but also at times hilarious film that is difficult to define. Haneke's Funny Games (2007) springs to mind, but it more than just another home invasion thriller (of which quite a few have been released lately). Instead of forcing the family to do things against their will, Borgman violates the home with the permission of the family, making it all the more disquieting. According to some critics the film kicks off splendidly only to become down-right tedious after half an hour or so, but although I can see where they are coming from since a lot is happening very low beneath the surface, for me there was a lot to enjoy. In terms of style Warmerdam resembles the mise-en-scene of Fassbender, and in terms of narrative he appears to be a less ironic and more twisted Haneke. It will be the Dutch submission for the Oscars in 2014.


| | |
| --- | --- |
| Starring | Jan Bijvoet, Hadewych Minis & Jeroen Perceval |
| Director | Alex van Warmerdam (Bax vs. Schneider & De Noorderlingen) |
| Themes | families, flying, marriage, murder, home invasion, thriller, |
| Country | Netherlands |
| Keywords | chilling, dark, funny, |
| Rating | |
| Buy/stream it | Amazon / Netflix |

Matterhorn (07-02-2013, 87 minutes)
I don't believe I have ever seen a Dutch film that was so skilled in finding the balance between humor and drama. Matterhorn, directed by Dutch comedian Diederik Ebbinge, feels like an absurd fairtytale, but instead of taking place in a fantastical world, it takes place in a thoroughly calvinist community in the Netherlands. Ebbinge succeeds in creating characters that are downright absurd, but through a complete lack of nuance paradoxically become utterly believable. In this highly religious community we get introduced to Fred who eats exactly at 18.00, exclusively listens to Bach, and is a loyal follower of the Lord. We hardly have any time to learn who Fred is when he decides to take in a confused stranger who can barely say a word, let alone knows how to conduct himself in society. It does not take long before the neighbors and the church community feel entitled to meddle in (and judge) their living situation.


| | |
| --- | --- |
| Starring | Ton Kas, René van 't Hof & Porgy Franssen |
| Director | Diederik Ebbinge (Gewoon Hans & Kidnep) |
| Themes | christianity, friendship, gay, village, comedy, drama, |
| Country | Netherlands |
| Keywords | kind, subtle, |
| Rating | |
| Buy/stream it | Amazon / Netflix |

Wolf (19-09-2013, 122 minutes)

| | |
| --- | --- |
| Starring | Chemseddine Amar, Mark Catuogno & Jill Ann Christiano |
| Director | Jim Taihuttu (Rabat & Buitenwesten) |
| Themes | ambitions, crime, destruction, boxing, crime, drama, |
| Country | Netherlands |
| Keywords | dramatic, gripping, hard-hitting, |
| Rating | |
| Buy/stream it | Amazon / Netflix |
New Dutch movies out now
Best recent & upcoming Dutch movies with release dates.
Monk by Ties Schenk
| | |
| --- | --- |
| Release date | 01-03-2016 |
| Country | Belgium Netherlands |
| Starring | Marina Gatell, Sam Louwyck & Olivia Lonsdale |
| Previous releases | Dag in dag uit |
| Associated with | coming-of-age, drama, |
Riphagen by Pieter Kuijpers
| | |
| --- | --- |
| Release date | 15-05-2016 |
| Country | Netherlands |
| Starring | Sigrid ten Napel, Jeroen van Koningsbrugge & Lisa Zweerman |
| Previous releases | TBS & Hemel op Aarde |
| Associated with | thriller, war, |
Prins (25-06-2015, 80 minutes))
| | |
| --- | --- |
| Director | Sam de Jong (Malaguti Phantom & Marc Jacobs) |
| Starring | Oussama Addi, Elsie de Brauw & Ayoub Elasri |
| Similar movies | Aanmodderfakker & Drive |
| Themes | crime, domestic violence, growing up, comedy, drama, |
| Country | Netherlands |
| Keywords | noteworthy, touching, unusual, |
| Buy/stream it | Amazon / Netflix |
Gluckauf (29-01-2015, 101 minutes))
| | |
| --- | --- |
| Director | Remy van Heugten (Valentino & De tangoman ) |
| Starring | Johan Leysen, Ali Ben Horsting & Joy Verberk |
| Similar movies | Schneider vs. Bax & Lek |
| Themes | families, crime, drama, |
| Country | Netherlands |
| Keywords | gripping, poignant, |
| Buy/stream it | Amazon / Netflix |
Schneider vs. Bax (28-05-2015, 96 minutes))
| | |
| --- | --- |
| Director | Alex van Warmerdam (De Jurk, Ober & Borgman) |
| Starring | Tom Dewispelaere, Alex van Warmerdam & Maria Kraakman |
| Similar movies | De Laatste Dagen van Emma Blank & De Poel |
| Themes | murder, parenting, revenge, comedy, thriller, |
| Country | Netherlands |
| Keywords | absurd, entertaining, peculiar, |
| Buy/stream it | Amazon / Netflix |
-
Best Dutch TV Series out in 2017 on Netflix & on TV