Best new Police & Detective movies (2016) - Top Netflix & Cinema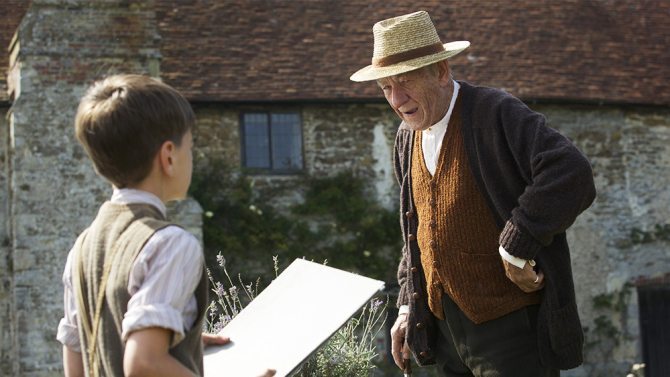 After several recent Sherlock Holmes reboots, it is clear that the classic detective film has regained its popularity. These are the good old-fashioned police work on the big screen stories that we liked the best. From classic whodunnits to creepier serial killer hunting movies. Perhaps the genre is better suited for the small screen, but that does not mean no good new genre films are made. Here a list of the greatest.

The Vore's Film staff selects the top best detective movies of 2017 in cinema or on DVD or Netfix. Are Bill Condon, David Fincher & Denis Villeneuve our new detective genre directors?


| detective movies | 2017 |
| --- | --- |
| Popular actors | Ian McKellen, Emma Watson & Ethan Hawke |
| Trending movies | Mr. Holmes, True Story & The Program |
Best detective movies on Netflix or DVD in 2017
2010's best rated detective movies out on DVD, Bluray or streaming on VOD (Netflix, Amazon).

Inherent Vice (09-01-2015, 148 minutes)

| | |
| --- | --- |
| Starring | Joaquin Phoenix, Josh Brolin & Owen Wilson |
| Director | Paul Thomas Anderson (There Will Be Blood, Magnolia & The Master ) |
| Country | United States |
| Buy/stream it | Amazon / Netflix |

The Face of an Angel (19-06-2015, 101 minutes)

| | |
| --- | --- |
| Starring | Daniel Brühl, Kate Beckinsale & Valerio Mastandrea |
| Director | Michael Winterbottom (24 Hour Party People, A Mighty Heart & The Killer Inside Me ) |
| Country | Italy Spain United Kingdom United States |
| Buy/stream it | Amazon / Netflix |

Gone Girl (03-10-2014, 149 minutes)

| | |
| --- | --- |
| Starring | Ben Affleck, Rosamund Pike & Neil Patrick Harris |
| Director | David Fincher (Fight Club, Se7en & The Social Network ) |
| Country | United States |
| Buy/stream it | Amazon / Netflix |

A Walk Among the Tombstones (19-09-2014, 114 minutes)

| | |
| --- | --- |
| Starring | Liam Neeson, Dan Stevens & David Harbour |
| Director | Scott Frank (Minority Report, The Wolverine & Out of Sight ) |
| Country | United States |
| Buy/stream it | Amazon / Netflix |

Prisoners (20-09-2013, 153 minutes)

| | |
| --- | --- |
| Starring | Hugh Jackman, Jake Gyllenhaal & Viola Davis |
| Director | Denis Villeneuve (Incendies, Enemy & Sicario ) |
| Country | United States |
| Buy/stream it | Amazon / Netflix |
Mr. Holmes (24-07-2015, 104 minutes))
| | |
| --- | --- |
| Director | Bill Condon (Dreamgirls, Kinsey & The Twilight Saga: Breaking Dawn - Part 2 ) |
| Starring | Ian McKellen, Laura Linney & Hiroyuki Sanada |
| Country | United Kingdom United States |
| Buy/stream it | Amazon / Netflix |
Regression (05-02-2016, 106 minutes))
| | |
| --- | --- |
| Director | Alejandro Amenábar (The Others, The Sea Inside & Thesis ) |
| Starring | Emma Watson, Ethan Hawke & David Thewlis |
| Country | Canada Spain |
| Buy/stream it | Amazon / Netflix |
True Story (17-04-2015, 99 minutes))
| | |
| --- | --- |
| Director | Rupert Goold |
| Starring | James Franco, Jonah Hill & Felicity Jones |
| Country | United States |
| Buy/stream it | Amazon / Netflix |
The Program (16-09-2015, 103 minutes))
| | |
| --- | --- |
| Director | Stephen Frears (High Fidelity, The Queen & Philomena ) |
| Starring | Jesse Plemons, Ben Foster & Lee Pace |
| Country | France United Kingdom |
| Buy/stream it | Amazon / Netflix |
Solace (2015, 101 minutes))
| | |
| --- | --- |
| Director | Afonso Poyart (Two Rabbits ) |
| Starring | Jeffrey Dean Morgan, Colin Farrell & Anthony Hopkins |
| Country | United States |
| Buy/stream it | Amazon / Netflix |