Like the sci-fi genre, the post apocalyptic genre reminds us of the dangers current society is posing, and ultimately asks us the question whether we are going in the right direction. Next to that, it's just a great premise for action drama and adventure stories, as it gives the opportunity to build new worlds.
---
Post-Apocalyptic genre statistics
| Post-Apocalyptic | 2017 |
| --- | --- |
| Genre popularity | |
| Genre ranking | #17 |
| Familiar faces | Andrew Lincoln, Jon Bernthal & Sarah Wayne Callies |
| Trending shows | The 100, Falling Skies & The Walking Dead |
Amount of genre shows per year from 2010 to 2017
2 post-apocalyptic TV series scheduled for release this year.
The genre about the world after huge catastrophes is a small one, but there are many genres that play into the sentiment. Like most zombie tv shows. Nonetheless, it remains a pretty popular genre, and at least around 3 shows are released each year.
---
2017 releases - most anticipated titles to watch
Extinct ( | BYUtv)
From the author of Ender's Game. 400 years after the human race has been exterminated by aliens, survivors try and restart human civilization. They get help from Aliens who wish to restore the human race, while fighting of the Aliens that want to destroy each and last one of us.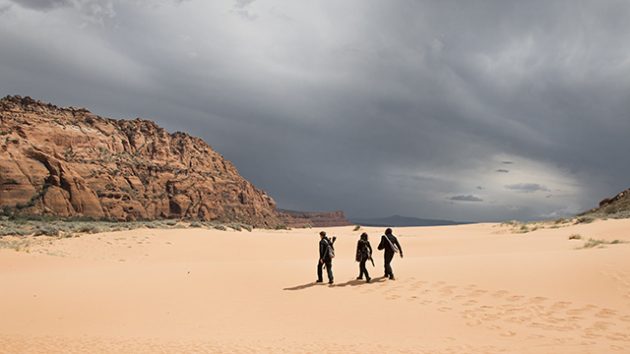 | | |
| --- | --- |
| Creator | Orson Scott Card & Aaron Johnson |
| Themes | science fiction, |
| Country | United States |
Best post-apocalyptic TV series on Netflix or DVD in 2017
Best post-apocalyptic TV series out on DVD, Bluray or VOD (Netflix, Amazon).
The Walking Dead (Since 31-10-2010 , Season: 7 - AMC)
A group of survivors do everything they need to after a zombie-apocalypse. Fantastic, very exciting show!


| | |
| --- | --- |
| Starring | Andrew Lincoln, Jon Bernthal & Sarah Wayne Callies |
| Similar tv shows | Fear the Walking Dead |
| Themes | death, survival, drama, horror, |
| Keywords | action-packed, creepy, dark, |
| Country | United States |
| Rating | |
| Buy/stream it | Amazon / Netflix / iTunes |

Jericho (Since 20-9-2006 , Season: 2 - CBS)
A mushroom cloud suddenly appears nearby Denver, which leaves the residents of an adjacent town longing for answers.


| | |
| --- | --- |
| Starring | Skeet Ulrich, Lennie James & Ashley Scott |
| Similar tv shows | Survivors |
| Themes | darkness, death, survival, action, drama, |
| Keywords | action-packed, dramatic, mysterious, |
| Country | United States |
| Rating | |
| Buy/stream it | Amazon / Netflix / iTunes |

Survivors (Since 20-11-2008 , Season: 2 - BBC One)
A virus kills 90 % of the population, leaving the immune in a quiet, scary new world.


| | |
| --- | --- |
| Starring | Julie Graham, Max Beesley & Paterson Joseph |
| Similar tv shows | Jericho |
| Themes | death, survival, drama, science fiction, |
| Keywords | dramatic, futuristic, mysterious, |
| Country | United Kingdom |
| Buy/stream it | Amazon / Netflix / iTunes |

Falling Skies (Since 19-6-2011 , Season: 5 - TNT)
After a devastating alien attack, those who survived group together to protect themselves.


| | |
| --- | --- |
| Starring | Noah Wyle, Drew Roy & Maxim Knight |
| Similar tv shows | Revolution, Under the Dome |
| Themes | death, extraterrestial life, survival, action, science fiction, |
| Keywords | action-packed, awe-inspiring, dramatic, well-designed, |
| Country | Canada United States |
| Rating | |
| Buy/stream it | Amazon / Netflix / iTunes |

The 100 (Since 19-3-2014 , Season: 3 - The CW)
A spaceship with a hundred people aboard lands on earth to repopulate the Earth - a century after the apocalypse. A sci-fi teen series.


| | |
| --- | --- |
| Starring | Eliza Taylor, Eli Goree & Thomas McDonell |
| Similar tv shows | The Vampire Diaries |
| Themes | survival, drama, mystery, |
| Keywords | action-packed, addictive, dreamlike, futuristic, |
| Country | United States |
| Rating | |
| Buy/stream it | Amazon / Netflix / iTunes |
Recent 2016 shows
Good post-apocalyptic TV series that did not make the decade list
Colony by Ryan Condal, Carlton Cuse
| | |
| --- | --- |
| Release date | 14-1-2016 |
| Country | United States |
| Starring | Josh Holloway, Sarah Wayne Callies and Peter Jacobson |
| Associated with | action, adventure, science fiction, |
| Network | USA |