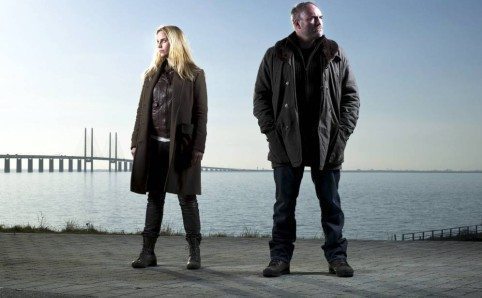 With shows like Bron/Broen (2011) and Real Humans (2012) Sweden showed the world how much they worth. Luckily, the list of good shows from Sweden continues to grow.
The Vore's TV staff selects the top best Swedish TV series of 2016 on TV, DVD or Netflix. Are Henrik Björn, Henning Mankell & Lars Lundström Sweden's best creators?
| Swedish TV series | 2016 |
| --- | --- |
| Popular actors | Moa Gammel, Göran Ragnerstam & Richard Forsgren |
| Trending TV Series | Jordskott, Tjockare än vatten & Real Humans |
Best Swedish TV series on Netflix or DVD in 2016
Best Swedish TV series out on DVD, Bluray or VOD (Netflix, Amazon).
Bron (21-9-2011 )
A Danish/Swedish production that stepped out of The Killing's shadow and made the Scandinavian crime genre its own. Although its main characters might be more unusual, with the police woman being autistic, and with us getting to know more about their private lives than in The Killing, the show is actually a lot more conventionally a thriller show than you might think. In this sense it relies much heavier on the thrilling aspect, and less on the whodunnit aspect. The storyline itself, with as its starting point a dead body that is found exactly where Denmark and Sweden are bordering and forces the two countries to work together, has inspired several remakes. An US one with the Mexican and American police working together, and a British-French one (in the Canal Tunnel).
Trailer of Bron on Youtube

| | |
| --- | --- |
| Release date | 21-9-2011 |
| Creator | Hans Rosenfeldt |
| Starring | Sofia Helin, Dag Malmberg & Rafael Pettersson |
| Similar tv shows | Forbrydelsen, Broadchuch |
| Themes | justice, police, crime, drama, |
| Review | 85% |
| Country | Denmark • Sweden • |
| Keywords | addictive • authentic • |
| Episodes | 3 |
| Network | SVT1 |
| Buy/stream it | Amazon / Netflix |



Wallander (14-1-2005 )
Trailer of Wallander on Youtube

| | |
| --- | --- |
| Release date | 14-1-2005 |
| Creator | Henning Mankell |
| Starring | Krister Henriksson, Fredrik Gunnarsson & Mats Bergman |
| Themes | police, crime, drama, |
| Review | The Vore:80% |
| Country | Sweden • |
| Keywords | adventurous • |
| Episodes | 3 |
| Network | TV4 |
| Buy/stream it | Amazon / Netflix / Wallander on iTunes |



Real Humans (22-1-2012 )
Real Humans is set in a near-future version of Sweden, where consumer-level robot workers and servants are common. These robots look like humans, act like humans and express human-like emotions. If focuses on the relationships real people form with robots and raises the obvious yet interesting question what it means to be human.

Real Humans is a decent show, but can be a little soapy. Exploring futuristic themes does not necessary yield entertaining storylines, it appears. Husbands and wives feeling threatened in their sexuality by robots are fun though.
Trailer of Real Humans on Youtube

| | |
| --- | --- |
| Release date | 22-1-2012 |
| Creator | Lars Lundström |
| Starring | Lisette Pagler, Pia Halvorsen & Johan Paulsen |
| Similar tv shows | Humans, Black Mirror |
| Themes | science, technology, drama, science fiction, |
| Review | % |
| Country | Sweden • |
| Keywords | futuristic • insightful • |
| Episodes | 2 |
| Network | SVT1 |
| Buy/stream it | Amazon / Netflix |



Solsidan (29-1-2010 )
A dentist and his expecting girlfriend move into a chique neigborhood, where they befriend an neighbouring family. The differences prove to be big and hard to overcome.
Trailer of Solsidan on Youtube

| | |
| --- | --- |
| Release date | 29-1-2010 |
| Creator | Ulf Kvensler, Jacob Seth Fransson & Pontus Edgren |
| Starring | Felix Herngren, Mia Skäringer & Johan Rheborg |
| Similar tv shows | Welcome to Sweden |
| Themes | families, comedy, drama, |
| Review | % |
| Country | Sweden • |
| Keywords | funny • |
| Episodes | 5 |
| Network | TV4 |
| Buy/stream it | Amazon / Netflix |



Best Scandinavian popular culture
Best new European television series in 2016 - Netflix & TV