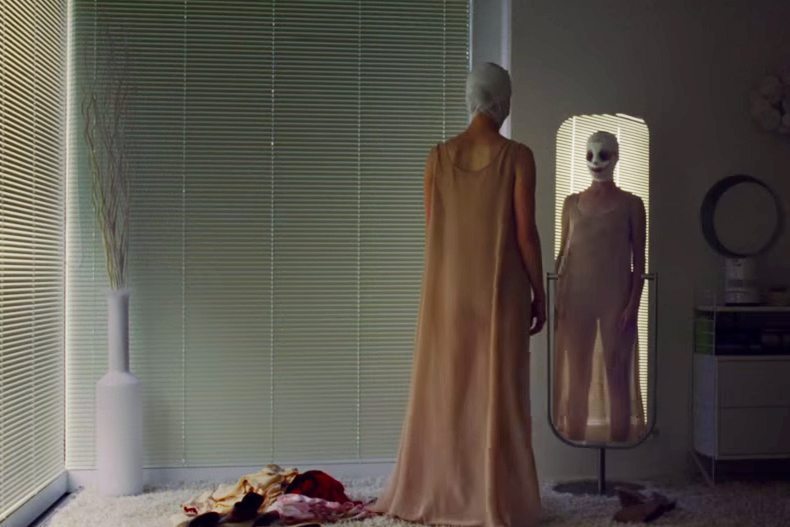 It's hard being a fan of horror, since the vast majority of the movies being released is crap. So please make sure to watch these standouts! And truth be told, the amount of quality horror movies is increasing yearly. Production value goes up, as well as the artistic value.

The Vore's Film staff selects the top best horror movies of 2017 in cinema or on DVD or Netfix. Are Robert Eggers, David Robert Mitchell & Severin Fiala our new horror genre directors?
Being a horror lover is a frustrating affair. You keep digging for that one movie that actually gives you the creeps, but the overwhelming majority of horror movies is boring, horribly cliche or a waste of your time in one or another way. Making a film that manages to scares the shit out of you seems close to impossible nowadays.

Which is not to say great horror films aren't being made anymore. You just have to be patient, every once in a while a great one still pops up. In case you don't have the patience; we here's a list of the best ones of last year, PLUS a list of the 10 most scary/interesting films the decade so far. We strived for diversity here; you'll find both solid formula projects and edgy independent productions here. Enjoy!

---
horror genre statistics
| horror | 2017 |
| --- | --- |
| Genre popularity | |
| Genre ranking | #1 (List of most popular genres) |
| Familiar faces | Anya Taylor-Joy, Ralph Ineson & Kate Dickie |
| Trending movies | It Follows, Goodnight Mommy & The Visit |
Amount of genre films per year from 2010 to 2017
1315 horror movies scheduled for release this year.
The stats show a steady increase of newly released horror flicks each year. This comes as no surprise, since with the right DIY mentality anyone can make a movie, and horror fans are an exceptionally thankful audience. They really try to watch everything.
---
List of highest grossers of the decade & budget
The horror genre is one of the few genres that can quite easily make millions on small budgets. Some producers, like Jason Blum (The Purge), specialize in low-budget or micro-budget filmmaking, and outperform the big budget studios.
| Title | Box office | Budget |
| --- | --- | --- |
| World War Z (2013) | 202.35M | 190M |
| The Conjuring (2013) | 137.39M | 20M |
| Paranormal Activity 3 (2011) | 104.01M | 5M |
(Read: Who needs big budgets? 25 low budget success stories!)
2017 anticipated releases to watch
Director Trey Edward Shults Cast Joel Edgerton
Riley Keough
Christopher Abbott A mysterious entity is terrorizing a man's family at night, and he is stepping up to fight it in the new movie from Trey Edwards Shults, the director of 2015's celebrated comedy drama Krisha. ... Read more

---

Director Gore Verbinski Cast Jason Isaacs
Dane DeHaan
Mia Goth An ambitious young executive is sent to retrieve his company's CEO from an idyllic but mysterious "wellness center" at a remote location in the Swiss Alps but soon suspects that the spa's miraculous treatments are not what they seem.... Read more

---

Director Jordan Peele Cast Allison Williams
Lakeith Stanfield,
Daniel Kaluuya This really might be the most anticipated horror of 2017 in the art house community, as it seems like a genre film that goes deeper than just being scary and plays into subtle social fears. It's about a black men who visits stereotypical American suburbia to meet the parents of his new white girlfriend for the first time. It starts of pleasant, but underneath the surface something sinister is taking place. ... Read more

---
Best horror movies on Netflix or DVD in 2017
2010's best rated horror movies out on DVD, Bluray or streaming on VOD (Netflix, Amazon).

The Invitation (08-04-2016, 100 minutes)
A man visits a dinner party, hosted by his ex-wife and her new lover. But right from the start, he can't shake the idea off that something sinister is about to happen. In thrillers, the unexpected is usually quite expectable. The great thing about 'The Invitation' is that you're waiting for a twist, as is usual in these kinds of films. But there never really is a twist, which is all the more shocking in the end.


| | |
| --- | --- |
| Starring | Logan Marshall-Green, Emayatzy Corinealdi & Michiel Huisman |
| Director | Karyn Kusama (Girlfight) |
| Themes | manipulation, relationships, drama, thriller, |
| Country | United States |
| Keywords | chilling, evocative, |
| Buy/stream it | Amazon / Netflix |

The Witch (19-02-2016, 92 minutes)
In 1630's New England, a devout farmer family moves to an isolated plantation on the edge of a vast wood. And soon unsettling things start to happen. Their newborn son vanishes into thin air, their harvest fails miserably, and terror and paranoia falls upon them. Don't expect any scare jums here. The Witch is a beautifully shot, dark fairytale that'll get under your skin right from the very first second.


| | |
| --- | --- |
| Starring | Anya Taylor-Joy, Ralph Ineson & Kate Dickie |
| Director | Robert Eggers (The Tell-Tale Heart ) |
| Themes | christianity, darkness, families, historical, horror, |
| Country | Canada United States |
| Keywords | historical, intriguing, |
| Rating | |
| Buy/stream it | Amazon / Netflix |

It Follows (27-03-2015, 100 minutes)
After having sex, a young girl from a Detroit suburb is 'infected' with the most peculiar STD; she is being followed by 'It', which can take any human shape thinkable. It's is slow, but deadly and will always keep coming. The only way to get rid of if, is to pass it on to someone else by having sex. On paper, you might not give much for this film, but in the hands of David Robert Mitchell, it became a modern classic. With its effective camera shots and fantastic 1980's aesthetics, It Follows is unlike anything you've seen and will hunt you for a long time.


| | |
| --- | --- |
| Starring | Maika Monroe, Keir Gilchrist & Olivia Luccardi |
| Director | David Robert Mitchell (The Myth of the American Sleepover) |
| Similar movies | The Guest |
| Themes | growing up, sex, horror, indie, |
| Country | United States |
| Keywords | retro, smart, |
| Rating | |
| Buy/stream it | Amazon / Netflix |

Goodnight Mommy (11-09-2015, 99 minutes)
Two boys live with their mother in a stylish, luxurious bungalow at the edge of a forest. One day, she comes home after a cosmetic surgery, her head covered in bandages. The twins grow suspicious of her; is she really their mother? A chilling psychological warfare between them sets out. A frightening, highly stylized modern horror story which will leave its viewers puzzled and disturbed.


| | |
| --- | --- |
| Starring | Lukas Schwarz, Elias Schwarz & Susanne Wuest |
| Director | Severin Fiala & Veronika Franz (Kern) |
| Themes | parenting, punishment, horror, mystery, |
| Country | Austria |
| Keywords | arty, chilling, |
| Rating | |
| Buy/stream it | Amazon / Netflix |

Lost River (10-04-2015, 95 minutes)
When Ryan Gossling announced he was about to make his directorial debut, lukewarm reactions fell upon him. Even worse when the film came out; according to many, 'Lost River' was the sum of obvious influences. A bit of Lynch, a bit of Nicolas Winding Refn and a pinch of Harmony Korine. Indeed, Gosling's first effort as a director feels as a homage to the mentioned filmmakers, but in a good way. 'Lost River' is a creepy fairytale with lots of memorable scenes and stark images.


| | |
| --- | --- |
| Starring | Christina Hendricks, Iain De Caestecker & Matt Smith |
| Director | Ryan Gosling |
| Themes | bullying, city, downfall, indie, mystery, |
| Country | United States |
| Keywords | dark, dreamlike, |
| Rating | |
| Buy/stream it | Amazon / Netflix |

The Babadook (30-05-2014, 93 minutes)
'The Babadook' is one of those rare, low-budget horror debuts we encounter once in every five years or so. The unnerving story of a widowed mother with her young son, both slowly crumbling under the fear of a mysterious book that comes to life at night, is just spot on. Director/writer Jennifer Kent does what horror filmmakers rarely do so effectively; that it is often ourselves we should fear.


| | |
| --- | --- |
| Starring | Essie Davis, Noah Wiseman & Daniel Henshall |
| Director | Jennifer Kent (The Nightingale ) |
| Themes | parenting, widowhood, drama, horror, |
| Country | Australia |
| Keywords | gripping, thrilling, |
| Rating | |
| Buy/stream it | Amazon / Netflix |

Stoker (01-03-2013, 99 minutes)
Korean mastermind Chan-Woon Park (Old Boy) made his American debut with Stoker, a highly stylized and elegant film about India, a teenage girl who lives with her mother (a very creepy Nicole Kidman) in a lavish Californian villa. Her father has just died in a car crash, when suddenly her uncle Charlie appears. Charlie is charming and well-dressed, but underneath these layers of civilization appears to something much darker. A strange alliance between the traumatized girl and the sleeky uncle emerges.


| | |
| --- | --- |
| Starring | Mia Wasikowska, Nicole Kidman & Matthew Goode |
| Director | Chan-wook Park (Oldboy) |
| Themes | families, sexuality, drama, horror, |
| Country | Korea South United Kingdom United States |
| Keywords | breath-taking, glamorous, |
| Rating | |
| Buy/stream it | Amazon / Netflix |

La Piel Que Habito (14-10-2011, 120 minutes)
Horror movies are typically made by directors who exclusively do horror. So when a filmmaker who's usually in the art house business suddenly decides to try something else, this raises eyebrows. When Pedro Almodovar's 'La Piel Que Habito' came out in 2011, the critics were severely divided. A loud and extravagant Frankestein-ish horror? Well yeah, that's exactly what it is, and its briljant. Antonio Banderas stars as a twisted plastic surgeon trying to create the perfect synthetic skin. In order to do so, he needs a guinea pig…


| | |
| --- | --- |
| Starring | Antonio Banderas, Elena Anaya & Jan Cornet | |
| Director | Pedro Almodovar (Volver & Habla Con Ella) |
| Themes | death, science, crime, gothic, horror, |
| Country | Spain |
| Keywords | triumphant, weird, |
| Rating | |
| Buy/stream it | Amazon / Netflix |

Trolljegeren (10-06-2011, 103 minutes)
What would be the result if you'd crossbreed 'The Blair Witch' with some Scandinavian folkloric tale? Well, 'Trolljegeren' probably comes pretty close. One of the finest found footage horror films you are likely to find, this Norwegian gem evolves around a bunch of journalists traveling to the far north of the country in pursuit of giants trolls. The film is scary at times for sure, but it's biggest strength is the faux earnestness of the whole project. 'Trolljegeren' proves scary movies can be funny too.


| | |
| --- | --- |
| Starring | Otto Jespersen, Robert Stoltenberg & Knut Nærum |
| Director | André Øvredal (The Autopsy of Jane Doe ) |
| Themes | conspiracy, journalism, found footage, horror, |
| Country | Norway |
| Keywords | adventurous, entertaining, unique, |
| Rating | |
| Buy/stream it | Amazon / Netflix |

You're Next (24-11-2011, 95 minutes)
Adam Wingard is without a doubt one of the most prolific and interesting independent horror filmmakers of our times. 2011's 'You're Next' was a major departure from his earlier mumble-gore work and gained quite some mainstream attention. And rightfully so. The film, about a family reunion ruined by bloodthirsty attackers wearing animals masks, is suspenseful, gory AND darkly funny.


| | |
| --- | --- |
| Starring | Sharni Vinson, Joe Swanberg & AJ Bowen |
| Director | Adam Wingard (The Guest & Blair Witch) |
| Themes | death, revenge, home invasion, horror, |
| Country | United States |
| Keywords | creepy, hard-hitting, |
| Rating | |
| Buy/stream it | Amazon / Netflix |
New horror movies out now
Best recent & upcoming horror movies with release dates.
10 Cloverfield Lane by Dan Trachtenberg
| | |
| --- | --- |
| Release date | 10-03-2016 |
| Country | United States |
| Starring | John Goodman, Mary Elizabeth Winstead & John Gallagher Jr. |
| Associated with | science fiction, thriller, |
Evolution by Lucile Hadzihalilovic
| | |
| --- | --- |
| Release date | 25-10-2016 |
| Country | France |
| Starring | Max Brebant, Roxane Duran & Julie-Marie Parmentier |
| Previous releases | Innocence |
| Associated with | fantasy, horror, |
Don't Breathe by Fede Alvarez
| | |
| --- | --- |
| Release date | 26-08-2016 |
| Country | United States |
| Starring | Stephen Lang, Jane Levy & Dylan Minnette |
| Previous releases | Evil Dead |
| Associated with | home invasion, thriller, |
Most watched sub-genres