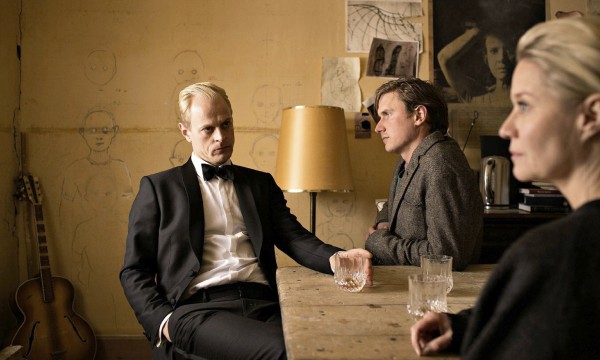 Next to England, Denmark is one of the few European countries that has a sound reputation with regard to television series. From The Kingdom to Borgen, astonishing shows have been in made in the country, and hopefully we'll see a lot more. A list with the best Danish TV productions.

The Vore's TV staff selects the top best Danish TV series of 2016 on TV, DVD or Netflix. Are Anna Bache-Wiig, Siv Rajendram Eliassen & Adam Price Denmark's best creators?
Anyone who hasn't been living under a stone for the last couple of years and is interested in quality drama series the slightest, couldn't but notice that Denmark became Europe's purveyor of high quality TV series recently. This might seem peculiar, given the country's modest size and reputation, but obviously there's something irresistable about these shows. It's especially thrillers they're good at, or scandinavian noir as they've already been dubbed. They're raw and authentic, showing the typical land- and cityscapes in all its bleakness, inhabited by enigmatic detectives and cunning politicians. The Killings' protagonist detective Sarah Lund is probably the most iconic of them all. Or better: her inseperable woolen Icelandic sweaters, which became a fashion hype on its own. Anyway, it's about time The Vore sums up what you shouldn't have missed the last couple of years in Danish television.

| Danish TV series | 2016 |
| --- | --- |
| Popular actors | Andreas Döhler, Robert Hunger-Bühler & Marc Benjamin Puch |
| Trending TV Series | Kampen om tungtvannet, Frikjent & The Legacy |
Best Danish TV series on Netflix or DVD in 2016
Best Danish TV series out on DVD, Bluray or VOD (Netflix, Amazon).
Borgen (29-10-2011 )
The series revolves around Birgitte Nyborg, Denmark's first female prime minister, and her intrigues and manoeuvres to stay in power. Other than House of Cards, which only seems to be interested in showing politics' immorality and corruption, Borgen gives a pretty nuanced idea of how politics work (in Denmark). Of course there is corruption, but there's sincere idealism too, which we like to believe is true.
Trailer of Borgen on Youtube

| | |
| --- | --- |
| Release date | 29-10-2011 |
| Creator | Adam Price |
| Starring | Sidse Babett Knudsen, Birgitte Hjort Sørensen & Emil Poulsen |
| Similar tv shows | House of Cards, The West Wing |
| Themes | character, politics, |
| Review | 85% |
| Country | Denmark • |
| Keywords | clever • conversational • decent • |
| Episodes | 3 |
| Network | DR1 |
| Buy/stream it | Amazon / Netflix / Borgen on iTunes |



Forbrydelsen (7-1-2007 )
It was The Killing that paved the way for Danish TV series succes abroad. And honestly, The Killings' brilliance hasn't been exceeded (yet). The first season takes its time to build up; only after twenty nerve-racking episodes we finally find out who killed young Nanna. The Killing is as much a detective as a political thriller, as inspector Sarah Lund's work often coincides with that of Copenhagens' politcians. The tone is sombre, the acting is naturalistic and the script is never too far fetched. The series' unique selling point is Sofie Gråbøl however, who potrays the enigmatic Sarah Lund with a stunning mixture of aloofness, determination and warmth.
Trailer of Forbrydelsen on Youtube

| | |
| --- | --- |
| Release date | 7-1-2007 |
| Creator | Søren Sveistrup |
| Starring | Sofie Gråbøl, Morten Suurballe & Lars Mikkelsen |
| Similar tv shows | Bron/Broen, Broadchurch, Top of the Lake |
| Themes | character, manipulation, crime, drama, |
| Review | 80% |
| Country | Denmark • Germany • Norway • Sweden • |
| Keywords | addictive • authentic • breath-taking • |
| Episodes | 3 |
| Network | DR1 |
| Buy/stream it | Amazon / Netflix |



Bron/Broen (21-9-2011 )
The series starts off with the discovery of a body, exactly at the border between Sweden and Denmark - literary exactly, as half of the body lies on Danish jurisdiction and the other half on Swedish. This means Martin Rohde (a refreshing role by Kim Bodnia, known for portraying hard boiled guys in many Danish films) has to work together with Saga Norén, an autistic inspector (and female overall) from Sweden. The chemistry, or better, the initial lack there of between these two is probably the series' most interesting quality, but storywise there's enough to enjoy too.
Trailer of Bron/Broen on Youtube

| | |
| --- | --- |
| Release date | 21-9-2011 |
| Creator | Hans Rosenfeldt |
| Starring | Sofia Helin, Dag Malmberg & Rafael Pettersson |
| Similar tv shows | Forbrydelsen, Broadchurch, Top of the Lake, The Fall |
| Themes | character, competition, good versus evil, crime, mystery, |
| Review | 85% |
| Country | Denmark • Germany • Sweden • |
| Keywords | conversational • intriguing • |
| Episodes | 3 |
| Network | DR1 |
| Buy/stream it | Amazon / Netflix |



Arvingerne (1-1-2014 )
A mother's death leaves her children exposed to family secrets and an inglorious dispute over the family inheritance.
Trailer of Arvingerne on Youtube

| | |
| --- | --- |
| Release date | 1-1-2014 |
| Creator | Maya Ilsøe |
| Starring | Trine Dyrholm, Jesper Christensen & Marie Bach Hansen |
| Similar tv shows | Sommer |
| Themes | families, finance, greed, drama, |
| Review | 80% |
| Country | Denmark • |
| Keywords | amusing • awkward • clever • |
| Episodes | 2 |
| Network | DR |
| Buy/stream it | Amazon / Netflix |



Best Scandinavian popular culture
Best new European television series in 2016 - Netflix & TV