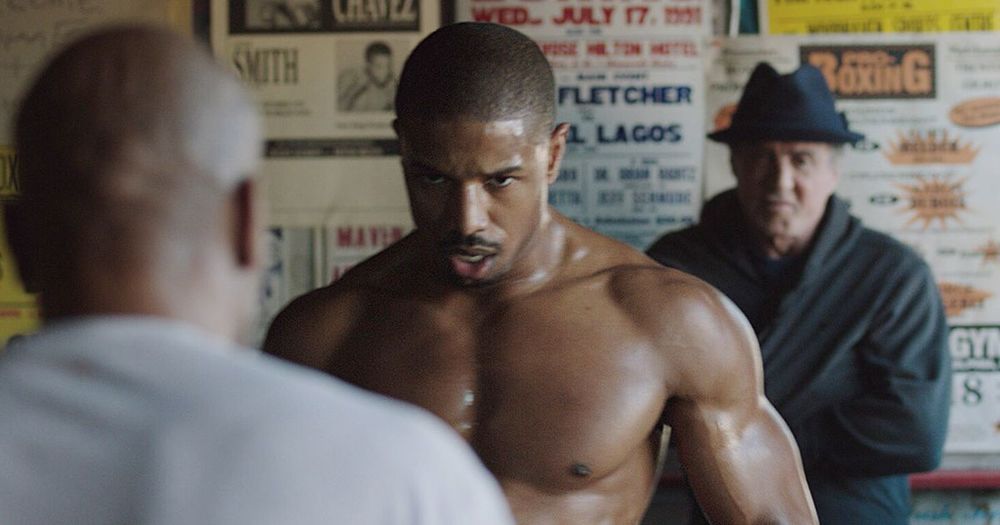 Ogni tanto esce qualche bel film sulla boxe. Pensa a Toro scatenato, The Hurricane o Southpaw. Questi sono i nostri preferiti.
Lo staff di The Vore seleziona il meglio tra i/le Film di boxe del 2017 al cinema o usciti in DVD o Netfix. Antoine Fuqua, David O. Russell & Martin Scorsese sono nuovi registi del genere boxe ?
| Film di boxe | 2017 |
| --- | --- |
| Attori famosi | Jake Gyllenhaal, Rachel McAdams & Sylvester Stallone |
| Film di tendenza | Southpaw, Creed & Bleed for This |
Migliori Film di boxe su Netflix o DVD del 2017
Migliori Film di boxe uscito su DVD, Bluray o VOD (Netflix, Amazon).

Bleed for This (18-11-2016, 117 minuti)

| | |
| --- | --- |
| Regista | Ben Younger (Boiler Room ) |
| Getto | Miles Teller, Aaron Eckhart & Katey Sagal |
| Temi | ritorni, disabilità, dramma, sport, |
| Paese | stati Uniti, |
| Chiavi | ispirazione, prevedibile, |
| Recensione | |
| Streaming online | Amazon / Netflix |

Creed (25-11-2015, 132 minuti)

| | |
| --- | --- |
| Regista | Ryan Coogler (Locks, the Sculptor & Fruitvale Station) |
| Getto | Sylvester Stallone, Maria Breyman & Michael B. Jordan |
| Temi | ritorni, boxe, dramma, |
| Paese | stati Uniti, |
| Chiavi | emozionante, solido, |
| Recensione | |
| Streaming online | Amazon / Netflix |

Southpaw (24-07-2015, 124 minuti)

| | |
| --- | --- |
| Regista | Antoine Fuqua (Training Day, Olympus Has Fallen & The Equalizer) |
| Getto | Jake Gyllenhaal, Rachel McAdams & Oona Laurence |
| Temi | caduta, tutoraggio, boxe, dramma, |
| Paese | stati Uniti, |
| Chiavi | presa, ispirazione, |
| Recensione | |
| Streaming online | Amazon / Netflix |

The Fighter (17-12-2010, 116 minuti)

| | |
| --- | --- |
| Regista | David O. Russell (American Hustle, Three Kings & Silver Linings Playbook) |
| Getto | Mark Wahlberg, Christian Bale & Amy Adams |
| Paese | stati Uniti, |
| Streaming online | Amazon / Netflix |

Raging Bull (19-12-1980, 129 minuti)

| | |
| --- | --- |
| Regista | Martin Scorsese (The Wolf of wall Street, Shutter Island & The Departed) |
| Getto | Robert De Niro, Cathy Moriarty & Joe Pesci |
| Paese | stati Uniti, |
| Streaming online | Amazon / Netflix |

The Hurricane (14-01-2000, 146 minuti)

| | |
| --- | --- |
| Regista | Norman Jewison (Moonstruck, Fiddler on the Roof & In The Heat of the Night) |
| Getto | Denzel Washington, Vicellous Reon Shannon & Deborah Kara Unger |
| Paese | stati Uniti, |
| Streaming online | Amazon / Netflix |

The Boxer (31-12-1997, 113 minuti)

| | |
| --- | --- |
| Regista | Jim Sheridan (In America, My Left Foot & In the Name of the Father) |
| Getto | Daniel Day-Lewis, Daragh Donnelly & Frank Coughlan |
| Paese | Irlanda {Repubblica}, stati Uniti, |
| Streaming online | Amazon / Netflix |

Million Dollar Baby (28-01-2005, 132 minuti)

| | |
| --- | --- |
| Regista | Clint Eastwood (Unforgiven, Rawhide & Gran Torino) |
| Getto | Hilary Swank, Clint Eastwood & Morgan Freeman |
| Paese | stati Uniti, |
| Streaming online | Amazon / Netflix |
I recenti Film di boxe usciti nel 2016
Hands of Stone (2016, minuti)
| | |
| --- | --- |
| Regista | Jonathan Jakubowicz (Distance & Secuestro express) |
| Getto | Ana de Armas, Robert De Niro & Jurnee Smollett-Bell |
| Paese | Panama stati Uniti |
| Streaming online | Amazon / Netflix |
Uppercut (2017, minuti)
| | |
| --- | --- |
| Regista | |
| Getto | Manish Dayal |
| Paese | stati Uniti |
| Streaming online | Amazon / Netflix |