Adults in the Room
Griekse films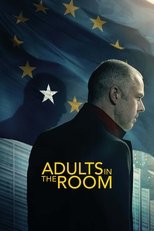 Regisseur

Costa-Gavras

Acteurs

Christos Loulis, Alexandros Bourdoumis & Ulrich Tukur

Releasedatum

3-10-2019
Deze film is gebaseerd op de memoires van Yanis Varoufakis en beschrijft de kritieke onderhandelingen over de Griekse schuld tijdens de bijeenkomsten van de Eurogroep in 2015. Er zat een bepaalde sluwheid in het hart van Griekenland's financiële redding in dat jaar. Hoe uitdagender de linkse Syriza-regering werd, des te meer werd zij geconfronteerd met intimidatie van sommigen of dubbelzinnige...
Regisseur Costa-Gavras's film Adults in the Room(Drama) is geproduceerd door K.G Productions & Odeon en kwam uit op 3-10-2019.
---
Alle verschijningsdata
| | |
| --- | --- |
| Bioscoop verschijningsdatum | 3-10-2019 |
| DVD Verschijningsdatum | TBA |
| Netflix DVD Verschijningsdatum | TBA |
| Netflix? | Niet beschikbaar |
Waar kun je Adults in the Room streamen?
Momenteel niet beschikbaar om te streamen
Trailer
Nog geen trailer uitgebracht
Blijf gratis op de hoogte van de streaming beschikbaarheid van Adults in the Room en andere streaming releases wereldwijd.
Productie informatie
Kosten film: $0 Opbrengst: $0 Speelduur: 124 min
Check Netflix and Amazon Prime beschikbaarheid in Nederland:
Amazon |

Netflix