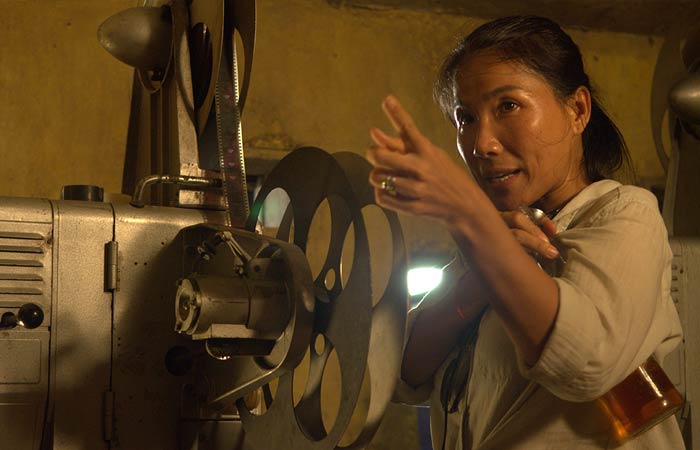 Cambodja is een land dat je misschien niet direct met cinema associeert. En toch gebeuren er daar zeker interessante dingen. Wij selecteerden een handvol films voor je.

The Vore's film redactie selecteert de beste Cambodjaanse films van 2017 in de bios of uit op DVD of Netflix. Zijn Angelina Jolie, Jimmy Henderson & Kulikar Sotho Cambodja's grootste regisseurs?.

| Cambodjaanse films | 2017 |
| --- | --- |
| Populaire acteurs | Dara Ours, Savin Phillip & Ma Rynet |
| Trending films | Year Zero, Hanuman & The Last Reel |
Verwachte 2017 films
Regisseur

Caylee So

Cast

Ellen Wong
Sreynan Chea
Raingsey Phal

---

... Lees meer


---
Beste Cambodjaanse films op Netflix of DVD in 2017 & 2016
Beste Cambodjaanse films uit de 2010's verschenen op DVD, Bluray of Netflix/Amazon prime.

Regisseur

Régis Wargnier

Cast

Raphaël Personnaz
Phoeung Kompheak
Olivier Gourmet

---

... Lees meer


---

Regisseur

Kulikar Sotho

Cast

Rous Mony
Ma Rynet
Dy Saveth

---

... Lees meer


---

Regisseur

Rithy Panh

Cast

Randal Douc
Jean-Baptiste Phou

---

... Lees meer


---

Lost Loves (dinsdag 26 oktober, 2010)

Regisseur

Bora Chhay

Cast

Neak Chin
Southeary Kauv
Sopheak Nhem

---

... Lees meer


---

Regisseur

Brendan Moriarty

Cast

Joshua Fredric Smith
Scott Maguire
Nhem Sokun

---

... Lees meer


---