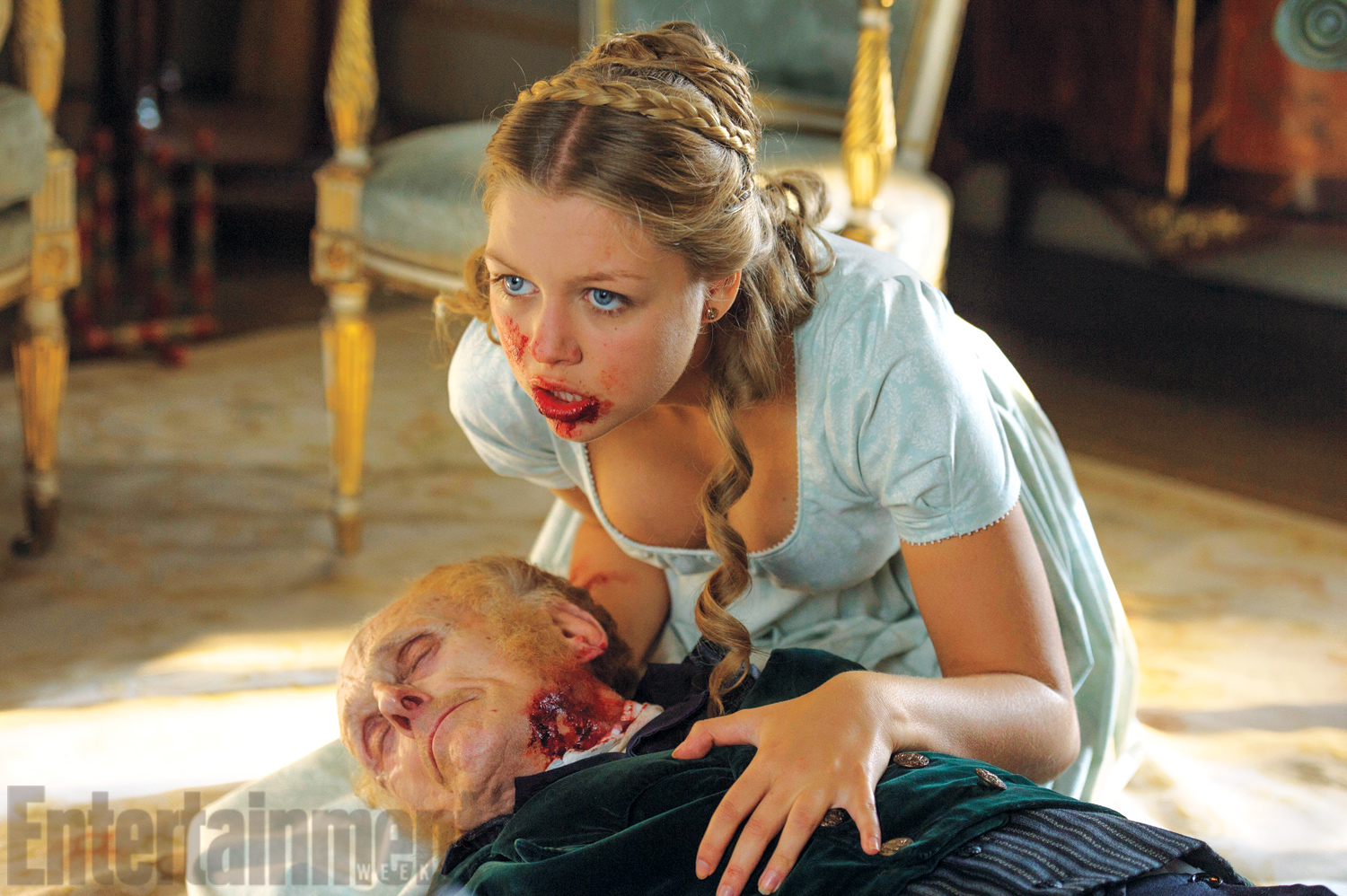 Als je zin hebt in een goede portie 'gore', scroll dan naar beneden en check de beste zombiefilms van de afgelopen jaren!
The Vore's film redactie selecteert de beste Zombiefilms van 2017 in de bios of uit op DVD of Netflix. Zijn Burr Steers, Stefan Ruzowitzky & Henry Hobson onze nieuwe Zombie genre regisseurs?
| Zombiefilms | 2017 |
| --- | --- |
| Populaire acteurs | Bradd Pitt, Elija Wood & Natalie Dormer |
| Trending films | Maggie, Cooties & Welcome to Essex |
Beste Zombiefilms op Netflix of DVD in 2017
Beste Zombiefilms verschenen op DVD, Bluray of Netflix/Amazon prime.

The Autopsy of Jane Doe (21-12-2016, 99 minuten)

| | |
| --- | --- |
| Regisseur | André Øvredal (Trolljegeren) |
| Hoofdrollen | Emile Hirsch, Brian Cox & Ophelia Lovibond |
| Thema's | de dood, identiteit, mysterie, zombie, |
| Land | Verenigd Koninkrijk |
| Sleutelwoorden | smerig, opmerkelijk, |
| Recensie | |
| Koop/stream het | Amazon / Netflix |

World War Z (21-06-2013, 116 minuten)

| | |
| --- | --- |
| Regisseur | Marc Forster (Quantum of Solace, Finding Neverland & Stranger Than Fiction) |
| Hoofdrollen | Brad Pitt, Mireille Enos & Daniella Kertesz |
| Thema's | de dood, vernieling, omgeving, overleving, horror, |
| Land | Verenigde Staten |
| Sleutelwoorden | episch, vol met actie, entertaining, |
| Recensie | |
| Koop/stream het | Amazon / Netflix |

Død snø 2 (07-10-2014, 100 minuten)

| | |
| --- | --- |
| Regisseur | Tommy Wirkola (Hansel and Gretel: Witch Hunters & Dead Snow) |
| Hoofdrollen | Vegar Hoel, Ørjan Gamst & Martin Starr |
| Thema's | goed versus kwaad, ziekenhuis, moord, verzet, de tweede wereldoorlog, horror, |
| Land | Noorwegen |
| Sleutelwoorden | accuraat, hilarisch, onzinnig, |
| Recensie | |
| Koop/stream het | Amazon / Netflix |

Wyrmwood (13-02-2015, 98 minuten)

| | |
| --- | --- |
| Regisseur | Kiah Roache-Turner (War Games & Roadrunner) |
| Hoofdrollen | Jay Gallagher & Bianca Bradey, Leon Burchill |
| Thema's | verzet, wraak, overleving, horror, |
| Land | Verenigde Staten |
| Sleutelwoorden | opvallend, kippenvel, |
| Recensie | |
| Koop/stream het | Amazon / Netflix |

Warm Bodies (01-02-2013, 98 minuten)

| | |
| --- | --- |
| Regisseur | Jonathan Levine (50/50, The Wackness & The Night Before) |
| Hoofdrollen | Nicholas Hoult, Teresa Palmer & John Malkovich |
| Thema's | donkerte, liefde, de jeugd, horror, |
| Land | Verenigde Staten |
| Sleutelwoorden | romantisch, onverwacht, |
| Recensie | |
| Koop/stream het | Amazon / Netflix |

Contracted (22-11-2013, 78 minuten)

| | |
| --- | --- |
| Regisseur | Eric England (Madison County & Chilling Visions: 5 Senses of Fear) |
| Hoofdrollen | Najarra Townsend, Caroline Williams & Alice Macdonald |
| Thema's | drugs, ziekte, de jeugd, psychologische thriller, |
| Land | Verenigde Staten |
| Sleutelwoorden | pakkend, divers, |
| Recensie | |
| Koop/stream het | Amazon / Netflix |
Onlangs verschenen, maar de lijst niet gehaald
The Girl with All the Gifts van Colm McCarthy
| | |
| --- | --- |
| Land | Verenigd Koninkrijk |
| Cast | Gemma Arterton, Glenn Close & Paddy Considine | |
| Vorige films | Peaky Blinders & Outcast |
| Genre van regisseur | drama, zombie, |
Pride and Prejudice and Zombies van Burr Steers
| | |
| --- | --- |
| Land | Verenigde Staten |
| Cast | Lily James, Lena Headey & Matt Smith |
| Vorige films | 17 Again, Igby Goes Down & Charlie St. Cloud |
| Genre van regisseur | historische, horror, zombie, |
Patient Zero van Stefan Ruzowitzky
| | |
| --- | --- |
| Land | Verenigd Koninkrijk |
| Cast | Natalie Dormer, Matt Smith & Stanley Tucci |
| Vorige films | The Counterfeiters, Anatomy, Deadfall & The Inheritors |
| Genre van regisseur | psychologische thriller, zombie, |
Maggie (08-05-2015, 95 minuten)
| | |
| --- | --- |
| Regisseur | Henry Hobson (The Help, The Hangover Part II, Snow White and the Huntsman & Rango) |
| Hoofdrollen | Arnold Schwarzenegger, Abigail Breslin & Joely Richardson |
| Soortgelijke films | Warm Bodies & Cop Car |
| Thema's | familie, angst, relaties, horror, |
| Land | Verenigde Staten |
| Sleutelwoorden | koud, intrigerend, ontroerend, |
| Koop/stream het | Amazon / Netflix |
Cooties (18-09-2015, 88 minuten)
| | |
| --- | --- |
| Regisseur | Jonathan Milott & Cary Murnion (Bushwick ) |
| Hoofdrollen | Elijah Wood, Rainn Wilson & Alison Pill |
| Soortgelijke films | The Green Inferno & Detention of the Dead |
| Thema's | de dood, middelbare school, horror, |
| Land | Verenigde Staten |
| Sleutelwoorden | hilarisch, retro, |
| Koop/stream het | Amazon / Netflix |
Welcome to Essex (18-12-2015, minuten)
| | |
| --- | --- |
| Regisseur | Ryan J. Fleming (Welcome to Essex) |
| Hoofdrollen | Catherine Delaloye, Greg Burridge & Muzzy Tahir |
| Soortgelijke films | Eden Lake & Kill List |
| Thema's | de dood, vernieling, verdrukking, overleving, horror, |
| Land | Verenigd Koninkrijk |
| Sleutelwoorden | avontuurlijk, entertaining, spookachtig, |
| Koop/stream het | Amazon / Netflix |