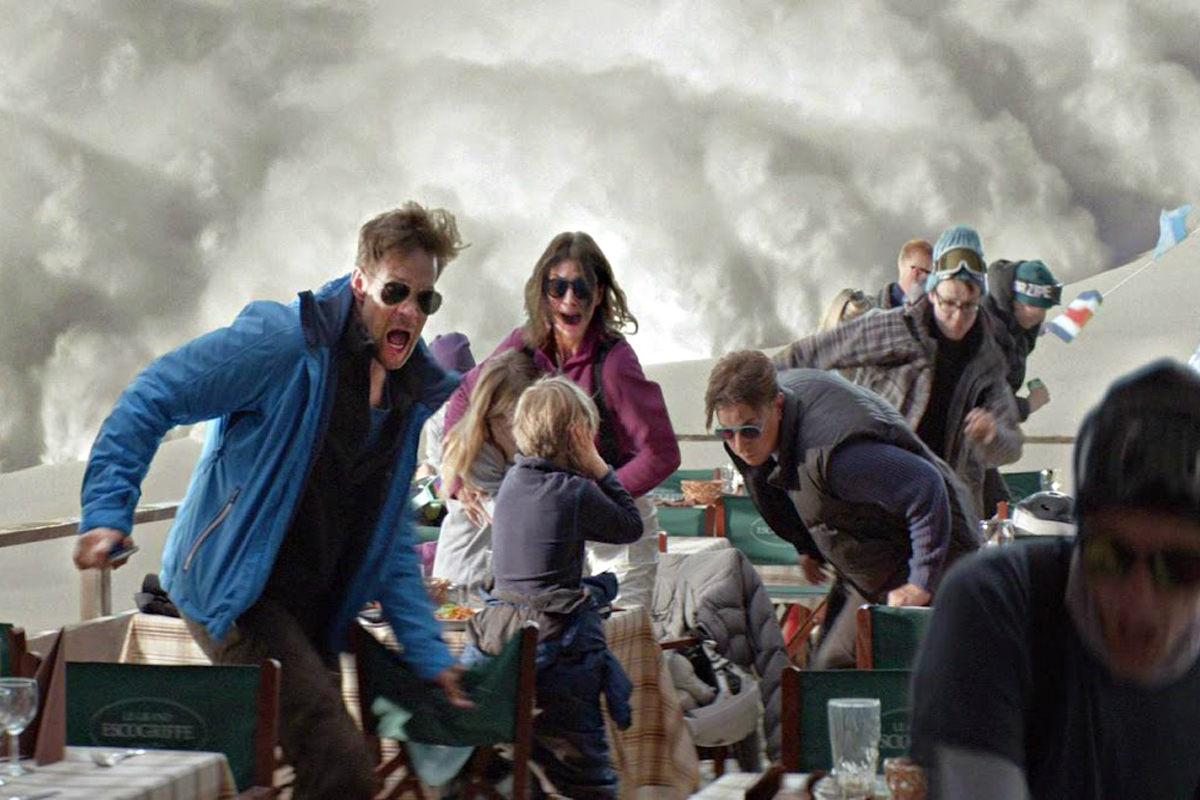 Sinds de vroege dagen van de filmkunst speelt Zweden een leidende rol in de Europese cinema. Ontdek hier de laatste Zweedse openbaringen!
The Vore's film redactie selecteert de beste Zweedse films van 2017 in de bios of uit op DVD of Netflix. Zijn Sanna Lenken, Ruben Östlund & Roy Andersson Zweden's grootste regisseurs?
| Zweedse films | 2017 |
| --- | --- |
| Populaire acteurs | Rebecka Josephson, Amy Diamond & Henrik Norlén |
| Trending films | Turist, A Pigeon Sat on a Banch Reflecting on & Min Lilla Syster |
Beste Zweedse films op Netflix of DVD in 2017
Beste Zweedse films verschenen op DVD, Bluray of Netflix/Amazon prime.

Den allvarsamma leken (The Serious Game) (11-09-2016, 115 minuten)

| | |
| --- | --- |
| Regisseur | Pernilla August (Svinalängorna ) |
| Hoofdrollen | Michael Nyqvist, Sverrir Gudnason & Mikkel Boe Følsgaard |
| Soortgelijke films | Miss Julie |
| Thema's | ontrouw, journalistiek, liefde, drama, romantische, |
| Land | Zweden |
| Sleutelwoorden | gebaseerd op een boek, oprecht, historisch, |
| Recensie | |
| Koop/stream het | Amazon / Netflix |

En Man som heter Ove (30-09-2016, 116 minuten)

| | |
| --- | --- |
| Regisseur | Hannes Holm (Behind Blue Skies, The Reunion & Adam and Eva) |
| Hoofdrollen | Tobias Almborg, Filip Berg & Anna-Lena Bergelin |
| Soortgelijke films | The 100 year-old man who climbed out the window and disappeared |
| Thema's | sociale problematiek, weduwschap, komedie, drama, |
| Land | Zweden |
| Sleutelwoorden | gebaseerd op een boek, grappig, |
| Recensie | |
| Koop/stream het | Amazon / Netflix |

Turist (30-12-2014, 120 minuten)

| | |
| --- | --- |
| Regisseur | Ruben Östlund (Involuntary, Play & The Guitar Mongoloid) |
| Hoofdrollen | Johannes Kuhnke, Lisa Loven Kongsli & Clara Wettergren |
| Soortgelijke films | L'enfant d'en haut, The One I Love & All That Matters Is Past |
| Thema's | familie, huwelijk, drama, |
| Land | Denemarken Frankrijk Noorwegen Zweden |
| Sleutelwoorden | verbluffend, evocatief, |
| Recensie | |
| Koop/stream het | Amazon / Netflix |

A Pigeon Sat on a Branch Reflecting on Existence (06-03-2015, 101 minuten)

| | |
| --- | --- |
| Regisseur | Roy Andersson (A Swedish Love Story, Songs from the Second Floor & You, The Living) |
| Hoofdrollen | Holger Andersson, Nils Westblom & Viktor Gyllenberg |
| Thema's | vriendschap, mannen, komedie, drama, |
| Land | Frankrijk Duitsland Noorwegen Zweden |
| Sleutelwoorden | absurd, hilarisch, |
| Recensie | |
| Koop/stream het | Amazon / Netflix |

Vi är bäst! (20-06-2014, 102 minuten)

| | |
| --- | --- |
| Regisseur | Lukas Moodysson (Show Me Love, Together & Lilya 4-Ever) |
| Hoofdrollen | Mira Barkhammar, Mira Grosin & Liv LeMoyne |
| Soortgelijke films | SLC Punk!, Submarine & Bande de Filles |
| Thema's | volwassen worden, jaloezie, drama, musical, |
| Land | Denemarken Zweden |
| Sleutelwoorden | aandoenlijk, dynamisch, |
| Recensie | |
| Koop/stream het | Amazon / Netflix |

Aterträffen (15-11-2013, 90 minuten)

| | |
| --- | --- |
| Regisseur | Anna Odell (The Reunion & Okänd, kvinna 2009-349701) |
| Hoofdrollen | Anna Odell, Anders Berg & David Nordström |
| Soortgelijke films | Festen, Carrie & Hotell |
| Thema's | pesten, middelbare school, drama, |
| Land | Zweden |
| Sleutelwoorden | ongemakkelijk, geloofwaardig, |
| Recensie | |
| Koop/stream het | Amazon / Netflix |

Call Girl (09-11-2012, 140 minuten)

| | |
| --- | --- |
| Regisseur | Mikael Marcimain (Gentlemen) |
| Hoofdrollen | Sofia Karemyr, Simon J. Berger & Josefin Asplund |
| Soortgelijke films | Svinalängorna, Spies & Glistrup & Welcome to New York |
| Land | Finland Noorwegen Zweden |
| Recensie | |
| Koop/stream het | Amazon / Netflix |

Eat Sleep Die (05-10-2012, 104 minuten)

| | |
| --- | --- |
| Regisseur | Gabriela Pichler (Scratches) |
| Hoofdrollen | Nermina Lukac, Milan Dragisic & Jonathan Lampinen |
| Soortgelijke films | Lilja 4-ever & Mig äger ingen |
| Land | Zweden |
| Recensie | |
| Koop/stream het | Amazon / Netflix |

Play (11-11-2011, 118 minuten)

| | |
| --- | --- |
| Regisseur | Ruben Östlund (Involuntary, Incident by a Bank & Force Majeure) |
| Hoofdrollen | Anas Abdirahman, Sebastian Blyckert & Yannick Diakité |
| Soortgelijke films | Farväl Falkenberg, Apflickorna & En kärlekshistoria |
| Thema's | pesten, sociale problematiek, drama, |
| Land | Zweden |
| Sleutelwoorden | phenomenaal, realistisch, |
| Recensie | |
| Koop/stream het | Amazon / Netflix |

Avalon (24-02-2012, 79 minuten)

| | |
| --- | --- |
| Regisseur | Axel Petersén (The Numerologist, A Good Friend of Mr. World & The Tracks of My Tears 2) |
| Hoofdrollen | Johannes Brost, Peter Carlberg & Léonore Ekstrand |
| Soortgelijke films | Dag och natt & Call Girl |
| Thema's | carriere, ouderdom, drama, psychologische thriller, |
| Land | Zweden |
| Sleutelwoorden | koud, onvergelijkbaar, |
| Recensie | |
| Koop/stream het | Amazon / Netflix |
Onlangs verschenen, maar de lijst niet gehaald
Bieffekterna (Origin) van Andreas Climent & André Hedetoft
| | |
| --- | --- |
| Land | Zweden |
| Cast | Rikard Björk, Emelia Hansson & Rafael Pettersson |
| Vorige films | Double Trouble & Logan |
| Genre van regisseur | drama, science fiction, |
Jätten van Johannes Nyholm
| | |
| --- | --- |
| Land | Zweden |
| Cast | Christian Eriksson, Johan Kylén & Anna Bjelkerud |
| Genre van regisseur | drama, |
Det Vita Volket (27-11-2015, minuten)
| | |
| --- | --- |
| Regisseur | Lisa Aschan (She Monkeys & In transit) |
| Hoofdrollen | Pernilla August, Vera Vitali & Marall Nasiri |
| Soortgelijke films | Återträffen, Play & Kongen av Bastøy |
| Thema's | recht, rebellie, drama, |
| Land | Zweden |
| Sleutelwoorden | intrigerend, prijsloos, |
| Koop/stream het | Amazon / Netflix |
Min Lilla Syster (18-09-2015, 95 minuten)
| | |
| --- | --- |
| Regisseur | Sanna Lenken (Yoghurt, Valborg & Skallgång) |
| Hoofdrollen | Rebecka Josephson, Amy Diamond & Henrik Norlén |
| Soortgelijke films | Tjuvheder, Flocken & Äta lunch |
| Thema's | volwassen worden, jaloezie, drama, |
| Land | Duitsland Zweden |
| Sleutelwoorden | authentiek, aangrijpend, |
| Koop/stream het | Amazon / Netflix |