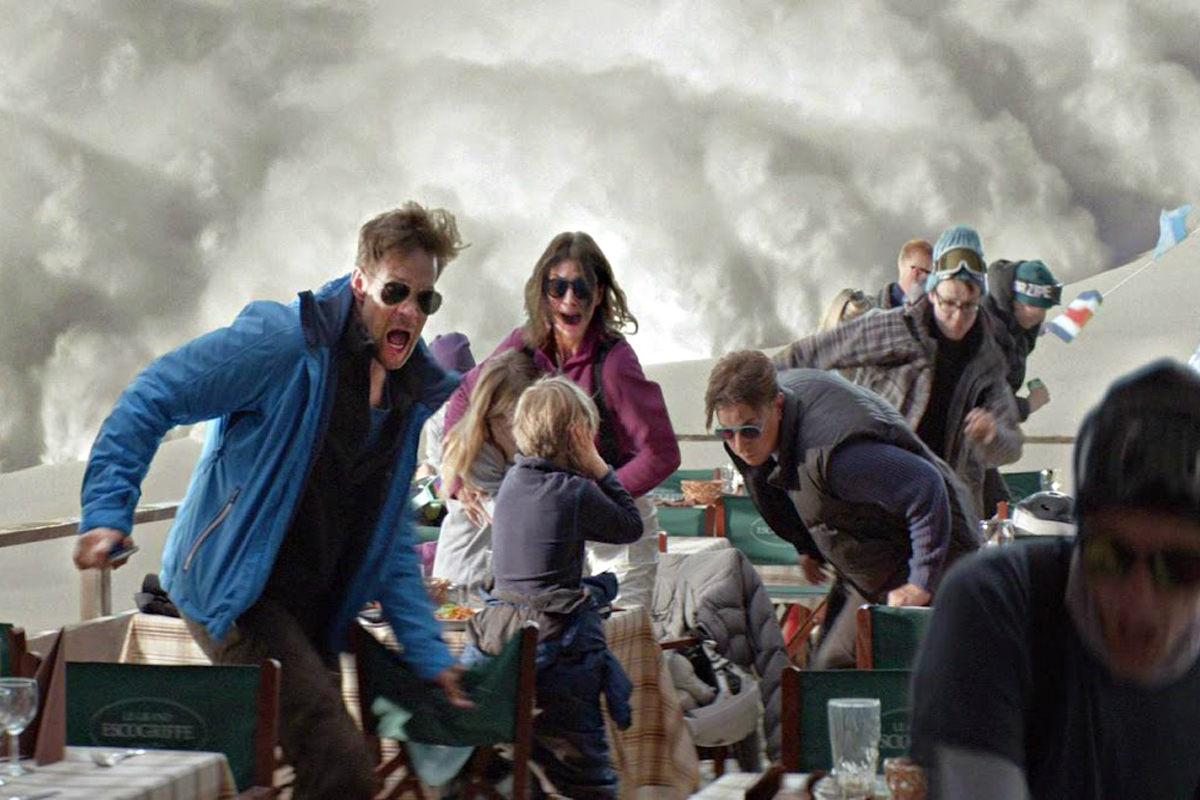 Sinds de vroege dagen van de filmkunst speelt Zweden een leidende rol in de Europese cinema. Ontdek hier de laatste Zweedse openbaringen!
The Vore's film redactie selecteert de beste Zweedse films van 2016 in de bios of uit op DVD of Netflix. Zijn Sanna Lenken, Ruben Östlund & Roy Andersson Zweden's grootste regisseurs?
| Zweedse films | 2016 |
| --- | --- |
| Populaire acteurs | Rebecka Josephson, Amy Diamond & Henrik Norlén |
| Trending films | Turist, A Pigeon Sat on a Banch Reflecting on & Min Lilla Syster |
Beste Zweedse films op Netflix of DVD in 2016
Beste Zweedse films verschenen op DVD, Bluray of Netflix/Amazon prime.

Turist (30-12-2014)
Trailer van Turist op Youtube

| | |
| --- | --- |
| Regisseur | Ruben Östlund (Involuntary, Play & The Guitar Mongoloid) |
| Hoofdrollen | Johannes Kuhnke, Lisa Loven Kongsli & Clara Wettergren |
| Soortgelijke films | L'enfant d'en haut, The One I Love & All That Matters Is Past |
| Thema's | familie, huwelijk, drama, |
| Release datum | 30-12-2014 |
| Recensie | 90% |
| Land | Denemarken • Frankrijk • Noorwegen • Zweden • |
| Sleutelwoorden | verbluffend • evocatief • |
| Lengte | 120 minuten |
| Koop/stream het | Amazon / Netflix |

A Pigeon Sat on a Branch Reflecting on Existence (06-03-2015)
Trailer van A Pigeon Sat on a Branch Reflecting on Existence op Youtube

| | |
| --- | --- |
| Regisseur | Roy Andersson (A Swedish Love Story, Songs from the Second Floor & You, The Living) |
| Hoofdrollen | Holger Andersson, Nils Westblom & Viktor Gyllenberg |
| Thema's | vriendschap, mannen, komedie, drama, |
| Release datum | 06-03-2015 |
| Recensie | 82% |
| Land | Frankrijk • Duitsland • Noorwegen • Zweden • |
| Sleutelwoorden | absurd • hilarisch • |
| Lengte | 101 minuten |
| Koop/stream het | Amazon / Netflix |

Vi är bäst! (20-06-2014)
Trailer van Vi är bäst! op Youtube

| | |
| --- | --- |
| Regisseur | Lukas Moodysson (Show Me Love, Together & Lilya 4-Ever) |
| Hoofdrollen | Mira Barkhammar, Mira Grosin & Liv LeMoyne |
| Soortgelijke films | SLC Punk!, Submarine & Bande de Filles |
| Thema's | volwassen worden, jaloezie, drama, musical, |
| Release datum | 20-06-2014 |
| Recensie | 84% |
| Land | Denemarken • Zweden • |
| Sleutelwoorden | aandoenlijk • dynamisch • |
| Lengte | 102 minuten |
| Koop/stream het | Amazon / Netflix |

Aterträffen (15-11-2013)
Trailer van Aterträffen op Youtube

| | |
| --- | --- |
| Regisseur | Anna Odell (The Reunion & Okänd, kvinna 2009-349701) |
| Hoofdrollen | Anna Odell, Anders Berg & David Nordström |
| Soortgelijke films | Festen, Carrie & Hotell |
| Thema's | pesten, middelbare school, drama, |
| Release datum | 15-11-2013 |
| Recensie | 70% |
| Land | Zweden • |
| Sleutelwoorden | ongemakkelijk • geloofwaardig • |
| Lengte | 90 minuten |
| Koop/stream het | Amazon / Netflix |

Call Girl (09-11-2012)
Trailer van Call Girl op Youtube

| | |
| --- | --- |
| Regisseur | Mikael Marcimain (Gentlemen) |
| Hoofdrollen | Sofia Karemyr, Simon J. Berger & Josefin Asplund |
| Soortgelijke films | Svinalängorna, Spies & Glistrup & Welcome to New York |
| Release datum | 09-11-2012 |
| Recensie | 76% |
| Land | Finland • Noorwegen • Zweden • |
| Lengte | 140 minuten |
| Koop/stream het | Amazon / Netflix |

Eat Sleep Die (05-10-2012)
Trailer van Eat Sleep Die op Youtube

| | |
| --- | --- |
| Regisseur | Gabriela Pichler (Scratches) |
| Hoofdrollen | Nermina Lukac, Milan Dragisic & Jonathan Lampinen |
| Soortgelijke films | Lilja 4-ever & Mig äger ingen |
| Release datum | 05-10-2012 |
| Recensie | 69% |
| Land | Zweden • |
| Lengte | 104 minuten |
| Koop/stream het | Amazon / Netflix |

Play (11-11-2011)
Trailer van Play op Youtube

| | |
| --- | --- |
| Regisseur | Ruben Östlund (Involuntary, Incident by a Bank & Force Majeure) |
| Hoofdrollen | Anas Abdirahman, Sebastian Blyckert & Yannick Diakité |
| Soortgelijke films | Farväl Falkenberg, Apflickorna & En kärlekshistoria |
| Thema's | pesten, sociale problematiek, drama, |
| Release datum | 11-11-2011 |
| Recensie | 89% |
| Land | Zweden • |
| Sleutelwoorden | phenomenaal • realistisch • |
| Lengte | 118 minuten |
| Koop/stream het | Amazon / Netflix |

Avalon (24-02-2012)
Trailer van Avalon op Youtube

| | |
| --- | --- |
| Regisseur | Axel Petersén (The Numerologist, A Good Friend of Mr. World & The Tracks of My Tears 2) |
| Hoofdrollen | Johannes Brost, Peter Carlberg & Léonore Ekstrand |
| Soortgelijke films | Dag och natt & Call Girl |
| Thema's | carriere, ouderdom, drama, psychologische thriller, |
| Release datum | 24-02-2012 |
| Recensie | 66% |
| Land | Zweden • |
| Sleutelwoorden | koud • onvergelijkbaar • |
| Lengte | 79 minuten |
| Koop/stream het | Amazon / Netflix |