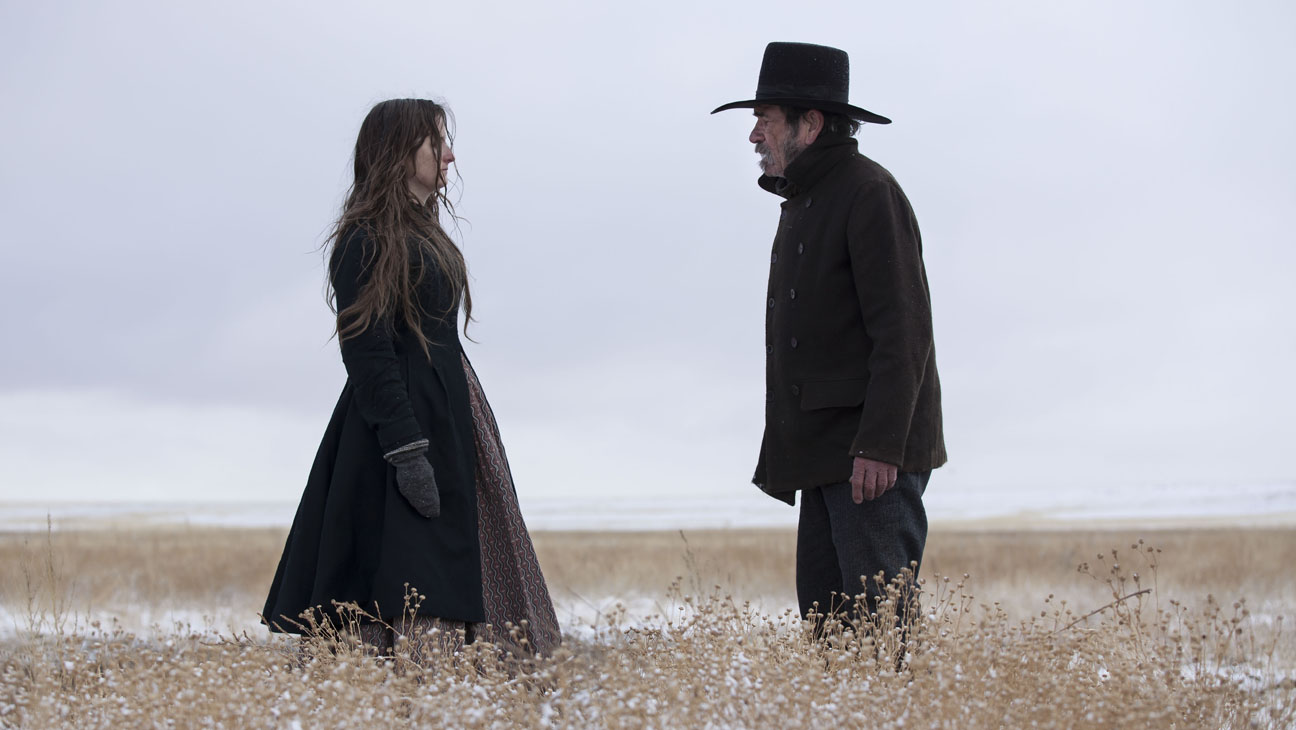 Wie denkt dat de westernfilm al decennia dood is, zit er gruwelijk naast. Sterker nog, het genre is de laatste jaren weer springlevend! We stelden een lijst samen van de beste neo-westerns.
The Vore's film redactie selecteert de beste Westerns van 2017 in de bios of uit op DVD of Netflix. Zijn Tommy Lee Jones, Quentin Tarantino & Martin Koolhoven onze nieuwe heksen genre regisseurs?
| Westerns | 2017 |
| --- | --- |
| Populaire acteurs | Guy Pearce, Dakota Fanning & Kit Harington |
| Trending films | The Salvation, The Revenant & Slow West |
Beste Westerns op Netflix of DVD in 2017
Beste Westerns verschenen op DVD, Bluray of Netflix/Amazon prime.

Hell or High Water (26-08-2016, 102 minuten)

| | |
| --- | --- |
| Regisseur | David Mackenzie (Starred Up) |
| Hoofdrollen | Dale Dickey, Ben Foster & Chris Pine | |
| Thema's | politie, sociale problematiek, geweld, actie, western, |
| Land | Verenigde Staten |
| Sleutelwoorden | klassiek, kippenvel, |
| Recensie | |
| Koop/stream het | Amazon / Netflix |

The Revenant (08-01-2016, 151 minuten)

| | |
| --- | --- |
| Regisseur | Alejandro González Iñárritu (Birdman: Or (The Unexpected Virtue of Ignorance), Babel & Biutiful ) |
| Hoofdrollen | Tom Hardy, Leonardo DiCaprio & Domhnall Gleeson |
| Soortgelijke films | Dances with Wolves |
| Land | Mexico Verenigde Staten |
| Recensie | |
| Koop/stream het | Amazon / Netflix |

The Magnificent Seven (23-09-2016, 133 minuten)

| | |
| --- | --- |
| Regisseur | Antoine Fuqua (Training Day) |
| Hoofdrollen | Denzel Washington, Chris Pratt & Ethan Hawke |
| Thema's | geweld, actie, western, |
| Land | Verenigde Staten |
| Sleutelwoorden | klassiek, entertaining, |
| Recensie | |
| Koop/stream het | Amazon / Netflix |

The Hateful Eight (08-01-2016, 182 minuten)

| | |
| --- | --- |
| Regisseur | Quentin Tarantino (Pulp Fiction, Kill Bill: Vol. 1 & Kill Bill: Vol. 2) |
| Hoofdrollen | Channing Tatum, Samuel L. Jackson & Kurt Russell |
| Soortgelijke films | Django Unchained & Inglorious Basterds |
| Thema's | verraad, geweld, heksen, |
| Land | Verenigde Staten |
| Sleutelwoorden | vol met actie, verschrikkend, |
| Recensie | |
| Koop/stream het | Amazon / Netflix |

The Homesman (18-05-2014, 122 minuten)

| | |
| --- | --- |
| Regisseur | Tommy Lee Jones (The Three Burials of Melquiades Estrada & The Sunset Limited ) |
| Hoofdrollen | Tommy Lee Jones, Hilary Swank & Grace Gummer |
| Soortgelijke films | Slow West & The Assassination of Jesse James by the Coward Robert Ford |
| Thema's | gekte, vrouwen, drama, heksen, |
| Land | Frankrijk Verenigde Staten |
| Sleutelwoorden | avontuurlijk, grappig, |
| Recensie | |
| Koop/stream het | Amazon / Netflix |

The Salvation (27-02-2015, 92 minuten)

| | |
| --- | --- |
| Regisseur | Kristian Levring (Fear Me Not, The King is Alive & The Intended) |
| Hoofdrollen | Mads Mikkelsen, Eva Green & Eric Cantona |
| Soortgelijke films | Gold & The Emigrants |
| Thema's | rouwen, wraak, drama, heksen, |
| Land | Verenigde Staten |
| Sleutelwoorden | solide, kippenvel, |
| Recensie | |
| Koop/stream het | Amazon / Netflix |

Das Finstere Tal (13-02-2014, 115 minuten)

Regisseur
Andreas Prochaska (Dead in 3 Days, A Day for a Miracle &
The Unintentional Kidnapping of Mrs. Elfriede Ott)
Hoofdrollen
Sam Riley, Tobias Moretti & Paula Beer
Soortgelijke films
The Salvation & Borgman
Thema's
verraad, drop, western,
Land
Oostenrijk Duitsland
Sleutelwoorden
donker, opvallend,
Recensie
Koop/stream het
Amazon / Netflix

Jauja (27-12-2014, 109 minuten)

| | |
| --- | --- |
| Regisseur | Lisandro Alonso (Freedom, Liverpool & Los Muertos) |
| Hoofdrollen | Viggo Mortensen, Ghita Nørby & Viilbjørk Malling Agger |
| Soortgelijke films | Meek's Cutoff & El Topo |
| Thema's | kansen, reizen, drama, heksen, |
| Land | Argentinië Denemarken Frankrijk Verenigde Staten |
| Sleutelwoorden | kunstzinnig, opmerkelijk, |
| Recensie | |
| Koop/stream het | Amazon / Netflix |

Django Unchained (25-12-2012, 165 minuten)

| | |
| --- | --- |
| Regisseur | Quentin Tarantino (Pulp Fiction, Kill Bill: Vol. 1 & Kill Bill: Vol. 2) |
| Hoofdrollen | Jamie Foxx, Christoph Waltz & Leonardo DiCaprio |
| Soortgelijke films | 12 Years a Slave & Aferim! |
| Thema's | vrijheid, slavernij, western, |
| Land | Verenigde Staten |
| Sleutelwoorden | brilliant, sterk, |
| Recensie | |
| Koop/stream het | Amazon / Netflix |
Onlangs verschenen, maar de lijst niet gehaald
Jane Got a Gun van Gavin O'Connor
| | |
| --- | --- |
| Land | Verenigde Staten |
| Cast | Natalie Portman, Ewan McGregor & Rodrigo Santoro |
| Vorige films | Warrior, Pride and Glory & Miracle |
| Genre van regisseur | actie, drama, heksen, |
Aferim! (20-04-2015, 108 minuten)
| | |
| --- | --- |
| Regisseur | Radu Jude (The Happiest Girl in the World, Everybody in Our Family & Alexandra) |
| Hoofdrollen | Teodor Corban, Mihai Comanoiu & Toma Cuzin |
| Soortgelijke films | Undeva la Palilula & Das finstere Tal |
| Thema's | rebellie, slavernij, komedie, western, |
| Land | Roemenië |
| Sleutelwoorden | hilarisch, historisch, |
| Koop/stream het | Amazon / Netflix |
Slow West (16-04-2015, 84 minuten)
| | |
| --- | --- |
| Regisseur | John Maclean (Pitch Black Heist, Remember Me & High Fidelity ) |
| Hoofdrollen | Kodi Smit-McPhee, Michael Fassbender & Ben Mendelsohn |
| Soortgelijke films | The Homesman & Rango |
| Thema's | eer, liefde, actie, psychologische thriller, western, |
| Land | Verenigde Staten |
| Sleutelwoorden | grappig, aangrijpend, |
| Koop/stream het | Amazon / Netflix |