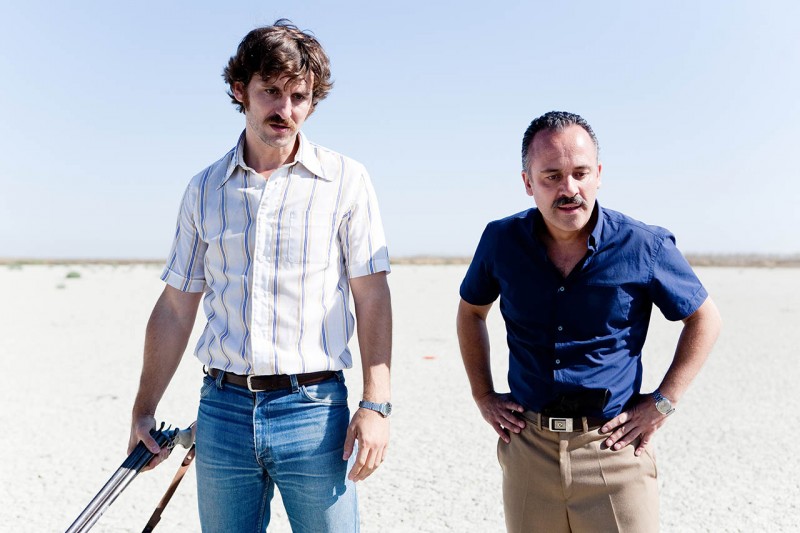 Pedro Almodovar, Julio Medem, Alejandro Amenabar… just a few names to remind you of the greatness of Spanish cinema. But what had the past years to offer? We made a list of the best Spanish movies!

The Vore's Film staff selects the top best Spanish movies of 2016 in cinema or on DVD or Netfix. Are Alberto Rodríguez, Rodrigo Sorogoyen & David Trueba Spain's biggest directors?
When I started thinking of a list of the best Spanish films of 2014 and 2015 it took a while before the first titles popped up in my mind. Actually, I didn't see a single Spanish film from 2014 or 2013, I had to admit to myself. Until now, that is. Spanish directors seemed conspicuous by their absence at recent important film festivals. How come? Sure, the country has been through better times economically, but isn't malaise usually a source of inspiration? And what about Spain's position as Europe's stronghold of quality horror films? Well, for better or worse, let's take a look at the best Spain had to offer in 2013, and what we can expect of Spanish cinema in 2014.

| Spanish movies | 2016 |
| --- | --- |
| Popular actors | Gwyneth Paltrow, Antonio Banderas & Imanol Arias |
| Trending movies | Ma ma, 33 Dias & 10.000 km |
Best Spanish movies on Netflix or DVD in 2016
Best Spanish movies out on DVD, Bluray or VOD (Netflix, Amazon).

10.000 km (10-07-2015)
We have seen the story about whether love can survive long distance before, but this time it has been told rather well. Director Carlos Marques-Marcet was in charge of editing It Felt like Love, a film covering the same topic, and he must have learned quite a bit from that. This film is equally subtle, and perhaps even more relatable. Sure, we have social media, Skype and other technological means of communication, but actual intimate contact remains key in a healthy relationship. This film about a couple in two apartments far away from each other shows us all the pitfalls of a long distance relationship in modern times.


Trailer of 10.000 km on Youtube

| | |
| --- | --- |
| Release date | 10-07-2015 |
| Director | Carlos Marques-Marcet (The Yellow Ribbon & Say Goodnight) |
| Starring | Natalia Tena & David Verdaguer |
| Similar movies | Going the Distance & Nights and Weekends |
| Themes | love, relationships, comedy, drama, thriller, |
| Rating | 80% |
| Country | Spain • |
| Keywords | romantic • spot-on • |
| Length | 99 minutes |
| Buy/stream it | Amazon / Netflix |

La Cueva (11-07-2011)
The Spanish tradition of creating indie horror films is not over yet. Here is another Spanish 'found footage' horror film (REC!) about a group of five youngsters descending into a hidden cave. Of course everything goes terribly wrong. The concept doesn't sound too exciting, but La Cueva got pretty raving reviews after it was viewed at the International Film Festival in Rotterdam. And it is indeed rather interesting and shockingly realistic.


Trailer of La Cueva on Youtube

| | |
| --- | --- |
| Release date | 11-07-2011 |
| Director | Alfredo Montero (Children ) |
| Starring | Marta Castellote, Xoel Fernández & Eva García-Vacas |
| Similar movies | REC & The Descent |
| Themes | death, nature, horror, |
| Rating | 67% |
| Country | Spain • |
| Keywords | amusing • thrilling • |
| Length | 80 minutes |
| Buy/stream it | Amazon / Netflix |

La Isla Mínima (10-04-2015)

Trailer of La Isla Mínima on Youtube

| | |
| --- | --- |
| Release date | 10-04-2015 |
| Director | Alberto Rodríguez (Unit 7, 7 Virgins & After) |
| Starring | Javier Gutiérrez, Raúl Arévalo & María Varod |
| Similar movies | Pan's Labyrinth & Pascual Duarte |
| Themes | justice, politics, crime, thriller, |
| Rating | 76% |
| Country | Spain • |
| Keywords | chilling • dark • |
| Length | 105 minutes |
| Buy/stream it | Amazon / Netflix |

Caníbal (25-07-2014)
Speaking of quality Spanish horror films; Caníbal once again proves Spaniards are pretty good at making those. Caníbal is a stylish, minimalist take on the well-known cannibal theme. Carlos is a quiet and gentle tailor from Granada who kidnaps young, foreign women to take them to an isolated mountain cabin and eat them. He works discrete. Things start to get mixed up for him however when he falls in love with Nina, his last victim's sister. Caníbal is beautifully shot and ultimately more atmosphere-driven than plot-driven.


Trailer of Caníbal on Youtube

| | |
| --- | --- |
| Release date | 25-07-2014 |
| Director | Manuel Martín Cuenca (Half of Oscar, Malas Temporadas & The Weakness of the Bolshevik) |
| Starring | Antonio de la Torre, Olimpia Melinte & María Alfonsa Rosso |
| Similar movies | Tesis & Los Ojos de Julia |
| Themes | death, love, thriller, |
| Rating | 79% |
| Country | France • Romania • Russian Federation • Spain • |
| Keywords | intriguing • scary • |
| Length | 116 minutes |
| Buy/stream it | Amazon / Netflix |

Stockholm (08-11-2013)
A nice low budget flick which brings Richard Linklaters' classic Before Sunrise to mind. A boy meets a girl in Madrid (no, not Stockholm), tells her he loves her which the girls finds hard to believe. What follows is a dialogue-driven story in real time, a long walk through a city at night, where the boy has to convince the girl. In the second part of the film, the morning after, it becomes painfully clear that both are seeking something entirely different. Stockholm offers nothing we haven't seen before but is fresh and nicely naturalistic acted.


Trailer of Stockholm on Youtube

| | |
| --- | --- |
| Release date | 08-11-2013 |
| Director | Rodrigo Sorogoyen (Que Dios nos perdone & 8 citas ) |
| Starring | Javier Pereira, Aura Garrido & Jesús Caba |
| Similar movies | Before Sunrise & 10.000 km |
| Themes | love, relationships, drama, romance, |
| Rating | 65% |
| Country | Spain • |
| Keywords | authentic • dynamic • |
| Length | 90 minutes |
| Buy/stream it | Amazon / Netflix |

Vivir Es Fácil con los Ojos Cerrados (17-05-2014)
Spain, 1966. Antonio is a teacher who uses Beatles-songs to teach his students English. When he finds out John Lennon is shooting a film in Almeria, he embarks on a road trip, planning on meeting his idol. Along the way he picks up a few colorful hitchhikers. Vivir Es Fácil con los Ojos Cerrados ('Living is easy with eyes closed', a phrase from Strawberry Fields) is a nice bitter sweet road movie. Enjoyable, even touching at some times, even though the film sometimes tries a little too hard to reanimate the sixties, as is often the case with period films.


Trailer of Vivir Es Fácil con los Ojos Cerrados on Youtube

| | |
| --- | --- |
| Release date | 17-05-2014 |
| Director | David Trueba (Soldiers of Salamina, Madrid, 1987 & The Good Life) |
| Starring | Javier Cámara, Natalia de Molina & Francesc Colomer |
| Similar movies | Los años bárbaros & Y tu mamá también |
| Themes | friendship, travelling, comedy, drama, |
| Rating | 68% |
| Country | Spain • |
| Keywords | historical • nice • |
| Length | 108 minutes |
| Buy/stream it | Amazon / Netflix |

Los Ilusos (13-04-2013)
Another charming low budget film, albeit in another fashion than Stockholm. Los Ilusos feels like modern nouvelle vague film. It's shot in black and white, the acting is spontaneous and it deals with a couple of cinephile twenty-somethings from Madrid. The story revolves around two young aspiring filmmakers reflecting on love, life and cinema. Los Ilusos is a so called meta film: a film about film which has a nice nostalgic vibe to it.


Trailer of Los Ilusos on Youtube

| | |
| --- | --- |
| Release date | 13-04-2013 |
| Director | Jonás Trueba (Los exiliados románticos & Los exiliados románticos ) |
| Starring | Francesco Carril, Aura Garrido & Luis Miguel Madrid |
| Similar movies | Güeros & Temporado de Patos |
| Themes | filmmaking, friendship, drama, |
| Rating | 72% |
| Country | Spain • |
| Keywords | subtle • unusual • |
| Length | 93 minutes |
| Buy/stream it | Amazon / Netflix |

Los Amantes Pasajeros (13-06-2013)
Actually this film shouldn't be on this list. It's fairly horrible. But since it's directed by Pedro Almodóvar, without any doubt Spain's most prolific director, I think it has to be mentioned at least. Just to make sure you skip it. Because after 2011's great gothic horror La Piel Que Habito, probably Almodóvars' best effort since La Mala Educación (2004), it couldn't disappoint more. This tedious and cliché-filled comedy deals with a dozen of people on a plane that is about to crash. Facing death, the passengers start sharing each other's wildest fantasies. I'm not sure whether this movie had to be more or less vulgar in order to work. Let's hope Almodóvar finds his old shape back with his next one.


Trailer of Los Amantes Pasajeros on Youtube

| | |
| --- | --- |
| Release date | 13-06-2013 |
| Director | Pedro Almodóvar (Talk to Her, The Skin I Live In & Volver) |
| Starring | Javier Cámara, Pepa Charro & Cecilia Roth |
| Similar movies | AIrplane! & Flightplan |
| Themes | sex, travelling, comedy, |
| Rating | 50% |
| Country | Spain • |
| Keywords | dreary • predictable • |
| Length | 90 minutes |
| Buy/stream it | Amazon / Netflix |