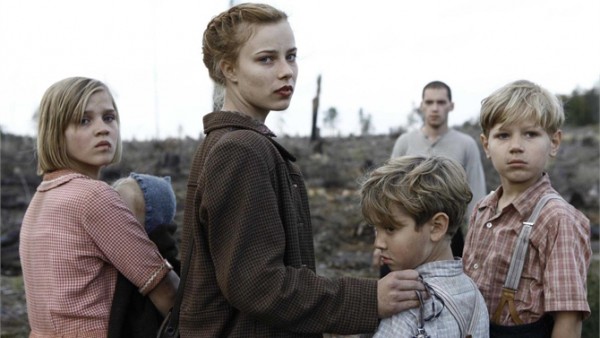 From German Expressionism in the 1920's to New German Cinema in the 1970's and to great modern filmmakers like Tom Tykwer and Fatih Akin: Germany has an overwhelming amount of great films movies to offer. We picked our recent favorites.
The Vore's Film staff selects the top best German movies of 2016 in cinema or on DVD or Netfix. Are Christian Petzold, Oliver Hirschbiegel & Dietrich Brüggemann Germany's biggest directors?
| German movies | 2016 |
| --- | --- |
| Popular actors | Laia Costa, Frederick Lau & Franz Rogowski |
| Trending movies | Victoria, Ein Atem & Elser |
Best German movies on Netflix or DVD in 2016
Best German movies out on DVD, Bluray or VOD (Netflix, Amazon).

Kreuzweg (10-07-2015)
Stations of the Cross tells the story of the radically devote Catholic fourteen year old girl Maria who wants to become a saint. Through fourteen separate chapters (parallel to the fourteen stations Jesus had to pass on his way to Golgotha),we're witnessing her journey. In line with the austerity of the plot ( in so far there is one), director Brüggeman shot the entire film with a stationary camera. This doesn't make Stations of the Cross an easy watch per se, but it encourages the audience to contemplate on the film's thought evoking theme.


Trailer of Kreuzweg on Youtube

| | |
| --- | --- |
| Release date | 10-07-2015 |
| Director | Dietrich Brüggemann (Heil, Run If You Can & Move) |
| Starring | Lucie Aron, Anna Brüggemann & Michael Kamp |
| Themes | growing up, religion, drama, |
| Rating | 82% |
| Country | France • Germany • |
| Keywords | extraordinary • first-class • |
| Length | 110 minutes |
| Buy/stream it | Amazon / Netflix |

The Strange Little Cat (01-05-2013)
The Strange Little Cat is what you call a slow burner. It screened at the Berlin Film Festival in February 2013, but it wasn't until a couple of months ago before the blogosphere started to pick it up. In this remarkable little gem in the veins of Jacques Tati's observational humorist films, we follow a middle class German family from dusk till dawn. Nothing much happens and the camera barely leaves the apartment but first time director Zürcher succeeds in showing the mundane in such a way that it becomes absurd.


Trailer of The Strange Little Cat on Youtube

| | |
| --- | --- |
| Release date | 01-05-2013 |
| Director | Ramon Zürcher (Passanten) |
| Starring | Leon Alan Beiersdorf, Matthias Dittmer & Lea Draeger |
| Themes | animals, families, comedy, drama, family, |
| Rating | 80% |
| Country | Germany • |
| Keywords | life-like • little • |
| Length | 72 minutes |
| Buy/stream it | Amazon / Netflix |

Die Andere Heimat: Chronik einer Sehnsucht (11-09-2015)
A prequel to Reitz' much acclaimed and utterly ambitious Heimat trilogy, which covers the lives of a few generations of the Simon family, while showing Germany's tumultuous modern history along their paths. Chronik einer Sehnsucht takes place in 1842, at a time when a lot of Germans from the rural parts of the country emigrated and tried their luck in the America's. The film's main protagonist, Jakob Simon, dreams of leaving too. A beautiful and deeply melancholy film about having dreams and not being able to make those come true as people are often too deeply rooted in what they call their heimat. The film takes its time (nearly four hours) and often challenges the viewer, as it is not without flaws, but is extremely rewarding in the end. A stunning and highly authentic look into the lives of nineteenth-century common German villagers.


Trailer of Die Andere Heimat: Chronik einer Sehnsucht on Youtube

| | |
| --- | --- |
| Release date | 11-09-2015 |
| Director | Edgar Reitz (Germany in Autumn, In Danger and Dire Distress the Middle of the Road Leads to Death & Die Reise nach Wien) |
| Starring | Jan Dieter Schneider, Antonia Bill & Maximilian Scheidt |
| Themes | ambitions, village, drama, historical, |
| Rating | 85% |
| Country | France • Germany • |
| Keywords | authentic • great • |
| Length | 231 minutes |
| Buy/stream it | Amazon / Netflix |

Feuchtgebiete (18-01-2014)

Trailer of Feuchtgebiete on Youtube

| | |
| --- | --- |
| Release date | 18-01-2014 |
| Director | David Wnendt (Combat Girls, Look Who's Back & Kleine Lichter) |
| Starring | Carla Juri, Christoph Letkowski & Marlen Kruse |
| Themes | growing up, love, sex, comedy, drama, |
| Rating | 75% |
| Country | Germany • |
| Keywords | based on a novel • controversial • |
| Length | 109 minutes |
| Buy/stream it | Amazon / Netflix |

Oh Boy (13-06-2014)
Jan Ole Gerster's debut feature film won about every award there is to win in Germany last year. Whether it received a little bit too much praise or not is debatable, but yet it's hard to deny that Oh Boy is refreshing debut. In my local cinema it was released in the same week as Noah Baumbach's excellent Frances Ha. And indeed these two films would make a nice double bill. Both films, shot in black and white and clearly paying homage to Woody Allen's Manhattan, deal with restless, self-centered twentysomethings who seem to drown in modern day's first world problems.


Trailer of Oh Boy on Youtube

| | |
| --- | --- |
| Release date | 13-06-2014 |
| Director | Jan Ole Gerster (Germany 09: 13 Short Films About the State of the Nation, Der Schmerz geht, der Film bleibt & Good Bye Lenin!) |
| Starring | Tom Schilling, Katharina Schüttler & Justus von Dohnányi |
| Themes | city, jobs, drama, |
| Rating | 81% |
| Country | Germany • |
| Keywords | funny • noteworthy • |
| Length | 86 minutes |
| Buy/stream it | Amazon / Netflix |

Zwei Leben (05-06-2013)
Katrine, in her fifties and happily married, lives in Norway after she managed to escape the GDR's iron grip in the late sixties. When the Berlin Wall falls in '89 however, information about her past is about to be released and it becomes clear some things are not quite what they seem. Films like these can be pretty hard to judge on its actual cinematic qualities, since the actual historical happenings are so interesting the film will grasp you attention anyway. Let's put it this way: the choice to select this film as the German entry for the Best Foreign Film at the Oscars last February was a pretty safe one.


Trailer of Zwei Leben on Youtube

| | |
| --- | --- |
| Release date | 05-06-2013 |
| Director | Georg Maas & Judith Kaufmann (4 Minutes, When We Leave & If Not Us, Who?) |
| Starring | Juliane Köhler, Liv Ullmann & Sven Nordin |
| Themes | conspiracy, second world war, drama, thriller, |
| Rating | 72% |
| Country | Germany • Norway • |
| Keywords | historical • intriguing • |
| Length | 97 minutes |
| Buy/stream it | Amazon / Netflix |

Lore (05-10-2012)
You don't see that many World War two films from a German's point of few, which makes this German youth film all the more interesting. The story takes off when the war is over. Lore, fourteen year old, is the daughter of an established Nazi officer who sees herself and her infant siblings forced to flee as her parents become outlaws all of a sudden. As she travels the country by foot, she finds out what exactly was going on the last five years, which makes her question her firm beliefs in the Nazi ideology. An honest and nuanced film with some stunning photography as well.


Trailer of Lore on Youtube

| | |
| --- | --- |
| Release date | 05-10-2012 |
| Director | Cate Shortland (Joy, Flower Girl & Somersault) |
| Starring | Saskia Rosendahl, Kai-Peter Malina & Nele Trebs |
| Themes | growing up, second world war, drama, romance, thriller, |
| Rating | 83% |
| Country | Australia • Germany • United Kingdom • |
| Keywords | heart-wrenching • unique • |
| Length | 109 minutes |
| Buy/stream it | Amazon / Netflix |