Beste nieuwe Spaanse films (2016) - Top Netflix & Bios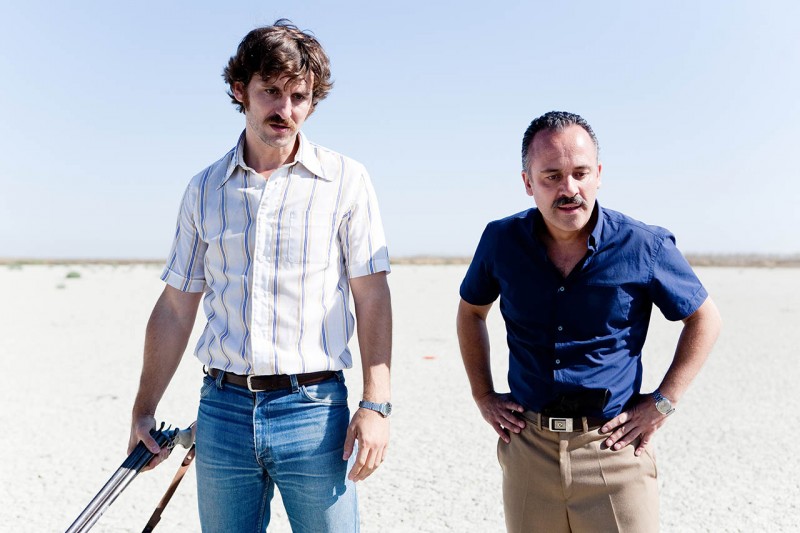 Pedro Almodovar, Julio Medem, Alejandro Amenabar… een paar namen om je eraan te herinneren hoe rijk Spanje is als filmland. Wat is er de laatste jaren uitgekomen dat je zou moeten zien? Lees het hier.
The Vore's film redactie selecteert de beste Spaanse films van 2017 in de bios of uit op DVD of Netflix. Zijn Alberto Rodríguez, Rodrigo Sorogoyen & David Trueba Spanje's grootste regisseurs?
| Spaanse films | 2017 |
| --- | --- |
| Populaire acteurs | Gwyneth Paltrow, Antonio Banderas & Imanol Arias |
| Trending films | Ma ma, 33 Dias & 10.000 km |
Beste Spaanse films op Netflix of DVD in 2017
Beste Spaanse films verschenen op DVD, Bluray of Netflix/Amazon prime.

La Noche Que Mi Madre Mato a Mi Padre (29-04-2016, 94 minuten)

| | |
| --- | --- |
| Regisseur | Inés París (A mi madre le gustan las mujeres) |
| Hoofdrollen | Belén Rueda, Diego Peretti & Eduard Fernández |
| Soortgelijke films | 8 Femmes |
| Thema's | filmmaking, moord, komedie, misdaad, |
| Land | Spanje |
| Sleutelwoorden | accuraat, |
| Recensie | |
| Koop/stream het | Amazon / Netflix |

Julietta (08-04-2016, 99 minuten)

| | |
| --- | --- |
| Regisseur | Pedro Almodóvar (Volver & Hable Con Ella) |
| Hoofdrollen | Emma Suárez, Adriana Ugarte & Daniel Grao |
| Thema's | verlating, familie, rouwen, drama, |
| Land | Spanje |
| Sleutelwoorden | pakkend, spijker op de kop, |
| Recensie | |
| Koop/stream het | Amazon / Netflix |

10.000 km (10-07-2015, 99 minuten)

| | |
| --- | --- |
| Regisseur | Carlos Marques-Marcet (The Yellow Ribbon & Say Goodnight) |
| Hoofdrollen | Natalia Tena & David Verdaguer |
| Soortgelijke films | Going the Distance & Nights and Weekends |
| Thema's | liefde, relaties, komedie, drama, psychologische thriller, |
| Land | Spanje |
| Sleutelwoorden | romantisch, treffend, |
| Recensie | |
| Koop/stream het | Amazon / Netflix |

La Cueva (11-07-2011, 80 minuten)

| | |
| --- | --- |
| Regisseur | Alfredo Montero (Children ) |
| Hoofdrollen | Marta Castellote, Xoel Fernández & Eva García-Vacas |
| Soortgelijke films | REC & The Descent |
| Thema's | de dood, natuur, horror, |
| Land | Spanje |
| Sleutelwoorden | vermakelijk, kippenvel, |
| Recensie | |
| Koop/stream het | Amazon / Netflix |

La Isla Mínima (10-04-2015, 105 minuten)

| | |
| --- | --- |
| Regisseur | Alberto Rodríguez (Unit 7, 7 Virgins & After) |
| Hoofdrollen | Javier Gutiérrez, Raúl Arévalo & María Varod |
| Soortgelijke films | Pan's Labyrinth & Pascual Duarte |
| Thema's | recht, politiek, misdaad, psychologische thriller, |
| Land | Spanje |
| Sleutelwoorden | koud, donker, |
| Recensie | |
| Koop/stream het | Amazon / Netflix |

Caníbal (25-07-2014, 116 minuten)

| | |
| --- | --- |
| Regisseur | Manuel Martín Cuenca (Half of Oscar, Malas Temporadas & The Weakness of the Bolshevik) |
| Hoofdrollen | Antonio de la Torre, Olimpia Melinte & María Alfonsa Rosso |
| Soortgelijke films | Tesis & Los Ojos de Julia |
| Thema's | de dood, liefde, psychologische thriller, |
| Land | Frankrijk Roemenië Rusland Spanje |
| Sleutelwoorden | intrigerend, eng, |
| Recensie | |
| Koop/stream het | Amazon / Netflix |

Stockholm (08-11-2013, 90 minuten)

| | |
| --- | --- |
| Regisseur | Rodrigo Sorogoyen (Que Dios nos perdone & 8 citas ) |
| Hoofdrollen | Javier Pereira, Aura Garrido & Jesús Caba |
| Soortgelijke films | Before Sunrise & 10.000 km |
| Thema's | liefde, relaties, drama, romantische, |
| Land | Spanje |
| Sleutelwoorden | authentiek, dynamisch, |
| Recensie | |
| Koop/stream het | Amazon / Netflix |

Vivir Es Fácil con los Ojos Cerrados (17-05-2014, 108 minuten)

| | |
| --- | --- |
| Regisseur | David Trueba (Soldiers of Salamina, Madrid, 1987 & The Good Life) |
| Hoofdrollen | Javier Cámara, Natalia de Molina & Francesc Colomer |
| Soortgelijke films | Los años bárbaros & Y tu mamá también |
| Thema's | vriendschap, reizen, komedie, drama, |
| Land | Spanje |
| Sleutelwoorden | historisch, prettig, |
| Recensie | |
| Koop/stream het | Amazon / Netflix |

Los Ilusos (13-04-2013, 93 minuten)

| | |
| --- | --- |
| Regisseur | Jonás Trueba (Los exiliados románticos & Los exiliados románticos ) |
| Hoofdrollen | Francesco Carril, Aura Garrido & Luis Miguel Madrid |
| Soortgelijke films | Güeros & Temporado de Patos |
| Thema's | filmmaking, vriendschap, drama, |
| Land | Spanje |
| Sleutelwoorden | subtiel, ongewoon, |
| Recensie | |
| Koop/stream het | Amazon / Netflix |

Los Amantes Pasajeros (13-06-2013, 90 minuten)

| | |
| --- | --- |
| Regisseur | Pedro Almodóvar (Talk to Her, The Skin I Live In & Volver) |
| Hoofdrollen | Javier Cámara, Pepa Charro & Cecilia Roth |
| Soortgelijke films | AIrplane! & Flightplan |
| Thema's | seks, reizen, komedie, |
| Land | Spanje |
| Sleutelwoorden | vervelend, poorspelbaar, |
| Recensie | |
| Koop/stream het | Amazon / Netflix |
2017
Los Crímenes del Día de Todos los Santos (??-??-2017, 90 minuten)
| | |
| --- | --- |
| Regisseur | Héctor Escandell & Vicente Torres (Los Crímenes del Día de Todos los Santos) |
| Hoofdrollen | Jesús Rumbo, Miquel Riera & Alexander Mart |
| Thema's | discovery, murder, historical, thriller, |
| Land | Spain |
| Sleutelwoorden | historical, scary, |
| Koop/stream het | Amazon / Netflix |
Zama (??-??-2017, 120 minuten)
| | |
| --- | --- |
| Regisseur | Lucrecia Martel (La Ciénaga ) |
| Hoofdrollen | Daniel Giménez Cacho, Lola Dueñas & Juan Minujín |
| Thema's | animals, historical, war, |
| Land | Argentina Spain |
| Sleutelwoorden | based on a novel, critically acclaimed, |
| Koop/stream het | Amazon / Netflix |
Onlangs verschenen, maar de lijst niet gehaald
El espía de las mil caras van Alberto Rodríguez
| | |
| --- | --- |
| Land | Spanje |
| Cast | Marta Etura, José Coronado & Eduard Fernández |
| Vorige films | Marshland, Unit 7 & After |
| Genre van regisseur | biografische, psychologische thriller, |
Ma ma (11-09-2015, 111 minuten)
| | |
| --- | --- |
| Regisseur | Julio Medem (Sex and Lucia, Room in Rome & Lovers of the Arctic Circle) |
| Hoofdrollen | Silvia Abascal, Àlex Brendemühl & Elena Carranza |
| Soortgelijke films | Sexo fácil, películas tristes & Volver |
| Thema's | familie, rouwen, drama, |
| Land | Frankrijk Spanje |
| Sleutelwoorden | emotioneel, intens, |
| Koop/stream het | Amazon / Netflix |
33 Dias (2015, minuten)
| | |
| --- | --- |
| Regisseur | Carlos Saura (Tango, Carmen & Cria Cuervos) |
| Hoofdrollen | Gwyneth Paltrow, Antonio Banderas & Imanol Arias |
| Soortgelijke films | My Left Foot & Basquait |
| Thema's | kunsten, carriere, biografische, drama, |
| Land | Argentinië Canada Spanje |
| Sleutelwoorden | biographisch, historisch, |
| Koop/stream het | Amazon / Netflix |
El Rey de La Habana (16-10-2016, 125 minuten)
| | |
| --- | --- |
| Regisseur | Agustí Villaronga (Black Bread, El mar & In a Glass Cage) |
| Hoofdrollen | Jean Luis Burgos, Yordanka Ariosa & Lia Chapman |
| Soortgelijke films | The Lost City & Havana |
| Thema's | stad, dromen, drama, |
| Land | Dominicaanse Republiek Spanje |
| Sleutelwoorden | avontuurlijk, historisch, |
| Koop/stream het | Amazon / Netflix |