Beste nieuwe Science Fiction films (2016) - Top Netflix & Bios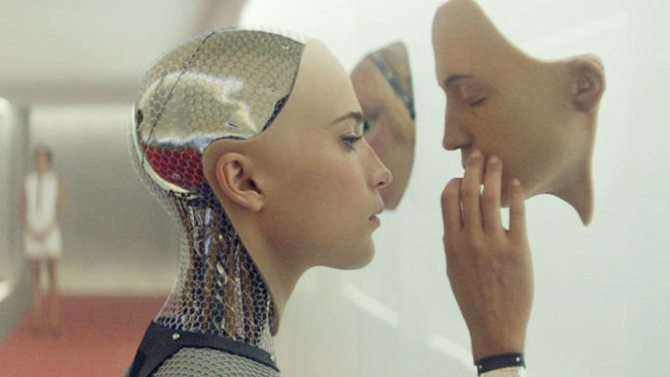 Zowel in de literatuur als in de filmkunst hebben snobs de neiging science fiction af te serveren als oppervlakkige commerciele zooi. Onzin natuurlijk. Deze lijst bewijst waarom.
The Vore's film redactie selecteert de beste Science Fiction films van 2017 in de bios of uit op DVD of Netflix. Zijn Morten Tyldum, J.J. Abrams & Ridley Scott onze nieuwe Science Fiction genre regisseurs?
| Science Fiction films | 2017 |
| --- | --- |
| Populaire acteurs | Emma Watson, Tom Hanks & Kirsten Dunst |
| Trending films | Ex Machina, The Martian & Star Wars Episode VII |
Beste Science Fiction films op Netflix of DVD in 2017
Beste Science Fiction films verschenen op DVD, Bluray of Netflix/Amazon prime.

Arrival (11-11-2016, 116 minuten)

| | |
| --- | --- |
| Regisseur | Denis Villeneuve (Sicario & Prisoners) |
| Hoofdrollen | Amy Adams, Jeremy Renner & Forest Whitaker |
| Soortgelijke films | Contact |
| Thema's | communicatie, buitenaards leven, over aliens, drama, science fiction, |
| Land | Verenigde Staten |
| Sleutelwoorden | knap, mysterieus, |
| Recensie | |
| Koop/stream het | Amazon / Netflix |

The Lobster (16-10-2015, 118 minuten)

| | |
| --- | --- |
| Regisseur | Yorgos Lanthimos (Dogtooth, Alps & Kinetta) |
| Hoofdrollen | Jacqueline Abrahams, Roger Ashton-Griffiths & Jessica Barden |
| Soortgelijke films | Youth & Dogtooth |
| Thema's | dieren, daten, bos, komedie, romantische, science fiction, |
| Land | Frankrijk Griekenland |
| Sleutelwoorden | absurd, hilarisch, |
| Recensie | |
| Koop/stream het | Amazon / Netflix |

Midnigth Special (12-02-2016, 118 minuten)

| | |
| --- | --- |
| Regisseur | Jeff Nichols (Mud & Take Shelter) |
| Hoofdrollen | Michael Shannon, Joel Edgerton& Kirsten Dunst |
| Soortgelijke films | Contact |
| Thema's | buitenaards leven, religie, drama, science fiction, |
| Land | Verenigde Staten |
| Sleutelwoorden | slim, onvergelijkbaar, |
| Recensie | |
| Koop/stream het | Amazon / Netflix |

Ex Machina (24-04-2015, 108 minuten)

| | |
| --- | --- |
| Regisseur | Alex Garland (Dredd, 28 Days Later & Sunshine) |
| Hoofdrollen | Alicia Vikander, Domhnall Gleeson & Oscar Isaac |
| Soortgelijke films | Artificial Intelligence & Her |
| Thema's | vrije wil, identiteit, manipulatie, psychologische, science fiction, psychologische thriller, |
| Land | Verenigde Staten |
| Sleutelwoorden | brilliant, denkvoer, |
| Recensie | |
| Koop/stream het | Amazon / Netflix |

I Origins (07-05-2014, 106 minuten)

| | |
| --- | --- |
| Regisseur | Mike Cahill (Another Earth, Boxers and Ballerinas & Leonard Cohen: I'm Your Man) |
| Hoofdrollen | Michael Pitt, Steven Yeun & Astrid Bergès-Frisbey |
| Soortgelijke films | Another Earth & Mr. Nobody |
| Thema's | natuur, wetenschap, spiritualiteit, drama, science fiction, |
| Land | Verenigde Staten |
| Sleutelwoorden | geloofwaardig, dramatisch, inzichtelijk, interessant, |
| Recensie | |
| Koop/stream het | Amazon / Netflix |

In Your Eyes (20-04-2014, 106 minuten)

| | |
| --- | --- |
| Regisseur | Brin Hill (Won't Back Down, Battle of the Year & Morning Breath) |
| Hoofdrollen | Zoe Kazan, Michael Stahl-David & Mark Feuerstein |
| Thema's | liefde, relaties, spiritualiteit, romantische, science fiction, |
| Land | Verenigde Staten |
| Sleutelwoorden | knap, opvallend, romantisch, |
| Recensie | |
| Koop/stream het | Amazon / Netflix |

Interstellar (07-11-2014, 169 minuten)

| | |
| --- | --- |
| Regisseur | Christopher Nolan (Inception, The Dark Knight & The Dark Knight Rises) |
| Hoofdrollen | Matthew McConaughey, Anne Hathaway & Jessica Chastain |
| Thema's | omgeving, overleving, technologie, avonturen, drama, science fiction, |
| Land | Verenigde Staten |
| Sleutelwoorden | episch, avontuurlijk, groots, |
| Recensie | |
| Koop/stream het | Amazon / Netflix |

Comet (05-12-2014, 91 minuten)

| | |
| --- | --- |
| Regisseur | Sam Esmail (Mr Robot, Mockingbird & The Ghouly Boys) |
| Hoofdrollen | Justin Long, Emmy Rossum & Kayla Servi |
| Thema's | liefde, relaties, komedie, drama, romantische, |
| Land | Verenigde Staten |
| Sleutelwoorden | mysterieus, romantisch, raar, |
| Recensie | |
| Koop/stream het | Amazon / Netflix |

Edge Of Tomorrow (06-06-2014, 113 minuten)

| | |
| --- | --- |
| Regisseur | Doug Liman (The Bourne Identity, The Bourne Ultimatum & The Bourne Supremacy ) |
| Hoofdrollen | Tom Cruise, Emily Blunt & Bill Paxton |
| Thema's | buitenaards leven, verzet, oorlog, actie, avonturen, science fiction, |
| Land | Verenigde Staten |
| Sleutelwoorden | vol met actie, entertaining, repetitief, |
| Recensie | |
| Koop/stream het | Amazon / Netflix |
2017
Guardians of the Galaxy Vol. 2 (25-04-2017, 120 minuten)
| | |
| --- | --- |
| Regisseur | James Gunn (Guardians of the Galaxy ) |
| Hoofdrollen | Chris Pratt, Karen Gillan & Zoe Saldana | |
| Thema's | extraterrestial life, good versus evil, action, science fiction, |
| Land | United States |
| Sleutelwoorden | entertaining, funny, |
| Koop/stream het | Amazon / Netflix |
The Circle (28-04-2017, 105 minuten)
| | |
| --- | --- |
| Regisseur | James Ponsoldt (The End of the Tour ) |
| Hoofdrollen | Karen Gillan, Emma Watson & Tom Hanks |
| Thema's | technology, drama, science fiction, |
| Land | United States |
| Sleutelwoorden | accurate, based on a novel, |
| Koop/stream het | Amazon / Netflix |
Onlangs verschenen, maar de lijst niet gehaald
Passengers van Morten Tyldum
| | |
| --- | --- |
| Land | Verenigde Emiraten |
| Cast | Jennifer Lawrence, Chris Pratt & Michael Sheen |
| Vorige films | The Imitation Game, Headhunters & Fallen Angels |
| Genre van regisseur | avonturen, science fiction, |
High Life van Claire Denis
| | |
| --- | --- |
| Land | |
| Cast | Robert Pattinson, Patricia Arquette & Mia Goth |
| Vorige films | Bastards, White Material & |
| Genre van regisseur | space, |
Star Wars Episode VII (18-12-2015, 136 minuten)
| | |
| --- | --- |
| Regisseur | J.J. Abrams (Mission: Impossible III, Super 8 & Armageddon ) |
| Hoofdrollen | Harrison Ford, Mark Hamill & Carrie Fisher |
| Soortgelijke films | Star Wars: Episode V - The Empire Strikes Back & Star Wars: Episode IV - A New Hope ( |
| Thema's | goed versus kwaad, heroisme, rebellie, verzet, actie, avonturen, fantasy, |
| Land | Verenigde Staten |
| Sleutelwoorden | episch, nostalgisch, vol met actie, avontuurlijk, |
| Koop/stream het | Amazon / Netflix |
The Martian (02-10-2015, 144 minuten)
| | |
| --- | --- |
| Regisseur | Ridley Scott (Alien, Prometheus & American Gangster) |
| Hoofdrollen | Matt Damon, Jessica Chastain & Kristen Wiig |
| Soortgelijke films | Interstellar & Moon |
| Thema's | verlating, isolatie, wetenschap, avonturen, drama, science fiction, |
| Land | Verenigde Staten |
| Sleutelwoorden | avontuurlijk, gebaseerd op een boek, grappig, |
| Koop/stream het | Amazon / Netflix |