Top 18 romantische films (2016) - Romcoms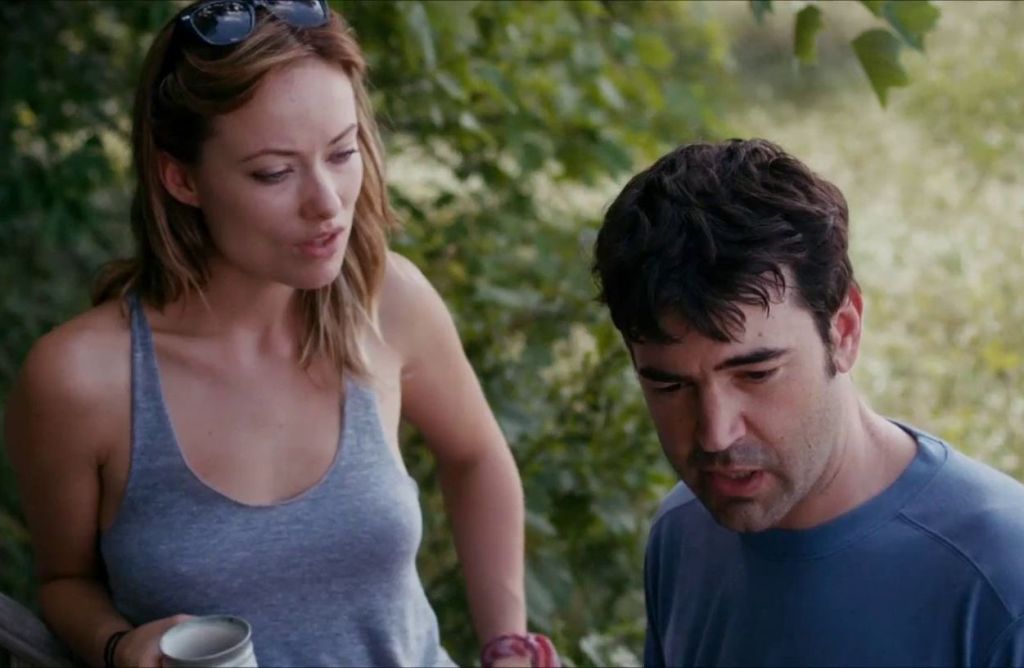 Als het op romantische films aankomt, is de lijn tussen sentimentele troep en aangrijpende kost soms erg dun. Wij probeerden het kaft van het koren te scheiden met deze lijst!
The Vore's film redactie selecteert de beste romantische films van 2016 in de bios of uit op DVD of Netflix. Zijn Angelina Jolie, Joe Swanberg & Lee Toland Krieger onze nieuwe romantische genre regisseurs?
| romantische films | 2016 |
| --- | --- |
| Populaire acteurs | Emilia Clarke, Dakota Johnson & Brad Pitt |
| Trending films | The Age of Adaline, By the Sea & Nobody Wants the Night |
Beste romantische films op Netflix of DVD in 2016
Beste romantische films verschenen op DVD, Bluray of Netflix/Amazon prime.

Before Midnight (14-06-2013, 109 minuten)

| | |
| --- | --- |
| Regisseur | Richard Linklater (Before Sunset & Before Sunrise) |
| Hoofdrollen | Ethan Hawke, Julie Delpy & Seamus Davey-Fitzpatrick |
| Land | Verenigde Staten |
| Koop/stream het | Amazon / Netflix |

Blue Is The Warmest Colour (19-10-2013, 179 minuten)

| | |
| --- | --- |
| Regisseur | Abdellatif Kechiche (Black Venus, The Secret of the Grain & Games of Love and Chance) |
| Hoofdrollen | Léa Seydoux, Adèle Exarchopoulos & Salim Kechiouche |
| Land | België Frankrijk |
| Koop/stream het | Amazon / Netflix |

About Time (08-11-2013, 123 minuten)

| | |
| --- | --- |
| Regisseur | Richard Curtis (Love Actually, Bean & Notting Hill) |
| Hoofdrollen | Domhnall Gleeson, Rachel McAdams & Bill Nighy |
| Land | Verenigde Staten |
| Koop/stream het | Amazon / Netflix |

Her (10-01-2014, 126 minuten)

| | |
| --- | --- |
| Regisseur | Spike Jonze (Where the Wild Things Are, Being John Malkovich & Jackass Presents: Bad Grandpa) |
| Hoofdrollen | Joaquin Phoenix, Amy Adams & Scarlett Johansson |
| Land | Verenigde Staten |
| Koop/stream het | Amazon / Netflix |

Drinking Buddies (25-07-2013, 90 minuten)

| | |
| --- | --- |
| Regisseur | Joe Swanberg (Happy Christmas, You're Next & V/H/S) |
| Hoofdrollen | Olivia Wilde, Jake Johnson & Anna Kendrick |
| Land | Verenigde Staten |
| Koop/stream het | Amazon / Netflix |

U Ri Sunhi (12-09-2013, 88 minuten)

| | |
| --- | --- |
| Regisseur | Sang-soo Hong (In Another Country, Woman on the Beach & Virgin Stripped Bare by Her Bachelors) |
| Hoofdrollen | Jae-yeong Jeong, Yu-mi Jeong & Sang Jung Kim |
| Land | Zuid-Korea |
| Koop/stream het | Amazon / Netflix |

Celeste & Jesse Forever (21-12-2012, 92 minuten)

| | |
| --- | --- |
| Regisseur | Lee Toland Krieger (The Age of Adaline, The Vicious Kind & December Ends) |
| Hoofdrollen | Rashida Jones, Andy Samberg & Elijah Wood |
| Land | Verenigde Staten |
| Koop/stream het | Amazon / Netflix |

Enough Said (11-10-2013, 93 minuten)

| | |
| --- | --- |
| Regisseur | Nicole Holofcener (Friends with Money, Lovely and Amazing & Please Give) |
| Hoofdrollen | Julia Louis-Dreyfus, James Gandolfini & Catherine Keener |
| Land | Verenigde Staten |
| Koop/stream het | Amazon / Netflix |

What If (15-08-2014, 98 minuten)

| | |
| --- | --- |
| Regisseur | Michael Dowse (Fubar, Goon & It's All Gone Pete Tong) |
| Hoofdrollen | Daniel Radcliffe, Zoe Kazan & Megan Park |
| Land | Verenigde Staten |
| Koop/stream het | Amazon / Netflix |

The One I Love (08-08-2014, 91 minuten)

| | |
| --- | --- |
| Regisseur | Charlie McDowell (Bye Bye Benjamin & Fighting Jacob) |
| Hoofdrollen | Mark Duplass, Elisabeth Moss & Ted Danson |
| Land | Verenigde Staten |
| Koop/stream het | Amazon / Netflix |

The Fault In Our Stars (06-06-2014, 126 minuten)

| | |
| --- | --- |
| Regisseur | Josh Boone (Stuck in Love, The Vampire Chronicles & Lisey's Story) |
| Hoofdrollen | Shailene Woodley, Ansel Elgort & Nat Wolff |
| Land | Verenigde Staten |
| Koop/stream het | Amazon / Netflix |

Begin Again (11-07-2014, 104 minuten)

| | |
| --- | --- |
| Regisseur | John Carney (Once, On the Edge & Zonad) |
| Hoofdrollen | Keira Knightley, Mark Ruffalo & Adam Levine |
| Land | Verenigde Staten |
| Koop/stream het | Amazon / Netflix |

The Spectacular Now (13-09-2013, 95 minuten)

| | |
| --- | --- |
| Regisseur | James Ponsoldt (Smashed, Off the Black & The End of the Tour) |
| Hoofdrollen | Miles Teller, Shailene Woodley & Kyle Chandler |
| Land | Verenigde Staten |
| Koop/stream het | Amazon / Netflix |

Beyond The Lights (14-11-2014, 116 minuten)

| | |
| --- | --- |
| Regisseur | Gina Prince-Bythewood (The Secret Life of Bees, Love and Basketball & Disappearing Acts) |
| Hoofdrollen | Gugu Mbatha-Raw, Nate Parker & Minnie Driver |
| Land | Verenigde Staten |
| Koop/stream het | Amazon / Netflix |

The Lunchbox (20-09-2013, 104 minuten)

| | |
| --- | --- |
| Regisseur | Ritesh Batra (Café Regular, Cairo, Gareeb Nawaz's Taxi & The Morning Ritual) |
| Hoofdrollen | Irrfan Khan, Nimrat Kaur & Nawazuddin Siddiqui |
| Land | India |
| Koop/stream het | Amazon / Netflix |

Don John (27-09-2013, 90 minuten)

| | |
| --- | --- |
| Regisseur | Joseph Gordon-Levitt (Looper, Inception & The Dark Knight Rises) |
| Hoofdrollen | Joseph Gordon-Levitt, Scarlett Johansson & Julianne Moore |
| Land | Verenigde Staten |
| Koop/stream het | Amazon / Netflix |

Gloria (31-10-2014, 110 minuten)

| | |
| --- | --- |
| Regisseur | Sebastián Lelio (Christmas, Fragmentos urbanos & La sagrada familia) |
| Hoofdrollen | Paulina García, Sergio Hernández & Diego Fontecilla |
| Land | Chili Spanje |
| Koop/stream het | Amazon / Netflix |
2017
Tulip Fever (24-02-2017, 107 minuten)
| | |
| --- | --- |
| Regisseur | Justin Chadwick (The Other Boleyn Girl ) |
| Hoofdrollen | Alicia Vikander, Cara Delevingne & Judi Dench |
| Thema's | art, infedility, love, historical, romance, |
| Land | United Kingdom United States |
| Sleutelwoorden | based on a novel, dazzling, |
| Koop/stream het | Amazon / Netflix |
Battlecreek (01-02-2017, 97 minuten)
| | |
| --- | --- |
| Regisseur | Alison Eastwood (Rails & Ties ) |
| Hoofdrollen | Bill Skarsgård, Paula Malcomson & Claire van der Boom |
| Thema's | illness, parenting, drama, romance, |
| Land | United States |
| Sleutelwoorden | pretty, touching, |
| Koop/stream het | Amazon / Netflix |
Onlangs verschenen, maar de lijst niet gehaald
Maggie's Plan van Rebecca Miller
| | |
| --- | --- |
| Land | Verenigde Staten |
| Cast | Greta Gerwig, Ethan Hawke & Julianne Moore |
| Vorige films | The Private Lives of Pippa Lee |
| Genre van regisseur | komedie, drama, romantische, |
Me Before You van Thea Sharrock
| | |
| --- | --- |
| Land | Verenigde Staten |
| Cast | Emilia Clarke, Jenna Coleman & Sam Claflin |
| Vorige films | The Hollow Crown & Legacy |
| Genre van regisseur | drama, romantische, |
How To Be Single van Christian Ditter
| | |
| --- | --- |
| Land | Verenigde Staten |
| Cast | Dakota Johnson, Alison Brie & Rebel Wilson |
| Vorige films | Love, Rosie, The Crocodiles & Vicky and the Treasure of the Gods |
| Genre van regisseur | komedie, romantische, |
Blackbird van Benedict Andrews
| | |
| --- | --- |
| Land | Verenigde Staten |
| Cast | Rooney Mara, Ben Mendelsohn & Indira Varma |
| Vorige films | National Theatre Live: A Streetcar Named Desire |
| Genre van regisseur | drama, |
Nobody Wants the Night (05-02-2015, 118 minuten)
| | |
| --- | --- |
| Regisseur | Isabel Coixet (Elegy, My Life Without Me & The Secret Life of Words) |
| Hoofdrollen | Juliette Binoche, Rinko Kikuchi & Gabriel Byrne |
| Soortgelijke films | Kumiko, the Treasure Hunter & The English Patient |
| Thema's | liefde, natuur, reizen, vrouwen, drama, |
| Land | Bulgarije Frankrijk Spanje |
| Sleutelwoorden | avontuurlijk, biographisch, |
| Koop/stream het | Amazon / Netflix |
By the Sea (13-11-2015, minuten)
| | |
| --- | --- |
| Regisseur | Angelina Jolie (Maleficent, Salt & Mr. and Mrs. Smith) |
| Hoofdrollen | |
| Soortgelijke films | Carol & Last Tango in Paris |
| Thema's | kunsten, liefde, reizen, schrijven, drama, romantische, |
| Land | Verenigde Staten |
| Sleutelwoorden | kunstzinnig, historisch, |
| Koop/stream het | Amazon / Netflix |
Digging for Fire (21-08-2015, 85 minuten)
| | |
| --- | --- |
| Regisseur | Joe Swanberg (You're Next, Happy Christmas & Drinking Buddies) |
| Hoofdrollen | Jake Johnson, Rosemarie DeWitt & Orlando Bloom |
| Soortgelijke films | The Overnight & Queen of Earth |
| Thema's | ontrouw, kansen, relaties, drama, |
| Land | Verenigde Staten |
| Sleutelwoorden | charmant, entertaining, prettig, |
| Koop/stream het | Amazon / Netflix |
Love in Khon Kaen (02-09-2015, 122 minuten)
| | |
| --- | --- |
| Regisseur | Apichatpong Weerasethakul (Syndromes and a Century, Blissfully Yours & Tropical Malady) |
| Hoofdrollen | Jenjira Pongpas, Banlop Lomnoi & Jarinpattra Rueangram |
| Soortgelijke films | An & Loong Boonmee raleuk chat |
| Thema's | dromen, herinneringen, het leger, drama, |
| Land | Frankrijk Verenigde Staten |
| Sleutelwoorden | absurd, mystiek, onzinnig, |
| Koop/stream het | Amazon / Netflix |
The Age of Adaline (24-04-2015, 112 minuten)
| | |
| --- | --- |
| Regisseur | Lee Toland Krieger (The Vicious Kind, December Ends & Celeste and Jesse Forever (2012)) |
| Hoofdrollen | Blake Lively, Michiel Huisman & Harrison Ford |
| Land | Verenigde Staten |
| Koop/stream het | Amazon / Netflix |