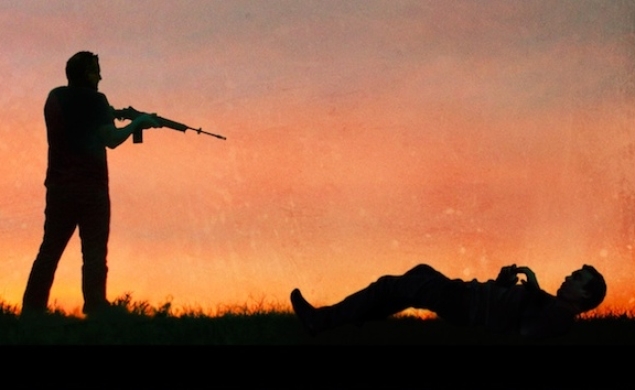 Helaas zijn thrillers niet vaak echt 'thrilling'. Net als bij horror, is het moeilijk clichés te vermijden bij het schrijven en regisseren van thrillers. En toch zijn we er in geslaagd een lijst samen te stellen van razendspannende thrillers.
The Vore's film redactie selecteert de beste psychologische thriller films van 2017 in de bios of uit op DVD of Netflix. Zijn Ben Affleck, Martin Scorsese & Ron Howard onze nieuwe psychologische thriller genre regisseurs?
| psychologische thriller films | 2017 |
| --- | --- |
| Populaire acteurs | Leonardo DiCaprio,Tom Hanks & Ben Affleck |
| Trending films | Sicario, Manson Family Vacation & Gone Girl |
Beste psychologische thriller films op Netflix of DVD in 2017
Beste psychologische thriller films verschenen op DVD, Bluray of Netflix/Amazon prime.

Prisoners (20-09-2013, 153 minuten)

| | |
| --- | --- |
| Regisseur | Denis Villeneuve (Sicario, Enemy & Incendies) |
| Hoofdrollen | Hugh Jackman, Jake Gyllenhaal & Viola Davis |
| Thema's | angst, ouderschap, politie, geweld, misdaad, drama, mysterie, |
| Land | Verenigde Staten |
| Sleutelwoorden | knap, verbluffend, meeslepend, |
| Recensie | |
| Koop/stream het | Amazon / Netflix |

Blue Ruin (09-07-2014, 90 minuten)

| | |
| --- | --- |
| Regisseur | Jeremy Saulnier (Murder Party, Green Room & Crabwalk) |
| Hoofdrollen | Macon Blair, Devin Ratray & Amy Hargreaves |
| Thema's | familie, straf, wraak, misdaad, drama, psychologische thriller, |
| Land | Frankrijk |
| Sleutelwoorden | intens, opmerkelijk, |
| Recensie | |
| Koop/stream het | Amazon / Netflix |

Nocturnal Animals (01-12-2016, 116 minuten)

| | |
| --- | --- |
| Regisseur | Tom Ford (A Single Man) |
| Hoofdrollen | Amy Adams, Jake Gyllenhaal & Michael Shannon |
| Soortgelijke films | The Killer Inside me |
| Thema's | verlating, ambities, familie, wraak, psychologische, western, |
| Land | Verenigde Staten |
| Sleutelwoorden | kunstzinnig, brilliant, pakkend, |
| Recensie | |
| Koop/stream het | Amazon / Netflix |

Kill List (02-09-2011, 95 minuten)

| | |
| --- | --- |
| Regisseur | Ben Wheatley (Sightseers, Down Terrace & A Field in England) |
| Hoofdrollen | Neil Maskell, MyAnna Buring & Harry Simpson |
| Thema's | misdaad, donkerte, de dood, geld, misdaad, horror, psychologische thriller, |
| Land | Verenigd Koninkrijk |
| Sleutelwoorden | hard, donker, uitstekend, |
| Recensie | |
| Koop/stream het | Amazon / Netflix |

Gone Girl (03-10-2014, 149 minuten)

| | |
| --- | --- |
| Regisseur | David Fincher (Fight Club, Se7en & The Social Network) |
| Hoofdrollen | Ben Affleck, Rosamund Pike, Neil Patrick Harris |
| Soortgelijke films | Dark Places & The Visit |
| Thema's | ontrouw, huwelijk, media, politie, drama, mysterie, psychologische thriller, |
| Land | Verenigde Staten |
| Sleutelwoorden | gebaseerd op een boek, entertaining, shockerend, |
| Recensie | |
| Koop/stream het | Amazon / Netflix |

Green Room (13-5-2016, 96 minuten)

| | |
| --- | --- |
| Regisseur | Jeremy Saulnier (Blue Ruin) |
| Hoofdrollen | Anton Yelchin, Imogen Poots & Alia Shawkat |
| Soortgelijke films | Imperium |
| Thema's | nationalisme, overleving, |
| Land | Verenigde Staten |
| Sleutelwoorden | verschrikkend, woedend makend, |
| Recensie | |
| Koop/stream het | Amazon / Netflix |

Captain Philips (11-10-2013, 134 minuten)

| | |
| --- | --- |
| Regisseur | Paul Greengrass (The Bourne Ultimatum, The Bourne Supremacy & United 93) |
| Hoofdrollen | Tom Hanks, Barkhad Abdi & Barkhad Abdirahman |
| Soortgelijke films | Kapringen & The Last Hijack |
| Thema's | angst, armoede, de derde wereld, geweld, biografische, drama, psychologische thriller, |
| Land | Verenigde Staten |
| Sleutelwoorden | avontuurlijk, biographisch, verschrikkend, |
| Recensie | |
| Koop/stream het | Amazon / Netflix |

Tom at the Farm (14-08-2015, 102 minuten)

| | |
| --- | --- |
| Regisseur | Xavier Dolan (I Killed My Mother, Heartbeats & Mommy) |
| Hoofdrollen | Xavier Dolan, Pierre-Yves Cardinal & Lise Roy |
| Thema's | homoseksualiteit, rouwen, manipulatie, drama, psychologische thriller, |
| Land | Verenigde Staten |
| Sleutelwoorden | brilliant, voortreffelijk, |
| Recensie | |
| Koop/stream het | Amazon / Netflix |

Les Salauds (07-08-2013, 100 minuten)

| | |
| --- | --- |
| Regisseur | Claire Denis (White Material, 35 Shots of Rum & Trouble Everyday) |
| Hoofdrollen | Vincent Lindon, Chiara Mastroianni & Julie Bataille |
| Thema's | recht, moord, wraak, seks, drama, |
| Land | Frankrijk |
| Sleutelwoorden | hard, verwarrend, mysterieus, |
| Recensie | |
| Koop/stream het | Amazon / Netflix |

Borgman (29-08-2013, 113 minuten)

| | |
| --- | --- |
| Regisseur | Alex van Warmerdam (Ober, Voyeur & The Northeners) |
| Hoofdrollen | Jan Bijvoet, Hadewych Minis & Jeroen Perceval |
| Thema's | huiselijk geweld, bos, ouderschap, drama, psychologische thriller, |
| Land | Nederland |
| Sleutelwoorden | koud, vreemd, |
| Recensie | |
| Koop/stream het | Amazon / Netflix |

Out of the Furnace (06-12-2013, 116 minuten)

| | |
| --- | --- |
| Regisseur | Scott Cooper (Crazy Heart, Black Mass & Austin Powers : The Spy Who Shagged Me) |
| Hoofdrollen | Christian Bale, Casey Affleck & Zoe Saldana |
| Thema's | bos, wraak, voorzichtigheid, drop, misdaad, drama, psychologische thriller, |
| Land | Verenigde Staten |
| Sleutelwoorden | donker, haunting, |
| Recensie | |
| Koop/stream het | Amazon / Netflix |

L'inconnu du Lac (12-06-2013, 100 minuten)

| | |
| --- | --- |
| Regisseur | Alain Guiraudie (The King of Escape, No Rest For The Brave & That Old Dream That Moves) |
| Hoofdrollen | Pierre Deladonchamps, Christophe Paou & Patrick d'Assumçao |
| Thema's | homoseksualiteit, moord, seks, drama, psychologische thriller, |
| Land | Frankrijk |
| Sleutelwoorden | controversieel, fascinerend, onvergelijkbaar, |
| Recensie | |
| Koop/stream het | Amazon / Netflix |

Argo (12-10-2012, 120 minuten)

| | |
| --- | --- |
| Regisseur | Ben Affleck (Gone Girl, The Town & Good Will Hunting) |
| Hoofdrollen | Ben Affleck, Bryan Cranston & John Goodman |
| Thema's | spionage, mensenrechten, islam, revolutie, drama, historische, psychologische thriller, |
| Land | Verenigde Staten |
| Sleutelwoorden | vol met actie, entertaining, historisch, kippenvel, |
| Recensie | |
| Koop/stream het | Amazon / Netflix |

Drive (16-09-2011, 100 minuten)

| | |
| --- | --- |
| Regisseur | Nicolas Winding Refn (Only God Forgives, Valhalla Rising & Bronson) |
| Hoofdrollen | Ryan Gosling, Carey Mulligan & Bryan Cranston |
| Thema's | auto's, stad, misdaad, liefde, misdaad, drama, |
| Land | Verenigde Staten |
| Sleutelwoorden | iconisch, uitstekend, retro, |
| Recensie | |
| Koop/stream het | Amazon / Netflix |

Killer Joe (05-07-2013, 102 minuten)

| | |
| --- | --- |
| Regisseur | William Friedkin (The Exorcist, Rules of Engagement & The French Connection) |
| Hoofdrollen | Matthew McConaughey, Emile Hirsch & Juno Temple |
| Thema's | drugs, moord, seks, misdaad, drama, psychologische thriller, |
| Land | Verenigde Staten |
| Sleutelwoorden | : engrossing :, donker, kippenvel, |
| Recensie | |
| Koop/stream het | Amazon / Netflix |

Shutter Island (19-02-2010, 138 minuten)

| | |
| --- | --- |
| Regisseur | Martin Scorsese (The Wolf of Wall Street, Goodfellas & The Departed) |
| Hoofdrollen | Leonardo DiCaprio, Emily Mortimer & Mark Ruffalo |
| Thema's | gekte, herinneringen, politie, mysterie, psychologische thriller, |
| Land | Verenigde Staten |
| Sleutelwoorden | gebaseerd op een boek, pakkend, eng, |
| Recensie | |
| Koop/stream het | Amazon / Netflix |
Onlangs verschenen, maar de lijst niet gehaald
10 Cloverfield Lane van Dan Trachtenberg
| | |
| --- | --- |
| Land | Verenigde Staten |
| Cast | John Goodman, Mary Elizabeth Winstead & John Gallagher Jr. |
| Vorige films | Portal: No Escape |
| Genre van regisseur | horror, post-apocalyptische, psychologische thriller, |
Don't Breathe van Fede Alvarez
| | |
| --- | --- |
| Land | Verenigde Staten |
| Cast | Dylan Minnette, Jane Levy & Stephen Lang |
| Vorige films | Evil Dead, El Cojonudo & Panick Attack! |
| Genre van regisseur | horror, psychologische thriller, |