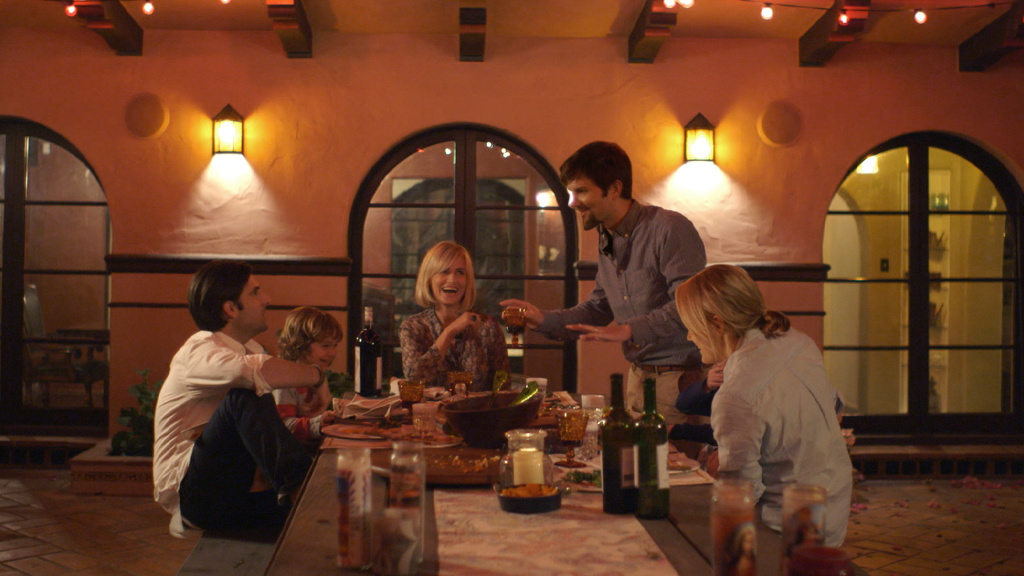 Comedy is het moeilijkste genre om te schrijven en te regisseren zeggen ze. En inderdaad, de overgrote meerderheid is het aankijken niet waard. Dit zijn uitzonderingen op de regel.
The Vore's film redactie selecteert de beste komediefilms van 2017 in de bios of uit op DVD of Netflix. Zijn Ben Stiller, Louis Leterrier & Jemaine Clement onze nieuwe komedie genre regisseurs?
| komediefilms | 2017 |
| --- | --- |
| Populaire acteurs | Kristen Wiig, Benedict Cumberbatch & Billy Zane |
| Trending films | What We Do in the Shadows, The Overnight & Deathgasm |
Beste komediefilms op Netflix of DVD in 2017
Beste komediefilms verschenen op DVD, Bluray of Netflix/Amazon prime.

Men & Chicken (Mænd & høns) (22-04-2016, 104 minuten)

| | |
| --- | --- |
| Regisseur | Anders Thomas Jensen (Adam's Apples & The Green Butchers) |
| Hoofdrollen | David Dencik, Mads Mikkelsen & Nikolaj Lie Kaas |
| Thema's | reclame, komedie, mysterie, |
| Land | Denemarken |
| Sleutelwoorden | absurd, hilarisch, opmerkelijk, |
| Recensie | |
| Koop/stream het | Amazon / Netflix |

The Nice Guys (20-05-2016, 116 minuten)

| | |
| --- | --- |
| Regisseur | Shane Black (Kiss Kiss Bang) |
| Hoofdrollen | Ryan Gosling, Russel Crowe & Matt Bomer |
| Soortgelijke films | 48 Hours |
| Thema's | complot, moord, actie, komedie, |
| Land | Verenigde Staten |
| Sleutelwoorden | klassiek, glorieus, |
| Recensie | |
| Koop/stream het | Amazon / Netflix |

Grimsby (04-03-2016, 83 minuten)

| | |
| --- | --- |
| Regisseur | Louis Leterrier (Now You See Me & Clash of the Titans) |
| Hoofdrollen | Annabelle Wallis, Isla Fisher & Penélope Cruz |
| Soortgelijke films | Kingsman: The Secret Service |
| Thema's | familie, politie, terrorisme, komedie, misdaad, |
| Land | Verenigd Koninkrijk |
| Sleutelwoorden | vol met actie, entertaining, |
| Recensie | |
| Koop/stream het | Amazon / Netflix |

Adam's Apples (15-04-2004, 94 minuten)

| | |
| --- | --- |
| Regisseur | Anders Thomas Jensen (In a Better World, Brothers & Love Is All You Need) |
| Hoofdrollen | Ulrich Thomsen, Mads Mikkelsen & Nicolas Bro |
| Land | Denemarken Duitsland |
| Koop/stream het | Amazon / Netflix |

Harry, un amie que vous veut du bien (15-06-2001, 117 minuten)

| | |
| --- | --- |
| Regisseur | Dominik Moll (Lemming, The Monk & The Tunnel) |
| Hoofdrollen | Laurent Lucas, Sergi López & Mathilde Seigner |
| Land | Frankrijk |
| Koop/stream het | Amazon / Netflix |

Annie Hall (20-04-1977, 93 minuten)

| | |
| --- | --- |
| Regisseur | Woody Allen (Midnight in Paris, Sweet and Lowdown & Vicky Cristina Barcelona) |
| Hoofdrollen | Woody Allen, Diane Keaton & Tony Roberts |
| Land | Verenigde Staten |
| Koop/stream het | Amazon / Netflix |

Rushmore (19-02-1999, 93 minuten)

| | |
| --- | --- |
| Regisseur | Wes Anderson (Moonrise Kingdom, Fantastic Mr. Fox & The Grand Budapest Hotel) |
| Hoofdrollen | Jason Schwartzman, Bill Murray & Olivia Williams |
| Land | Verenigde Staten |
| Koop/stream het | Amazon / Netflix |

Groundhog Day (12-02-1993, 101 minuten)

| | |
| --- | --- |
| Regisseur | Harold Ramis (Ghostbusters, Analyze This & Ghostbusters II) |
| Hoofdrollen | Bill Murray, Andie MacDowell & Chris Elliott |
| Land | Verenigde Staten |
| Koop/stream het | Amazon / Netflix |

Aaltra (23-06-2004, 92 minuten)

| | |
| --- | --- |
| Regisseur | Benoît Delépine & Gustave Kervern (Mammuth, Louise-Michel & À l'arraché) |
| Hoofdrollen | Benoît Delépine, Gustave Kervern & Michel de Gavre |
| Land | België Frankrijk |
| Koop/stream het | Amazon / Netflix |

Wild Tales (21-08-2014, 122 minuten)

| | |
| --- | --- |
| Regisseur | Damián Szifrón (On Probation & The Bottom of the Sea ) |
| Hoofdrollen | Darío Grandinetti, María Marull & Mónica Villa |
| Land | Argentinië Spanje |
| Koop/stream het | Amazon / Netflix |
Onlangs verschenen, maar de lijst niet gehaald
Keeping up with the Joneses van Greg Mottola
| | |
| --- | --- |
| Land | Verenigde Staten |
| Cast | Gal Gadot, Isla Fisher & Jon Hamm |
| Vorige films | Superbad, Paul & Clear History |
| Genre van regisseur | komedie, drama, |
Zoolander 2 van Ben Stiller
| | |
| --- | --- |
| Land | Verenigde Staten |
| Cast | Kristen Wiig, Benedict Cumberbatch & Billy Zane |
| Vorige films | Tropic Thunder, Madagascar & The Secret Life of Walter Mitty |
| Genre van regisseur | komedie, |
What We Do in the Shadows (13-02-2015, 86 minuten)
| | |
| --- | --- |
| Regisseur | Jemaine Clement & Taika Waititi (Rio, Rio 2 & Men In Black 3) |
| Hoofdrollen | Jemaine Clement, Taika Waititi & Cori Gonzalez-Macuer |
| Land | Nieuw-Zeeland Verenigde Staten |
| Koop/stream het | Amazon / Netflix |
The Overnight (19-06-2015, 79 minuten)
| | |
| --- | --- |
| Regisseur | Patrick Brice (Creep, Creep 2 & Creep 3) |
| Hoofdrollen | Adam Scott, Taylor Schilling & Jason Schwartzman |
| Land | Verenigde Staten |
| Koop/stream het | Amazon / Netflix |
Don Verdean (11-12-2015, 90 minuten)
| | |
| --- | --- |
| Regisseur | Jared Hess (Napoleon Dynamite, Gentlemen Broncos & Nacho Libre) |
| Hoofdrollen | Sam Rockwell, Amy Ryan & Jemaine Clement |
| Land | Verenigde Staten |
| Koop/stream het | Amazon / Netflix |
Deathgasm (02-10-2015, 86 minuten)
| | |
| --- | --- |
| Regisseur | Jason Lei Howden (The Avengers, The Great Gatsby & The Hobbit: The Desolation of Smaug) |
| Hoofdrollen | Milo Cawthorne, James Blake & Kimberley Crossman |
| Land | Nieuw-Zeeland |
| Koop/stream het | Amazon / Netflix |