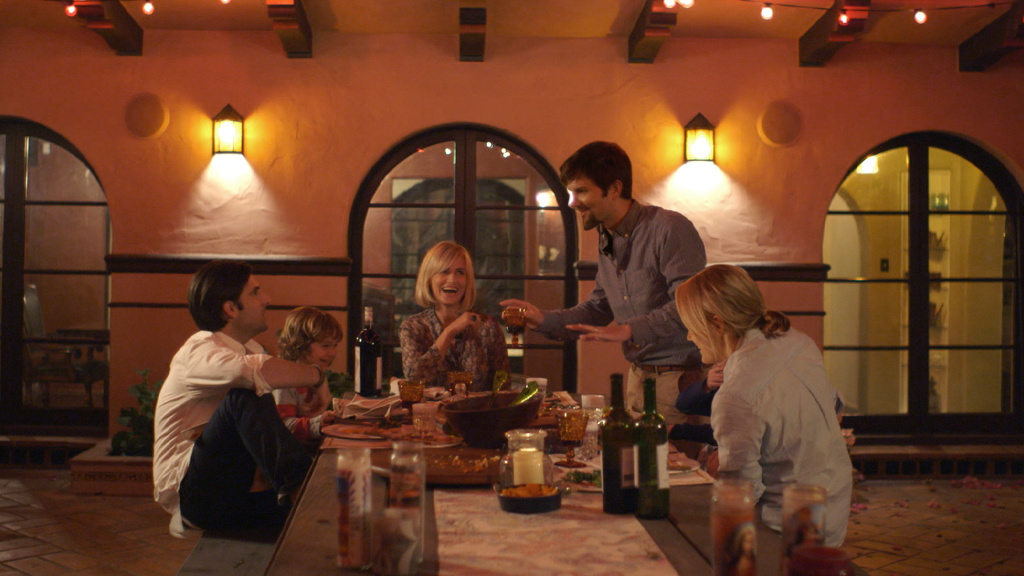 Comedy is het moeilijkste genre om te schrijven en te regisseren zeggen ze. En inderdaad, de overgrote meerderheid is het aankijken niet waard. Dit zijn uitzonderingen op de regel.
The Vore's film redactie selecteert de beste komediefilms van 2016 in de bios of uit op DVD of Netflix. Zijn Ben Stiller, Louis Leterrier & Jemaine Clement onze nieuwe komedie genre regisseurs?
| komediefilms | 2016 |
| --- | --- |
| Populaire acteurs | Kristen Wiig, Benedict Cumberbatch & Billy Zane |
| Trending films | What We Do in the Shadows, The Overnight & Deathgasm |
Beste komediefilms op Netflix of DVD in 2016
Beste komediefilms verschenen op DVD, Bluray of Netflix/Amazon prime.

Adam's Apples (15-04-2004)
Trailer van Adam's Apples op Youtube

| | |
| --- | --- |
| Regisseur | Anders Thomas Jensen (In a Better World, Brothers & Love Is All You Need) |
| Hoofdrollen | Ulrich Thomsen, Mads Mikkelsen & Nicolas Bro |
| Release datum | 15-04-2004 |
| Recensie | % |
| Land | Denemarken • Duitsland • |
| Lengte | 94 minuten |
| Koop/stream het | Amazon / Netflix |

Harry, un amie que vous veut du bien (15-06-2001)
Trailer van Harry, un amie que vous veut du bien op Youtube

| | |
| --- | --- |
| Trailer | Nog geen trailer uitgebracht |
| Regisseur | Dominik Moll (Lemming, The Monk & The Tunnel) |
| Hoofdrollen | Laurent Lucas, Sergi López & Mathilde Seigner |
| Release datum | 15-06-2001 |
| Recensie | % |
| Land | Frankrijk • |
| Lengte | 117 minuten |
| Koop/stream het | Amazon / Netflix |

Annie Hall (20-04-1977)
Trailer van Annie Hall op Youtube

| | |
| --- | --- |
| Regisseur | Woody Allen (Midnight in Paris, Sweet and Lowdown & Vicky Cristina Barcelona) |
| Hoofdrollen | Woody Allen, Diane Keaton & Tony Roberts |
| Release datum | 20-04-1977 |
| Recensie | % |
| Land | Verenigde Staten • |
| Lengte | 93 minuten |
| Koop/stream het | Amazon / Netflix |

Rushmore (19-02-1999)
Trailer van Rushmore op Youtube

| | |
| --- | --- |
| Regisseur | Wes Anderson (Moonrise Kingdom, Fantastic Mr. Fox & The Grand Budapest Hotel) |
| Hoofdrollen | Jason Schwartzman, Bill Murray & Olivia Williams |
| Release datum | 19-02-1999 |
| Recensie | % |
| Land | Verenigde Staten • |
| Lengte | 93 minuten |
| Koop/stream het | Amazon / Netflix |

Groundhog Day (12-02-1993)
Trailer van Groundhog Day op Youtube

| | |
| --- | --- |
| Regisseur | Harold Ramis (Ghostbusters, Analyze This & Ghostbusters II) |
| Hoofdrollen | Bill Murray, Andie MacDowell & Chris Elliott |
| Release datum | 12-02-1993 |
| Recensie | % |
| Land | Verenigde Staten • |
| Lengte | 101 minuten |
| Koop/stream het | Amazon / Netflix |

Aaltra (23-06-2004)
Trailer van Aaltra op Youtube

| | |
| --- | --- |
| Regisseur | Benoît Delépine & Gustave Kervern (Mammuth, Louise-Michel & À l'arraché) |
| Hoofdrollen | Benoît Delépine, Gustave Kervern & Michel de Gavre |
| Release datum | 23-06-2004 |
| Recensie | % |
| Land | België • Frankrijk • |
| Lengte | 92 minuten |
| Koop/stream het | Amazon / Netflix |

Wild Tales (21-08-2014)
Trailer van Wild Tales op Youtube

| | |
| --- | --- |
| Regisseur | Damián Szifrón (On Probation & The Bottom of the Sea ) |
| Hoofdrollen | Darío Grandinetti, María Marull & Mónica Villa |
| Release datum | 21-08-2014 |
| Recensie | % |
| Land | Argentinië • Spanje • |
| Lengte | 122 minuten |
| Koop/stream het | Amazon / Netflix |