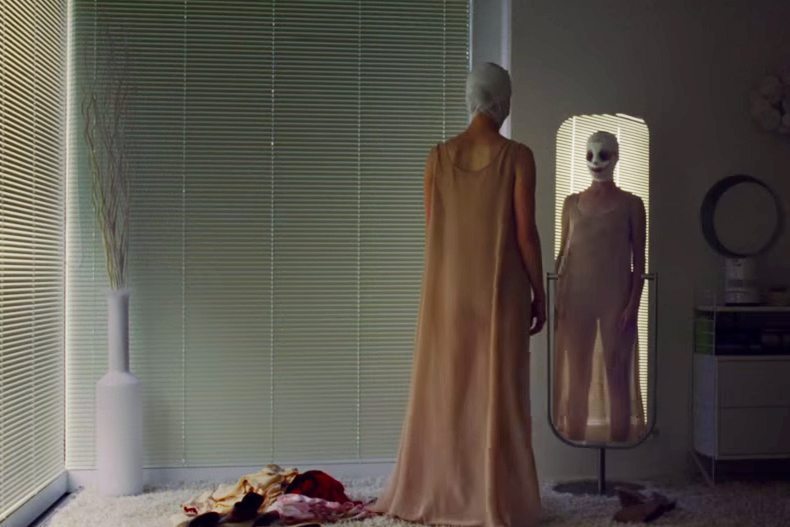 Het is soms zwaar liefhebber te zijn van horrorfilms. Verreweg het meeste dat uitkomt is het aankijken niet waard… Dit zijn ieder geval onze favorieten van de afgelopen jaren!
The Vore's film redactie selecteert de beste Horrorfilms van 2017 in de bios of uit op DVD of Netflix. Zijn Robert Eggers, David Robert Mitchell & Severin Fiala onze nieuwe Horror genre regisseurs?
| Horrorfilms | 2017 |
| --- | --- |
| Populaire acteurs | Anya Taylor-Joy, Ralph Ineson & Kate Dickie |
| Trending films | It Follows, Goodnight Mommy & The Visit |
Beste Horrorfilms op Netflix of DVD in 2017
Beste Horrorfilms verschenen op DVD, Bluray of Netflix/Amazon prime.

The Invitation (08-04-2016, 100 minuten)

| | |
| --- | --- |
| Regisseur | Karyn Kusama (Girlfight) |
| Hoofdrollen | Logan Marshall-Green, Emayatzy Corinealdi & Michiel Huisman |
| Thema's | manipulatie, relaties, drama, psychologische thriller, |
| Land | Verenigde Staten |
| Sleutelwoorden | koud, evocatief, |
| Koop/stream het | Amazon / Netflix |

The Witch (19-02-2016, 92 minuten)

| | |
| --- | --- |
| Regisseur | Robert Eggers (The Tell-Tale Heart ) |
| Hoofdrollen | Anya Taylor-Joy, Ralph Ineson & Kate Dickie |
| Thema's | christendom, donkerte, familie, historische, horror, |
| Land | Canada Verenigde Staten |
| Sleutelwoorden | historisch, intrigerend, |
| Recensie | |
| Koop/stream het | Amazon / Netflix |

It Follows (27-03-2015, 100 minuten)

| | |
| --- | --- |
| Regisseur | David Robert Mitchell (The Myth of the American Sleepover) |
| Hoofdrollen | Maika Monroe, Keir Gilchrist & Olivia Luccardi |
| Soortgelijke films | The Guest |
| Thema's | volwassen worden, seks, horror, indie, |
| Land | Verenigde Staten |
| Sleutelwoorden | knap, retro, |
| Recensie | |
| Koop/stream het | Amazon / Netflix |

Goodnight Mommy (11-09-2015, 99 minuten)

| | |
| --- | --- |
| Regisseur | Severin Fiala & Veronika Franz (Kern) |
| Hoofdrollen | Lukas Schwarz, Elias Schwarz & Susanne Wuest |
| Thema's | ouderschap, straf, horror, mysterie, |
| Land | Oostenrijk |
| Sleutelwoorden | kunstzinnig, koud, |
| Recensie | |
| Koop/stream het | Amazon / Netflix |

Lost River (10-04-2015, 95 minuten)

| | |
| --- | --- |
| Regisseur | Ryan Gosling |
| Hoofdrollen | Christina Hendricks, Iain De Caestecker & Matt Smith |
| Thema's | pesten, stad, neergang, indie, mysterie, |
| Land | Verenigde Staten |
| Sleutelwoorden | donker, dromerig, |
| Recensie | |
| Koop/stream het | Amazon / Netflix |

The Babadook (30-05-2014, 93 minuten)

| | |
| --- | --- |
| Regisseur | Jennifer Kent (The Nightingale ) |
| Hoofdrollen | Essie Davis, Noah Wiseman & Daniel Henshall |
| Thema's | ouderschap, weduwschap, drama, horror, |
| Land | Australië |
| Sleutelwoorden | aangrijpend, kippenvel, |
| Recensie | |
| Koop/stream het | Amazon / Netflix |

Stoker (01-03-2013, 99 minuten)

| | |
| --- | --- |
| Regisseur | Chan-wook Park (Oldboy) |
| Hoofdrollen | Mia Wasikowska, Nicole Kidman & Matthew Goode |
| Thema's | familie, seksualiteit, drama, horror, |
| Land | Zuid-Korea Verenigd Koninkrijk Verenigde Staten |
| Sleutelwoorden | adembenemend, glamoreus, |
| Recensie | |
| Koop/stream het | Amazon / Netflix |

La Piel Que Habito (14-10-2011, 120 minuten)

| | |
| --- | --- |
| Regisseur | Pedro Almodovar (Volver & Habla Con Ella) |
| Hoofdrollen | Antonio Banderas, Elena Anaya & Jan Cornet | |
| Thema's | de dood, wetenschap, misdaad, gothische, horror, |
| Land | Spanje |
| Sleutelwoorden | triomfantelijk, vreemd, |
| Recensie | |
| Koop/stream het | Amazon / Netflix |

Trolljegeren (10-06-2011, 103 minuten)

| | |
| --- | --- |
| Regisseur | André Øvredal (The Autopsy of Jane Doe ) |
| Hoofdrollen | Otto Jespersen, Robert Stoltenberg & Knut Nærum |
| Thema's | complot, journalistiek, found footage, horror, |
| Land | Noorwegen |
| Sleutelwoorden | avontuurlijk, entertaining, uniek, |
| Recensie | |
| Koop/stream het | Amazon / Netflix |

You're Next (24-11-2011, 95 minuten)

| | |
| --- | --- |
| Regisseur | Adam Wingard (The Guest & Blair Witch) |
| Hoofdrollen | Sharni Vinson, Joe Swanberg & AJ Bowen |
| Thema's | de dood, wraak, home invasion, horror, |
| Land | Verenigde Staten |
| Sleutelwoorden | hard, eng, |
| Recensie | |
| Koop/stream het | Amazon / Netflix |
Onlangs verschenen, maar de lijst niet gehaald
10 Cloverfield Lane van Dan Trachtenberg
| | |
| --- | --- |
| Land | Verenigde Staten |
| Cast | John Goodman, Mary Elizabeth Winstead & John Gallagher Jr. |
| Genre van regisseur | science fiction, psychologische thriller, |
Evolution van Lucile Hadzihalilovic
| | |
| --- | --- |
| Land | Frankrijk |
| Cast | Max Brebant, Roxane Duran & Julie-Marie Parmentier |
| Vorige films | Innocence |
| Genre van regisseur | fantasy, horror, |
Don't Breathe van Fede Alvarez
| | |
| --- | --- |
| Land | Verenigde Staten |
| Cast | Stephen Lang, Jane Levy & Dylan Minnette |
| Vorige films | Evil Dead |
| Genre van regisseur | home invasion, psychologische thriller, |