Beste nieuwe geestenfilms (2016) - Top Netflix & Bios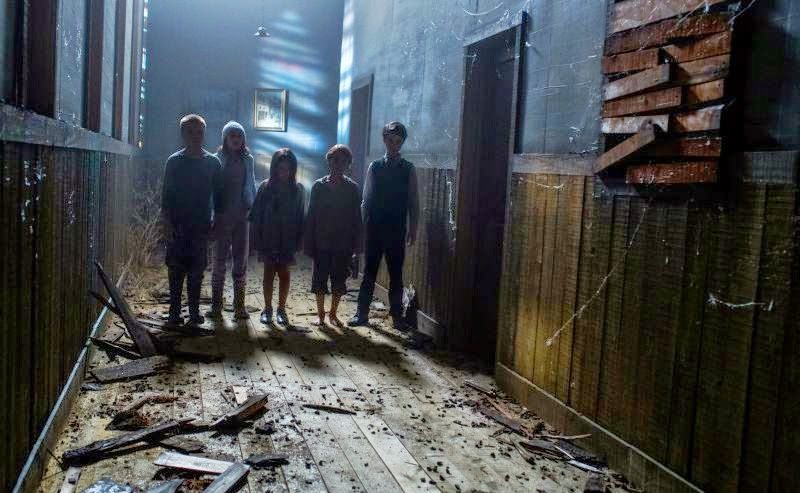 Een goed vakkundig verteld spookverhaal jaagt ons nog steeds de stuipen op het lijf, ook al is het al zo vaak gedaan. Fans van het genre moeten zeker doorlezen, want de laatste jaren waren zeker niet slecht.
The Vore's film redactie selecteert de beste geestenfilms van 2016 in de bios of uit op DVD of Netflix. Zijn Guillermo del Toro, Leigh Whannell & Gerard Johnstone onze nieuwe geesten genre regisseurs?
| geestenfilms | 2016 |
| --- | --- |
| Populaire acteurs | Mia Wasikowska, Jessica Chastain & Tom Hiddleston |
| Trending films | Sinister 2, Insidious: Chapter Three & Poltergeist |
Beste geestenfilms op Netflix of DVD in 2016
Beste geestenfilms verschenen op DVD, Bluray of Netflix/Amazon prime.

Housebound (04-09-2014, 107 minuten)

| | |
| --- | --- |
| Regisseur | Gerard Johnstone (The Jaquie Brown Diaries & Terry Teo ) |
| Hoofdrollen | Morgana O'Reilly, Rima Te Wiata & Glen-Paul Waru |
| Land | Nieuw-Zeeland |
| Koop/stream het | Amazon / Netflix |

Jessabelle (07-11-2014, 90 minuten)

| | |
| --- | --- |
| Regisseur | Kevin Greutert (Donnie Darko, Saw & Saw II ) |
| Hoofdrollen | Sarah Snook, Mark Webber & Joelle Carter |
| Land | Verenigde Staten |
| Koop/stream het | Amazon / Netflix |

The Conjuring (19-07-2013, 112 minuten)

| | |
| --- | --- |
| Regisseur | James Wan (Saw, Insidious: Chapter 2 & Furious 7 ) |
| Hoofdrollen | Patrick Wilson, Vera Farmiga & Ron Livingston |
| Land | Verenigde Staten |
| Koop/stream het | Amazon / Netflix |

Mama (18-01-2013, 100 minuten)

| | |
| --- | --- |
| Regisseur | Andrés Muschietti (Historias Breves III: Nostalgia en la mesa 8 ) |
| Hoofdrollen | Jessica Chastain, Nikolaj Coster-Waldau & Megan Charpentier |
| Land | Canada Spanje |
| Koop/stream het | Amazon / Netflix |

The Woman in Black (03-02-2012, 95 minuten)

| | |
| --- | --- |
| Regisseur | James Watkins (Eden Lake, The Descent: Part 2 & My Little Eye ) |
| Hoofdrollen | Daniel Radcliffe, Janet McTeer & Ciarán Hinds |
| Land | Canada Zweden Verenigd Koninkrijk |
| Koop/stream het | Amazon / Netflix |
2017
Onlangs verschenen, maar de lijst niet gehaald
6 Miranda Drive van Greg McLean
| | |
| --- | --- |
| Land | Verenigde Staten |
| Cast | Kevin Bacon, Radha Mitchell & David Mazouz |
| Vorige films | Wolf Creek , Wolf Creek 2 & Rogue |
| Genre van regisseur | horror, psychologische thriller, |
Amityville: The Awakening van Franck Khalfoun
| | |
| --- | --- |
| Land | Verenigde Staten |
| Cast | Bella Thorne, Cameron Monaghan & Jennifer Jason Leigh |
| Vorige films | P2, Maniac & i-Lived |
| Genre van regisseur | horror, psychologische thriller, |
The Conjuring 2: The Enfield Poltergeist van James Wan
| | |
| --- | --- |
| Land | Verenigde Staten |
| Cast | Patrick Wilson, Vera Farmiga & Frances O'Connor |
| Vorige films | Saw, Insidious: Chapter 2 & Furious 7 |
| Genre van regisseur | horror, |
Sinister 2 (21-08-2015, 97 minuten)
| | |
| --- | --- |
| Regisseur | Ciarán Foy (Citadel, The Faeries of Blackheath Woods & Scumbot ) |
| Hoofdrollen | James Ransone, Shannyn Sossamon & Robert Daniel Sloan |
| Land | Verenigd Koninkrijk Verenigde Staten |
| Koop/stream het | Amazon / Netflix |
Crimson Peak (16-10-2015, 119 minuten)
| | |
| --- | --- |
| Regisseur | Guillermo del Toro (Pan's Labyrinth, Hellboy & Pacific Rim ) |
| Hoofdrollen | Mia Wasikowska, Jessica Chastain & Tom Hiddleston |
| Land | Canada Verenigde Staten |
| Koop/stream het | Amazon / Netflix |
Yoga Hosers (2016, 88 minuten)
| | |
| --- | --- |
| Regisseur | Kevin Smith (Jay and Silent Bob Strike Back, Clerks & Comic Book Men ) |
| Hoofdrollen | Johnny Depp, Haley Joel Osment & Natasha Lyonne |
| Land | Verenigde Staten |
| Koop/stream het | Amazon / Netflix |
Poltergeist (22-05-2015, 93 minuten)
| | |
| --- | --- |
| Regisseur | Gil Kenan (Monster House & City of Ember ) |
| Hoofdrollen | Sam Rockwell, Rosemarie DeWitt & Kennedi Clements |
| Land | Canada Verenigde Staten |
| Koop/stream het | Amazon / Netflix |
Insidious: Chapter Three (05-06-2015, 97 minuten)
| | |
| --- | --- |
| Regisseur | Leigh Whannell (Saw, Insidious: Chapter 2 & Saw III ) |
| Hoofdrollen | Dermot Mulroney, Stefanie Scott & Angus Sampson |
| Land | Canada Verenigde Staten |
| Koop/stream het | Amazon / Netflix |