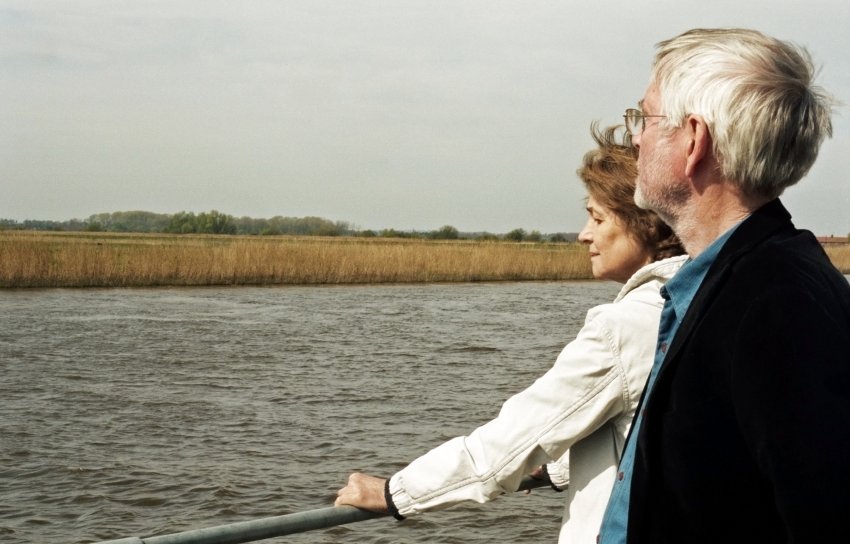 De beste Britse films… waar te beginnen? Vanzelfsprekend is deze lijst allesbehalve compleet, maar dit zijn een aantal titels die je zeker niet mag missen!
The Vore's film redactie selecteert de beste Britse films van 2017 in de bios of uit op DVD of Netflix. Zijn Andrew Haigh, Gavin Hood & Bill Condon Verenigd Koninkrijk's grootste regisseurs?
| Britse films | 2017 |
| --- | --- |
| Populaire acteurs | Charlotte Rampling, Tom Courtenay & Dolly Wells |
| Trending films | 45 Years, The Goob & Eye in the Sky |
Beste Britse films op Netflix of DVD in 2017
Beste Britse films verschenen op DVD, Bluray of Netflix/Amazon prime.

I, Daniel Blake (21-10-2016, 100 minuten)

| | |
| --- | --- |
| Regisseur | Ken Loach (The Wind That Shakes the Barley & Kes) |
| Hoofdrollen | Dave Johns, Hayley Squires & Sharon Percy |
| Thema's | vriendschap, banen, sociale problematiek, klassenstrijd, drama, |
| Land | Verenigd Koninkrijk |
| Sleutelwoorden | social-oriented, oprecht, slim, |
| Recensie | |
| Koop/stream het | Amazon / Netflix |

Light Years (22-09-2016, 90 minuten)

| | |
| --- | --- |
| Regisseur | Esther Campbell (Skins (TV-series)) |
| Hoofdrollen | Sophie Burton, James Stuckey & Mike Wright |
| Thema's | familie, volwassen worden, drama, indie, |
| Land | Verenigd Koninkrijk |
| Sleutelwoorden | knap, subtiel, ontroerend, |
| Recensie | |
| Koop/stream het | Amazon / Netflix |

Bridget Jones's Baby (15-09-2016, 123 minuten)

| | |
| --- | --- |
| Regisseur | Sharon Maguire (Bridget Jones's Diary & Incendiary) |
| Hoofdrollen | Renée Zellweger, Gemma Jones & Jim Broadbent |
| Thema's | carriere, liefde, ouderschap, komedie, romantische, |
| Land | Verenigd Koninkrijk |
| Sleutelwoorden | hilarisch, triomfantelijk, |
| Recensie | |
| Koop/stream het | Amazon / Netflix |

Locke (11-04-2014, 85 minuten)

| | |
| --- | --- |
| Regisseur | Steven Knight (Eastern Promises, Peaky Blinders & Dirty Pretty Things) |
| Hoofdrollen | Tom Hardy, Olivia Colman, Ruth Wilson & Andrew Scott |
| Soortgelijke films | Buried & All is Lost |
| Thema's | ontrouw, vertrouwen, drama, |
| Land | Verenigd Koninkrijk |
| Sleutelwoorden | bijzonder, aangrijpend, |
| Recensie | |
| Koop/stream het | Amazon / Netflix |

Sightseers (10-05-2013, 88 minuten)

| | |
| --- | --- |
| Regisseur | Ben Wheatley (Kill List, Down Terrace & A Field in England) |
| Hoofdrollen | Alice Lowe, Kenneth Hadley & Steve Oram |
| Soortgelijke films | Alan Partridge & Kill List |
| Thema's | rebellie, avonturen, komedie, misdaad, |
| Land | Verenigd Koninkrijk |
| Sleutelwoorden | intens, twisted, |
| Recensie | |
| Koop/stream het | Amazon / Netflix |

Under the Skin (14-03-2014, 108 minuten)

| | |
| --- | --- |
| Regisseur | Jonathan Glazer (Sexy Beat, Birth & Radiohead: 7 Television Commercials) |
| Hoofdrollen | Scarlett Johansson, Jeremy McWilliams & Lynsey Taylor Mackay |
| Soortgelijke films | Species & Lucy |
| Thema's | buitenaards leven, mannen, drama, science fiction, psychologische thriller, |
| Land | Verenigd Koninkrijk |
| Sleutelwoorden | adembenemend, onvergelijkbaar, |
| Recensie | |
| Koop/stream het | Amazon / Netflix |

The Double (04-04-2014, 93 minuten)

| | |
| --- | --- |
| Regisseur | Richard Ayoade (Submarine, The Watch & The Boxtrolls) |
| Hoofdrollen | Jesse Eisenberg, Mia Wasikowska & Wallace Shawn |
| Soortgelijke films | Frank & Her |
| Thema's | pesten, jaloezie, komedie, drama, psychologische thriller, |
| Land | Verenigd Koninkrijk |
| Sleutelwoorden | gebaseerd op een boek, futuristisch, |
| Recensie | |
| Koop/stream het | Amazon / Netflix |

Philomena (27-11-2013, 98 minuten)

| | |
| --- | --- |
| Regisseur | Stephen Frears (High Fidelity, The Queen & Dangerous Liaisons ) |
| Hoofdrollen | Judi Dench, Steve Coogan & Sophie Kennedy Clark |
| Soortgelijke films | The Woman in Gold & Nerbaska |
| Thema's | wezen, religie, biografische, drama, |
| Land | Verenigd Koninkrijk |
| Sleutelwoorden | biographisch, prettig, |
| Recensie | |
| Koop/stream het | Amazon / Netflix |

Shell (15-03-2013, 91 minuten)

| | |
| --- | --- |
| Regisseur | Scott Graham (Iona & Native Son) |
| Hoofdrollen | Joseph Mawle, Chloe Pirrie & Tam Dean Burn |
| Soortgelijke films | For Those in Peril & Gregory's Girl |
| Thema's | familie, volwassen worden, drama, |
| Land | Verenigd Koninkrijk |
| Sleutelwoorden | levensechtig, krachtig, |
| Recensie | |
| Koop/stream het | Amazon / Netflix |

The Woman in Black (03-02-2012, 95 minuten)

| | |
| --- | --- |
| Regisseur | James Watkins (Eden Lake, My Little Eye & The Descent: Part 2) |
| Hoofdrollen | Daniel Radcliffe, Janet McTeer & Ciarán Hinds |
| Soortgelijke films | Mama & Oculus |
| Thema's | rechtzaak, herinneringen, drama, horror, psychologische thriller, |
| Land | Canada Zweden Verenigd Koninkrijk |
| Sleutelwoorden | beangstigend, betoverend, |
| Recensie | |
| Koop/stream het | Amazon / Netflix |

Ginger & Rosa (19-10-2012, 90 minuten)

| | |
| --- | --- |
| Regisseur | Sally Potter (Orlando, The Man Who Cried & The Tango Lesson ) |
| Hoofdrollen | Elle Fanning, Alice Englert, Annette Bening & Oliver Platt |
| Soortgelijke films | Very Good Girls & It Felt Like Love |
| Thema's | verraad, kindertijd, drama, |
| Land | Verenigd Koninkrijk |
| Sleutelwoorden | ingewikkeld, intens, |
| Recensie | |
| Koop/stream het | Amazon / Netflix |

Broken (22-08-2012, 91 minuten)

| | |
| --- | --- |
| Regisseur | Rufus Norris (London Road, Demon Wind & National Theatre Live: Everyman ) |
| Hoofdrollen | Charlie Booty, Lily James, Tim Roth & Eloise Laurence |
| Soortgelijke films | The Selfish Giant & Starred Up |
| Thema's | familie, ouderschap, drama, romantische, |
| Land | Verenigd Koninkrijk |
| Sleutelwoorden | aangrijpend, onderscheidend, |
| Recensie | |
| Koop/stream het | Amazon / Netflix |

Weekend (04-11-2011, 97 minuten)

| | |
| --- | --- |
| Regisseur | Andrew Haigh (Gladiator, 45 Years & Greek Pete) |
| Hoofdrollen | Tom Cullen, Chris New & Jonathan Race |
| Soortgelijke films | Summerstorm & Jongens |
| Thema's | mannen, seksualiteit, drama, romantische, |
| Land | Verenigd Koninkrijk |
| Sleutelwoorden | magnifiek, romantisch, |
| Recensie | |
| Koop/stream het | Amazon / Netflix |

Wuthering Heights (21-01-2012, 129 minuten)

| | |
| --- | --- |
| Regisseur | Andrea Arnold (Fish Tank & Red Road ) |
| Hoofdrollen | Kaya Scodelario, James Howson & Solomon Glave |
| Soortgelijke films | Sense and Sensibility & Jane Eyre |
| Thema's | liefde, vrouwen, drama, romantische, |
| Land | Verenigd Koninkrijk |
| Sleutelwoorden | gebaseerd op een boek, opvallend, |
| Recensie | |
| Koop/stream het | Amazon / Netflix |

Tyrannosaur (07-10-2011, 92 minuten)

| | |
| --- | --- |
| Regisseur | Paddy Considine (The Bourne Ultimatum, In America & Cinderella Man) |
| Hoofdrollen | Peter Mullan, Archie Lal & Jag Sanghera |
| Soortgelijke films | Breaking the Waves & Animal Kingdom |
| Thema's | huiselijk geweld, liefde, drama, |
| Land | Verenigd Koninkrijk |
| Sleutelwoorden | spijker op de kop, tragisch, |
| Recensie | |
| Koop/stream het | Amazon / Netflix |

Never Let Me Go (15-10-2010, 103 minuten)

| | |
| --- | --- |
| Regisseur | Mark Romanek (One Hour Photo, Static & Michael Jackson: HIStory on Film - Volume II) |
| Hoofdrollen | Keira Knightley, Carey Mulligan & Andrew Garfield |
| Soortgelijke films | Remains of the Day & Atonement |
| Thema's | educatie, vrouwen, drama, romantische, science fiction, |
| Land | Verenigd Koninkrijk |
| Sleutelwoorden | gebaseerd op een boek, haunting, |
| Recensie | |
| Koop/stream het | Amazon / Netflix |

Submarine (18-03-2011, 97 minuten)

| | |
| --- | --- |
| Regisseur | Richard Ayoade (The Double) |
| Hoofdrollen | Craig Roberts, Sally Hawkins & Paddy Considine |
| Soortgelijke films | Moonrise Kingdom & Juno |
| Thema's | volwassen worden, seks, komedie, drama, romantische, |
| Land | Verenigd Koninkrijk Verenigde Staten |
| Sleutelwoorden | entertaining, ontroerend, |
| Recensie | |
| Koop/stream het | Amazon / Netflix |

Another Year (04-02-2011, 129 minuten)

| | |
| --- | --- |
| Regisseur | Mike Leigh (Secrets and Lies, Vera Drake & Happy-Go-Lucky) |
| Hoofdrollen | Jim Broadbent, Ruth Sheen & Lesley Manville |
| Soortgelijke films | L'Amour & The Marigold Hotel |
| Thema's | ouderdom, relaties, komedie, drama, |
| Land | Verenigd Koninkrijk |
| Sleutelwoorden | geloofwaardig, inzichtelijk, |
| Recensie | |
| Koop/stream het | Amazon / Netflix |
Onlangs verschenen, maar de lijst niet gehaald
I, Daniel Blake van Ken Loach
| | |
| --- | --- |
| Land | Verenigd Koninkrijk |
| Cast | Natalie Ann Jamieson, Colin Coombs & Harriet Ghost |
| Vorige films | The Wind That Shakes The Barley & Kes |
| Genre van regisseur | drama, |
Free Fire van Ben Wheatley
| | |
| --- | --- |
| Land | Frankrijk Verenigd Koninkrijk |
| Cast | Brie Larson, Cillian Murphy & Armie Hammer |
| Vorige films | Kill List, Sightseers & Down Terrace |
| Genre van regisseur | actie, misdaad, drama, |
Special Correspondents van Ricky Gervais
| | |
| --- | --- |
| Land | Verenigd Koninkrijk |
| Cast | Vera Farmiga, Kelly Macdonald & Eric Bana |
| Vorige films | The Office, Cemetery Junction & The Invention of Lying |
| Genre van regisseur | komedie, |
The Kaiser's Last Kiss van David Leveaux
| | |
| --- | --- |
| Land | Verenigd Koninkrijk |
| Cast | Lily James, Jai Courtney & Christopher Plummer |
| Genre van regisseur | drama, |
45 Years (23-12-2015, 95 minuten)
| | |
| --- | --- |
| Regisseur | Andrew Haigh (Weekend, Gladiator & Greek Pete) |
| Hoofdrollen | Charlotte Rampling, Tom Courtenay & Dolly Wells |
| Soortgelijke films | Sous le Sable & Scenes from a Marriage |
| Thema's | ouderdom, relaties, drama, romantische, |
| Land | Verenigd Koninkrijk |
| Sleutelwoorden | accuraat, verbluffend, aangrijpend, |
| Koop/stream het | Amazon / Netflix |
The Goob (29-05-2015, 84 minuten)
| | |
| --- | --- |
| Regisseur | Guy Myhill (Brolio ivartis & Two Half Times to Hell) |
| Hoofdrollen | Sienna Guillory, Sean Harris & Hannah Spearritt |
| Soortgelijke films | Fish Tank & An Education |
| Thema's | volwassen worden, klassenstrijd, de jeugd, coming-of-age, drama, |
| Land | Verenigd Koninkrijk |
| Sleutelwoorden | absurd, dromerig, prijsloos, |
| Koop/stream het | Amazon / Netflix |
Eye in the Sky (11-03-2016, 102 minuten)
| | |
| --- | --- |
| Regisseur | Gavin Hood (Ender's Game, Tsotsi & X-Men Origins: Wolverine) |
| Hoofdrollen | Aaron Paul, Alan Rickman & Helen Mirren |
| Soortgelijke films | Captain Phillips & Beasts of no Nation |
| Thema's | recht, technologie, terrorisme, oorlog, psychologische thriller, oorlog, |
| Land | Verenigd Koninkrijk |
| Sleutelwoorden | krachtig, denkvoer, kippenvel, |
| Koop/stream het | Amazon / Netflix |
Mr. Holmes (17-07-2015, 104 minuten)
| | |
| --- | --- |
| Regisseur | Bill Condon (Dreamgirls, Kinsey & The Twilight Saga: Breaking Dawn - Part 2) |
| Hoofdrollen | Ian McKellen, Laura Linney & Hiroyuki Sanada |
| Soortgelijke films | From Hell & Sleepy Hollow |
| Thema's | misdaad, falen, ouderdom, drama, |
| Land | Verenigd Koninkrijk |
| Sleutelwoorden | historisch, plezierig, subtiel, |
| Koop/stream het | Amazon / Netflix |