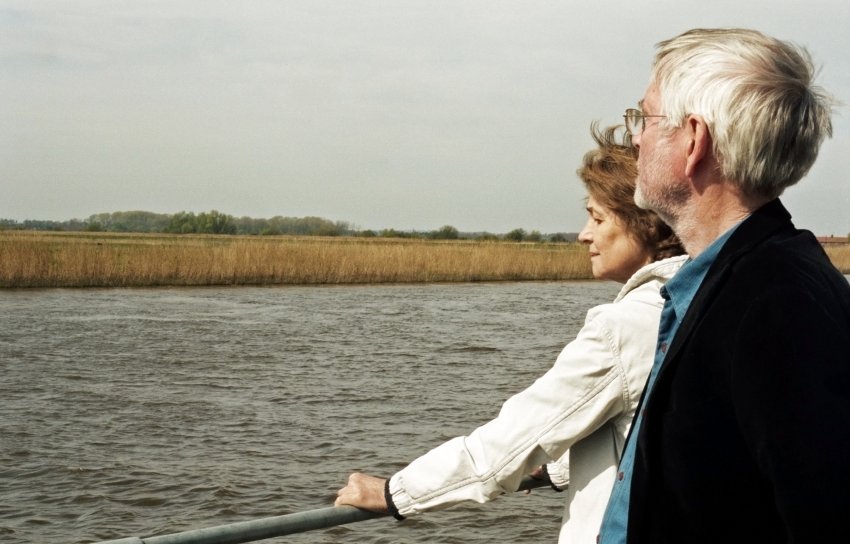 I migliori film britannici ... da dove cominciare? Naturalmente questo elenco è corto ma esaustivo, sono alcuni film recenti che non devi assolutamente perdere!
Lo staff di The Vore seleziona il meglio tra i/le Film britannici del 2017 al cinema o usciti in DVD o Netfix. Andrew Haigh, Gavin Hood & Bill Condon i più grandi registi del genere Regno Unito?
| Film britannici | 2017 |
| --- | --- |
| Attori famosi | Charlotte Rampling, Tom Courtenay & Dolly Wells |
| Film di tendenza | 45 Years, The Goob & Eye in the Sky |
Migliori Film britannici su Netflix o DVD del 2017
Migliori Film britannici uscito su DVD, Bluray o VOD (Netflix, Amazon).

I, Daniel Blake (21-10-2016, 100 minuti)

| | |
| --- | --- |
| Regista | Ken Loach (The Wind That Shakes the Barley & Kes) |
| Getto | Dave Johns, Hayley Squires & Sharon Percy |
| Temi | amicizia, lavori, problema sociale, lotta della classe operaia, dramma, |
| Paese | Regno Unito, |
| Chiavi | sincero, commovente, |
| Recensione | |
| Streaming online | Amazon / Netflix |

Light Years (22-09-2016, 90 minuti)

| | |
| --- | --- |
| Regista | Esther Campbell (Skins (TV-series)) |
| Getto | Sophie Burton, James Stuckey & Mike Wright |
| Temi | famiglie, crescita, dramma, indie, |
| Paese | Regno Unito, |
| Chiavi | bella, sottile, toccante, |
| Recensione | |
| Streaming online | Amazon / Netflix |

Bridget Jones's Baby (15-09-2016, 123 minuti)

| | |
| --- | --- |
| Regista | Sharon Maguire (Bridget Jones's Diary & Incendiary) |
| Getto | Renée Zellweger, Gemma Jones & Jim Broadbent |
| Temi | carriera, amore, genitorialità, commedia, romantico, |
| Paese | Regno Unito, |
| Chiavi | ilare, trionfante, |
| Recensione | |
| Streaming online | Amazon / Netflix |

Locke (11-04-2014, 85 minuti)

| | |
| --- | --- |
| Regista | Steven Knight (Eastern Promises, Peaky Blinders & Dirty Pretty Things) |
| Getto | Tom Hardy, Olivia Colman, Ruth Wilson & Andrew Scott |
| Film simili | Buried & All is Lost |
| Temi | infedeltà, fiducia, dramma, |
| Paese | Regno Unito, |
| Chiavi | eccezionale, presa, |
| Recensione | |
| Streaming online | Amazon / Netflix |

Sightseers (10-05-2013, 88 minuti)

| | |
| --- | --- |
| Regista | Ben Wheatley (Kill List, Down Terrace & A Field in England) |
| Getto | Alice Lowe, Kenneth Hadley & Steve Oram |
| Film simili | Alan Partridge & Kill List |
| Temi | ribellione, avventura, commedia, crimine, |
| Paese | Regno Unito, |
| Chiavi | intenso, ritorto, |
| Recensione | |
| Streaming online | Amazon / Netflix |

Under the Skin (14-03-2014, 108 minuti)

| | |
| --- | --- |
| Regista | Jonathan Glazer (Sexy Beat, Birth & Radiohead: 7 Television Commercials) |
| Getto | Scarlett Johansson, Jeremy McWilliams & Lynsey Taylor Mackay |
| Film simili | Species & Lucy |
| Temi | vita extraterrestre, uomini, dramma, fantascienza, thriller, |
| Paese | Regno Unito, |
| Chiavi | incomparabile, |
| Recensione | |
| Streaming online | Amazon / Netflix |

The Double (04-04-2014, 93 minuti)

| | |
| --- | --- |
| Regista | Richard Ayoade (Submarine, The Watch & The Boxtrolls) |
| Getto | Jesse Eisenberg, Mia Wasikowska & Wallace Shawn |
| Film simili | Frank & Her |
| Temi | bullismo, gelosia, commedia, dramma, thriller, |
| Paese | Regno Unito, |
| Chiavi | basato su un romanzo, futuristico, |
| Recensione | |
| Streaming online | Amazon / Netflix |

Philomena (27-11-2013, 98 minuti)

| | |
| --- | --- |
| Regista | Stephen Frears (High Fidelity, The Queen & Dangerous Liaisons ) |
| Getto | Judi Dench, Steve Coogan & Sophie Kennedy Clark |
| Film simili | The Woman in Gold & Nerbaska |
| Temi | orfani, religione, biografico, dramma, |
| Paese | Regno Unito, |
| Chiavi | biografico, simpatico, |
| Recensione | |
| Streaming online | Amazon / Netflix |

Shell (15-03-2013, 91 minuti)

| | |
| --- | --- |
| Regista | Scott Graham (Iona & Native Son) |
| Getto | Joseph Mawle, Chloe Pirrie & Tam Dean Burn |
| Film simili | For Those in Peril & Gregory's Girl |
| Temi | famiglie, crescita, dramma, |
| Paese | Regno Unito, |
| Chiavi | come la vita, potente, |
| Recensione | |
| Streaming online | Amazon / Netflix |

The Woman in Black (03-02-2012, 95 minuti)

| | |
| --- | --- |
| Regista | James Watkins (Eden Lake, My Little Eye & The Descent: Part 2) |
| Getto | Daniel Radcliffe, Janet McTeer & Ciarán Hinds |
| Film simili | Mama & Oculus |
| Temi | tribunale, memorie, dramma, horror, thriller, |
| Paese | Canada, Svezia, Regno Unito, |
| Chiavi | spaventoso, sortilegio, |
| Recensione | |
| Streaming online | Amazon / Netflix |

Ginger & Rosa (19-10-2012, 90 minuti)

| | |
| --- | --- |
| Regista | Sally Potter (Orlando, The Man Who Cried & The Tango Lesson ) |
| Getto | Elle Fanning, Alice Englert, Annette Bening & Oliver Platt |
| Film simili | Very Good Girls & It Felt Like Love |
| Temi | tradimento, infanzia, dramma, |
| Paese | Regno Unito, |
| Chiavi | complicato, intenso, |
| Recensione | |
| Streaming online | Amazon / Netflix |

Broken (22-08-2012, 91 minuti)

| | |
| --- | --- |
| Regista | Rufus Norris (London Road, Demon Wind & National Theatre Live: Everyman ) |
| Getto | Charlie Booty, Lily James, Tim Roth & Eloise Laurence |
| Film simili | The Selfish Giant & Starred Up |
| Temi | famiglie, genitorialità, dramma, romantico, |
| Paese | Regno Unito, |
| Chiavi | presa, |
| Recensione | |
| Streaming online | Amazon / Netflix |

Weekend (04-11-2011, 97 minuti)

| | |
| --- | --- |
| Regista | Andrew Haigh (Gladiator, 45 Years & Greek Pete) |
| Getto | Tom Cullen, Chris New & Jonathan Race |
| Film simili | Summerstorm & Jongens |
| Temi | uomini, sessualità, dramma, romantico, |
| Paese | Regno Unito, |
| Chiavi | magnifico, romantico, |
| Recensione | |
| Streaming online | Amazon / Netflix |

Wuthering Heights (21-01-2012, 129 minuti)

| | |
| --- | --- |
| Regista | Andrea Arnold (Fish Tank & Red Road ) |
| Getto | Kaya Scodelario, James Howson & Solomon Glave |
| Film simili | Sense and Sensibility & Jane Eyre |
| Temi | amore, donne, dramma, romantico, |
| Paese | Regno Unito, |
| Chiavi | basato su un romanzo, peculiare, |
| Recensione | |
| Streaming online | Amazon / Netflix |

Tyrannosaur (07-10-2011, 92 minuti)

| | |
| --- | --- |
| Regista | Paddy Considine (The Bourne Ultimatum, In America & Cinderella Man) |
| Getto | Peter Mullan, Archie Lal & Jag Sanghera |
| Film simili | Breaking the Waves & Animal Kingdom |
| Temi | violenza domestica, amore, dramma, |
| Paese | Regno Unito, |
| Chiavi | impressionante, tragico, |
| Recensione | |
| Streaming online | Amazon / Netflix |

Never Let Me Go (15-10-2010, 103 minuti)

| | |
| --- | --- |
| Regista | Mark Romanek (One Hour Photo, Static & Michael Jackson: HIStory on Film - Volume II) |
| Getto | Keira Knightley, Carey Mulligan & Andrew Garfield |
| Film simili | Remains of the Day & Atonement |
| Temi | educazione, donne, dramma, romantico, fantascienza, |
| Paese | Regno Unito, |
| Chiavi | basato su un romanzo, ossessionante, |
| Recensione | |
| Streaming online | Amazon / Netflix |

Submarine (18-03-2011, 97 minuti)

| | |
| --- | --- |
| Regista | Richard Ayoade (The Double) |
| Getto | Craig Roberts, Sally Hawkins & Paddy Considine |
| Film simili | Moonrise Kingdom & Juno |
| Temi | crescita, sesso, commedia, dramma, romantico, |
| Paese | Regno Unito, stati Uniti, |
| Chiavi | divertente, toccante, |
| Recensione | |
| Streaming online | Amazon / Netflix |

Another Year (04-02-2011, 129 minuti)

| | |
| --- | --- |
| Regista | Mike Leigh (Secrets and Lies, Vera Drake & Happy-Go-Lucky) |
| Getto | Jim Broadbent, Ruth Sheen & Lesley Manville |
| Film simili | L'Amour & The Marigold Hotel |
| Temi | vecchiaia, relazioni, commedia, dramma, |
| Paese | Regno Unito, |
| Chiavi | credibile, penetrante, |
| Recensione | |
| Streaming online | Amazon / Netflix |
I recenti Film britannici usciti nel 2016
I, Daniel Blake (21-10-2016, 100 minuti)
| | |
| --- | --- |
| Regista | Ken Loach (The Wind That Shakes The Barley & Kes) |
| Getto | Natalie Ann Jamieson, Colin Coombs & Harriet Ghost |
| Film simili | Deux jours, une nuit |
| Temi | vecchiaia, relazioni, dramma, |
| Paese | Regno Unito |
| Chiavi | credibile, spaccacuore, |
| Streaming online | Amazon / Netflix |
Free Fire (2016, minuti)
| | |
| --- | --- |
| Regista | Ben Wheatley (Kill List, Sightseers & Down Terrace) |
| Getto | Brie Larson, Cillian Murphy & Armie Hammer |
| Film simili | Black Mass & The Town |
| Temi | vecchiaia, relazioni, azione, crimine, dramma, |
| Paese | Francia Regno Unito |
| Chiavi | dipendenza, |
| Streaming online | Amazon / Netflix |
Special Correspondents (2016, 100 minuti)
| | |
| --- | --- |
| Regista | Ricky Gervais (The Office, Cemetery Junction & The Invention of Lying) |
| Getto | Vera Farmiga, Kelly Macdonald & Eric Bana |
| Film simili | Life on the Road & Argo |
| Temi | vecchiaia, relazioni, commedia, |
| Paese | Regno Unito |
| Chiavi | divertente, divertente, |
| Streaming online | Amazon / Netflix |
The Kaiser's Last Kiss (2016, minuti)
| | |
| --- | --- |
| Regista | David Leveaux |
| Getto | Lily James, Jai Courtney & Christopher Plummer |
| Film simili | La Suite Francaise & Blackbook |
| Temi | vecchiaia, relazioni, dramma, |
| Paese | Regno Unito |
| Chiavi | storico, romantico, |
| Streaming online | Amazon / Netflix |
45 Years (23-12-2015, 95 minuti)
| | |
| --- | --- |
| Regista | Andrew Haigh (Weekend, Gladiator & Greek Pete) |
| Getto | Charlotte Rampling, Tom Courtenay & Dolly Wells |
| Film simili | Sous le Sable & Scenes from a Marriage |
| Temi | vecchiaia, relazioni, dramma, romantico, |
| Paese | Regno Unito |
| Chiavi | preciso, sorprendente, presa, |
| Streaming online | Amazon / Netflix |
The Goob (29-05-2015, 84 minuti)
| | |
| --- | --- |
| Regista | Guy Myhill (Brolio ivartis & Two Half Times to Hell) |
| Getto | Sienna Guillory, Sean Harris & Hannah Spearritt |
| Film simili | Fish Tank & An Education |
| Temi | crescita, lotta della classe operaia, gioventù, coming-of-age, dramma, |
| Paese | Regno Unito |
| Chiavi | assurdo, onirico, inestimabile, |
| Streaming online | Amazon / Netflix |
Eye in the Sky (11-03-2016, 102 minuti)
| | |
| --- | --- |
| Regista | Gavin Hood (Ender's Game, Tsotsi & X-Men Origins: Wolverine) |
| Getto | Aaron Paul, Alan Rickman & Helen Mirren |
| Film simili | Captain Phillips & Beasts of no Nation |
| Temi | giustizia, tecnologia, terrorismo, guerra, thriller, guerra, |
| Paese | Regno Unito |
| Chiavi | potente, stimolante, entusiasmante, |
| Streaming online | Amazon / Netflix |
Mr. Holmes (17-07-2015, 104 minuti)
| | |
| --- | --- |
| Regista | Bill Condon (Dreamgirls, Kinsey & The Twilight Saga: Breaking Dawn - Part 2) |
| Getto | Ian McKellen, Laura Linney & Hiroyuki Sanada |
| Film simili | From Hell & Sleepy Hollow |
| Temi | crime, fallimento, vecchiaia, investigativo, dramma, |
| Paese | Regno Unito |
| Chiavi | storico, piacevole, sottile, |
| Streaming online | Amazon / Netflix |