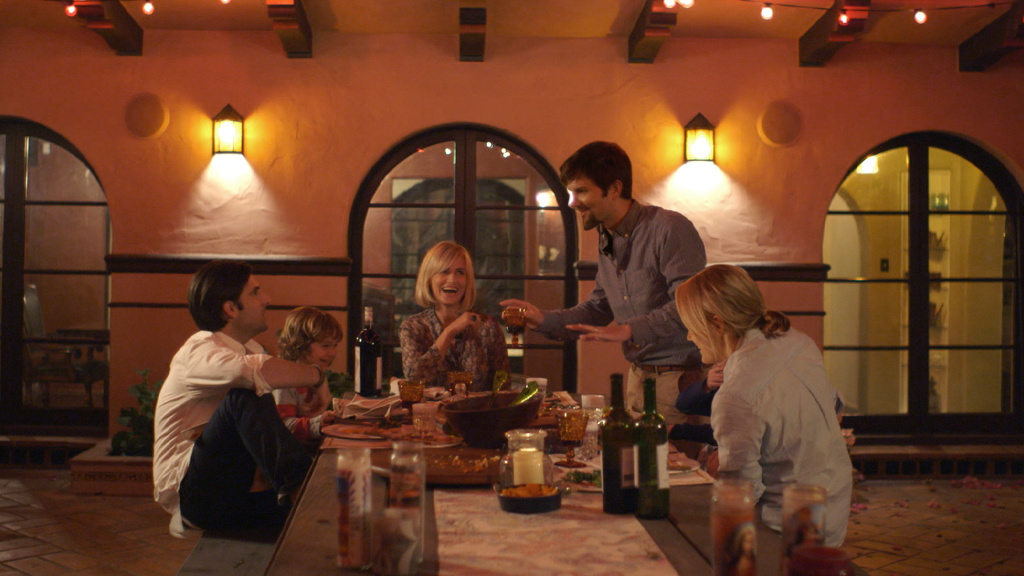 On écoute que la comédie est le plus difficile langage à écrire (et à réaliser). Malheureusement, la plupart sont merde en fait. Ceux-ci sont l'exception à la règle.
Le personnel Cinéma de The Vore sélectionne le top meilleurs films de comédie de 2017 sortis au cinéma ou sur DVD ou Netfix. Sont Ben Stiller, Louis Leterrier & Jemaine Clement nos nouveaux meilleurs réalisateurs de comédie ?
| films de comédie | 2017 |
| --- | --- |
| Acteurs populaires | Kristen Wiig, Benedict Cumberbatch & Billy Zane |
| Films en vogue | What We Do in the Shadows, The Overnight & Deathgasm |
Meilleurs films de comédie sur Netflix ou DVD de 2017
Meilleurs films de comédie sortis sur DVD, Bluray ou VOD (Netflix, Amazon).

Men & Chicken (Mænd & høns) (22-04-2016, 104 minutes)

| | |
| --- | --- |
| Régisseur | Anders Thomas Jensen (Adam's Apples & The Green Butchers) |
| Cast | David Dencik, Mads Mikkelsen & Nikolaj Lie Kaas |
| Thèmes | publicité, comédie, mystère, |
| Pays | Danemark, |
| Mots-clé: | absurde, hilarant, remarquable, |
| Critique | |
| Acheter/stream | Amazon / Netflix |

The Nice Guys (20-05-2016, 116 minutes)

| | |
| --- | --- |
| Régisseur | Shane Black (Kiss Kiss Bang) |
| Cast | Ryan Gosling, Russel Crowe & Matt Bomer |
| Films similaires | 48 Hours |
| Thèmes | conspiration, meurtre, action, comédie, |
| Pays | États-Unis, |
| Mots-clé: | classique, glorieux, |
| Critique | |
| Acheter/stream | Amazon / Netflix |

Grimsby (04-03-2016, 83 minutes)

| | |
| --- | --- |
| Régisseur | Louis Leterrier (Now You See Me & Clash of the Titans) |
| Cast | Annabelle Wallis, Isla Fisher & Penélope Cruz |
| Films similaires | Kingsman: The Secret Service |
| Thèmes | familles, police, terrorisme, comédie, crime, |
| Pays | Royaume-Uni, |
| Mots-clé: | plein d'action, distrayant, |
| Critique | |
| Acheter/stream | Amazon / Netflix |

Adam's Apples (15-04-2004, 94 minutes)

| | |
| --- | --- |
| Régisseur | Anders Thomas Jensen (In a Better World, Brothers & Love Is All You Need) |
| Cast | Ulrich Thomsen, Mads Mikkelsen & Nicolas Bro |
| Pays | Danemark, Allemagne, |
| Acheter/stream | Amazon / Netflix |

Harry, un amie que vous veut du bien (15-06-2001, 117 minutes)

| | |
| --- | --- |
| Régisseur | Dominik Moll (Lemming, The Monk & The Tunnel) |
| Cast | Laurent Lucas, Sergi López & Mathilde Seigner |
| Pays | France, |
| Acheter/stream | Amazon / Netflix |

Annie Hall (20-04-1977, 93 minutes)

| | |
| --- | --- |
| Régisseur | Woody Allen (Midnight in Paris, Sweet and Lowdown & Vicky Cristina Barcelona) |
| Cast | Woody Allen, Diane Keaton & Tony Roberts |
| Pays | États-Unis, |
| Acheter/stream | Amazon / Netflix |

Rushmore (19-02-1999, 93 minutes)

| | |
| --- | --- |
| Régisseur | Wes Anderson (Moonrise Kingdom, Fantastic Mr. Fox & The Grand Budapest Hotel) |
| Cast | Jason Schwartzman, Bill Murray & Olivia Williams |
| Pays | États-Unis, |
| Acheter/stream | Amazon / Netflix |

Groundhog Day (12-02-1993, 101 minutes)

| | |
| --- | --- |
| Régisseur | Harold Ramis (Ghostbusters, Analyze This & Ghostbusters II) |
| Cast | Bill Murray, Andie MacDowell & Chris Elliott |
| Pays | États-Unis, |
| Acheter/stream | Amazon / Netflix |

Aaltra (23-06-2004, 92 minutes)

| | |
| --- | --- |
| Régisseur | Benoît Delépine & Gustave Kervern (Mammuth, Louise-Michel & À l'arraché) |
| Cast | Benoît Delépine, Gustave Kervern & Michel de Gavre |
| Pays | Belgique, France, |
| Acheter/stream | Amazon / Netflix |

Wild Tales (21-08-2014, 122 minutes)

| | |
| --- | --- |
| Régisseur | Damián Szifrón (On Probation & The Bottom of the Sea ) |
| Cast | Darío Grandinetti, María Marull & Mónica Villa |
| Pays | Argentine, Espagne, |
| Acheter/stream | Amazon / Netflix |
2016
What We Do in the Shadows (13-02-2015, 86 minutes)
| | |
| --- | --- |
| Régisseur | Jemaine Clement & Taika Waititi (Rio, Rio 2 & Men In Black 3) |
| Cast | Jemaine Clement, Taika Waititi & Cori Gonzalez-Macuer |
| Pays | Nouvelle-Zélande États-Unis |
| Acheter/stream | Amazon / Netflix |
The Overnight (19-06-2015, 79 minutes)
| | |
| --- | --- |
| Régisseur | Patrick Brice (Creep, Creep 2 & Creep 3) |
| Cast | Adam Scott, Taylor Schilling & Jason Schwartzman |
| Pays | États-Unis |
| Acheter/stream | Amazon / Netflix |
Don Verdean (11-12-2015, 90 minutes)
| | |
| --- | --- |
| Régisseur | Jared Hess (Napoleon Dynamite, Gentlemen Broncos & Nacho Libre) |
| Cast | Sam Rockwell, Amy Ryan & Jemaine Clement |
| Pays | États-Unis |
| Acheter/stream | Amazon / Netflix |
Deathgasm (02-10-2015, 86 minutes)
| | |
| --- | --- |
| Régisseur | Jason Lei Howden (The Avengers, The Great Gatsby & The Hobbit: The Desolation of Smaug) |
| Cast | Milo Cawthorne, James Blake & Kimberley Crossman |
| Pays | Nouvelle-Zélande |
| Acheter/stream | Amazon / Netflix |